Discover more from Temple Tales
Thrilling accounts of one man's journey to over 700 sites in Japan and China, with plenty of Buddhist teachings thrown in.
Ep. 071: Temples along the Old Tokaido, Part I
Seven temples visited in Tokyo and Kanagawa Prefectures in September, 2001
As mentioned in Episode 036, in the fall of 2001, I took a ten-week, thousand-mile-plus journey, starting out from Tokyo on foot. In the more recent Episode 069 I shared some of my journal entries from that trip. Now I'll share some photos of the first few temples I visited along the way, in this episode of--
TEMPLE TALES
My Aki Meguri or "Autumn Journey" falls naturally into three parts: the more-than-300-miles on the 400-year-old Tokaido Highway from Tokyo to Kyoto; some wandering around in Nara and Asuka, one of the earliest sites of Japanese government (and Buddhism); and the island of Shikoku's 88-Temple Pilgrimage.
The Tokaido itself crosses seven prefectures. (Though technically, the Japanese word for Tokyo at the start and the one for Kyoto at the end are different words from the standard word for "prefecture," they are still treated as such.) In this episode, I'll talk about temples I visited in the first two, Tokyo and Kanagawa.
---
Tokyo-to (Urban Prefecture)
Sengaku-ji, Shinagawa, Tokyo
I reached the furukusai ("stinking with age") temple of Sengaku-ji near the end of my first day's walk. I had been there several times before, once to witness the December 14 festival and parade in honor of the Ako Roshi or "47 Ronin."
Briefly, a lord named Asano was forced to commit suicide after committing an "outrage" against another lord, named Kira, in the Shogun's castle. After his death, Asano's followers went into hiding and, under their leader, Oishi Yoshitaka, plotted revenge against Lord Kira, whom they believed had purposely provoked their lord into his error.
This story became the subject of many a popular play, including stories of what Asano's men did while "on the lam." At last, a year later, they took their revenge on Kira, knowing that their suicides would be required as punishment. It is an inspiring tale of great loyalty and sacrifice. Asano had been buried at Sengaku-ji, and after their demise, the 47 samurai where buried there, too.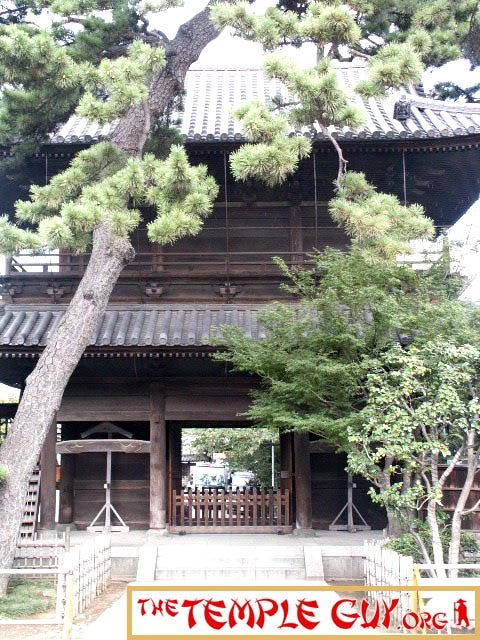 The main gate at Sengakuji, looking from the main hall toward the Tokaido.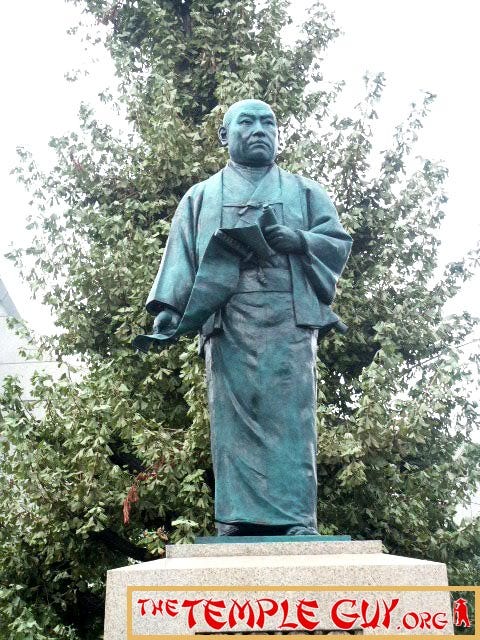 A statue of Oishi Yoshitaka, the leader of the remnants of Lord Asano's men who became known as the Ako Roshi or "47 Ronin." He's holding a roster of their names.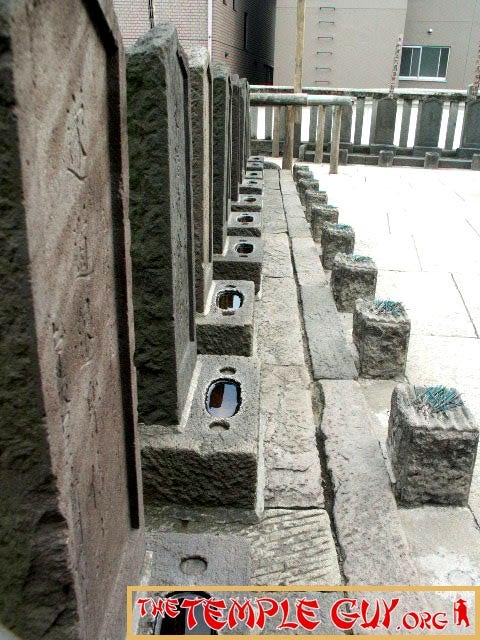 One row of graves in the cemetery. When I came here at
matsuri
(festival) time, there was a long line of people waiting to get in. As I waited, I noticed the people who were coming out were wiping their eyes. Gosh, I thought, they really love the 47
ronin
. When I got into the cemetery, I realized: they were crying from all the incense smoke!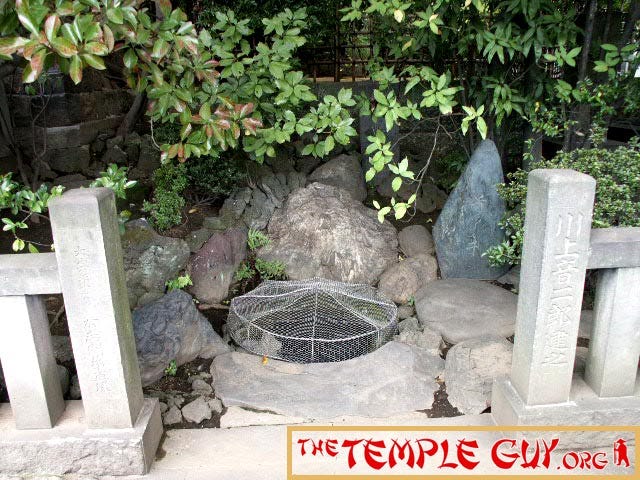 The well where Lord Kira--the bad guy's--head was washed after the Ako Roshi cut it off.
--------
Honsen-ji, Shinagawa, Tokyo
On the second day out, I had left the crowded streets of central Tokyo and strolled down a two-lane road where I visited another place I had been before, pretty little Honsen-ji, just a half-hour's walk up the road from the Suzugamori Execution Ground we visited in Episode 008. Honsen-ji is also the site of the Tokaido's Jizo statue, as described in Episode 064. And it was supposedly (though doubtfully, I think, given its distance from Kyoto) founded by Kukai, whom we met on Mount Koya in Episode 032 and in China in Episode 047.
It's a precious, small place, with some fine little halls and a charming bell tower.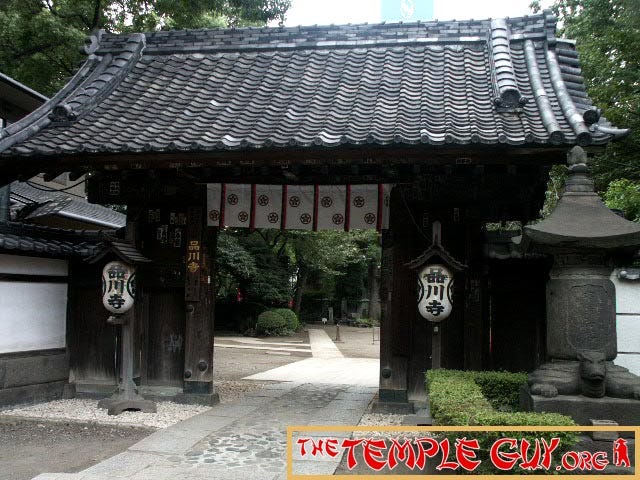 Honsenji's charming front gate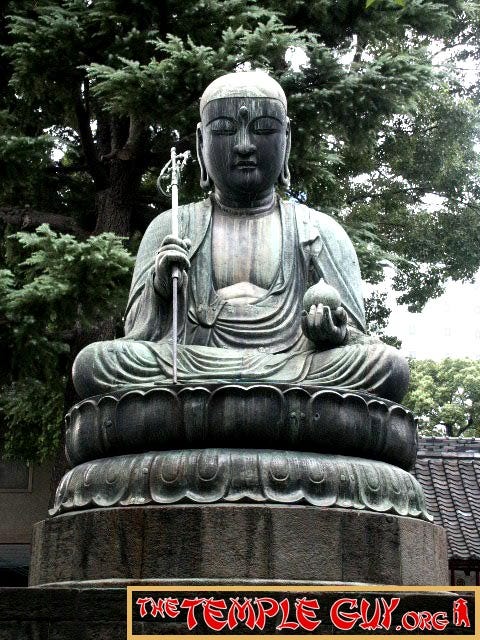 This large statue is just outside the gate. It is one of the
Edo Roku-Jizo
--one of the six statues of Jizo surrounding Tokyo to protect it (again, see
Episode 064
).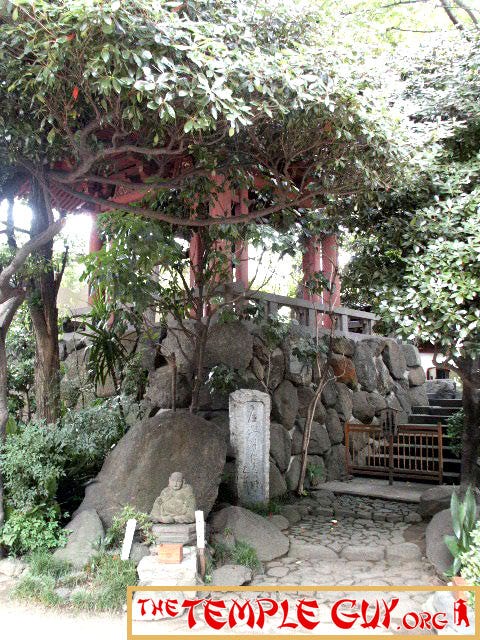 The stairs to the
shoro
(bell tower). There is a true story about this bell being lost and returned--a common motif in Japanese religious legends.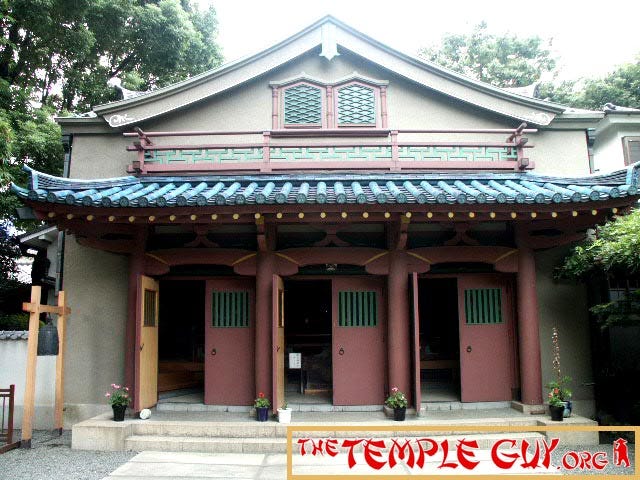 The beautiful Chinese-style
Hondo
(main hall) contains a hidden image of
Suigetsu
(water-moon)
Kannon
. Though she can't be seen, her image is one of a Kannon sitting by water, gazing at the moon's reflection in it.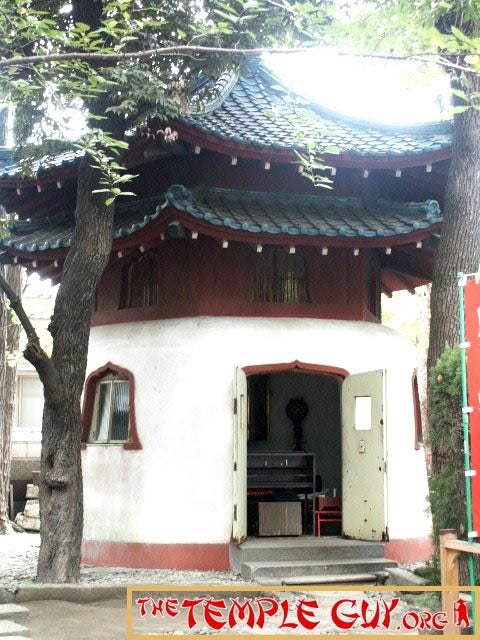 This small
Benten-do
(a hall dedicated to Benten, patroness of music and the only female in the popular
shichifukujin
or "Seven Lucky Gods"--see
Episode 024
) also reflects Chinese style.
---
Kanagawa-ken (Prefecture)
After crossing the Tama River on a bridge (it was a ferry crossing until 1874), I entered Kawasaki City in Kanagawa Prefecture at sundown of the second day.
--------
Soji-ji, Tsurumi, Yokohama
Soji-ji is anything but small. As one of two head temples of Soto Zen, it is known to be one of Japan's largest Buddhist institutions. Located on the outskirts of Yokohama, which I reached after walking through Kawasaki on my third day out, it has around twelve buildings--most of them massive--seven of them in a traditional arrangement.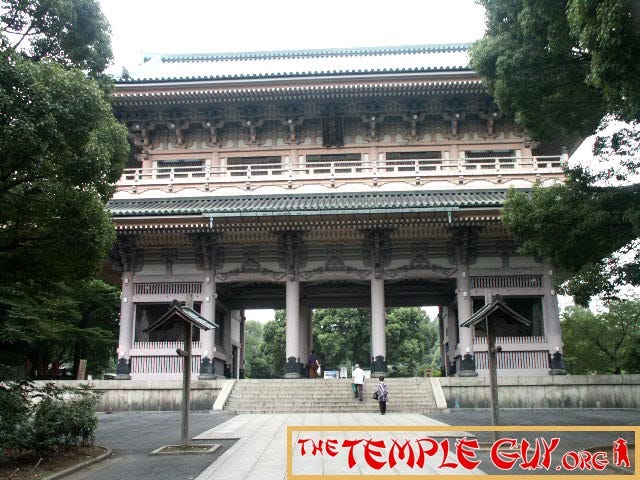 Soji-ji's front gate is bigger than the
hondo
at Honsen-ji! It was built in 1969.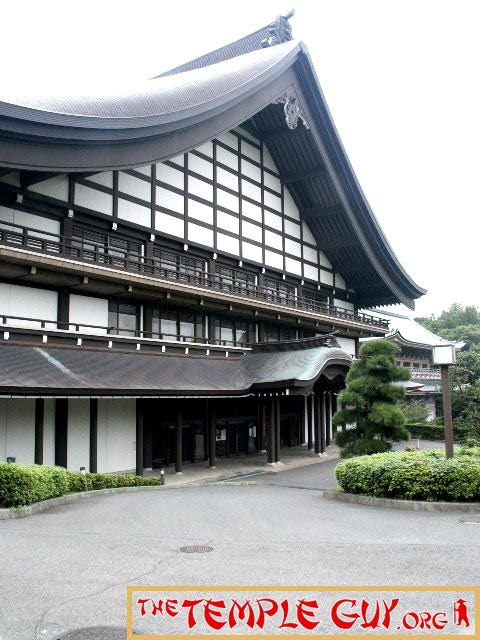 The gymnasium-sized office where my book was signed, and where the students kindly made an amulet for my safety.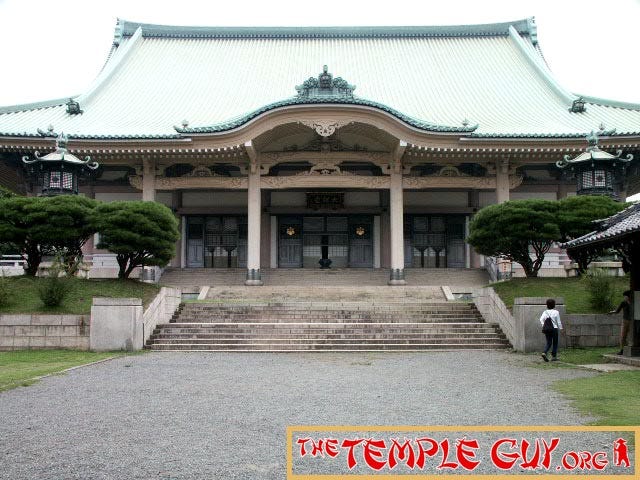 The
hondo
(Main Hall), where I said my prayers.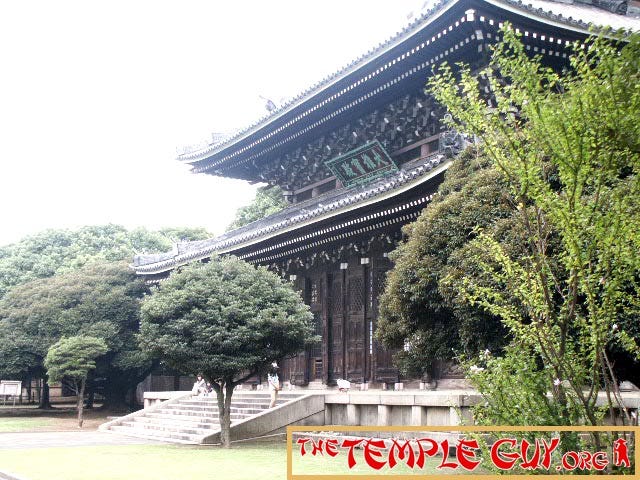 The
butsuden
, or Buddha Hall, where the veneration of the Buddha is practiced.
--------
Engaku-ji, Kita-Kamakura
On my third through fifth nights, I stayed with friends in Kita Kamakura, a northern suburb of the ancient capital which is home to the Big Buddha we met in Episode 020. So on Day Four we ventured out to the nearby Engaku-ji, one of the largest Zen temples in the city, and one of the most important in Japan.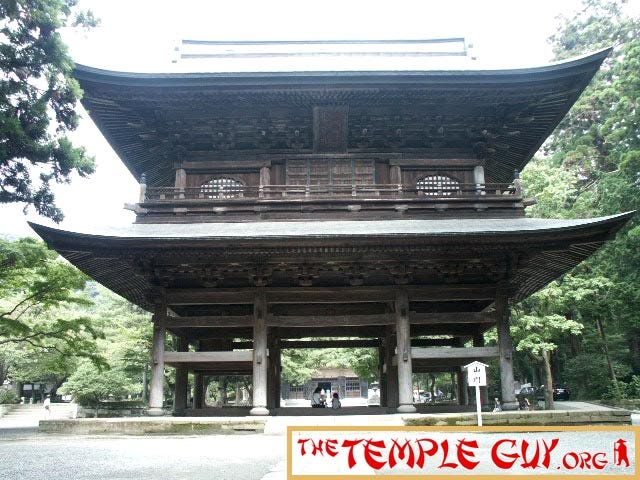 The great main gate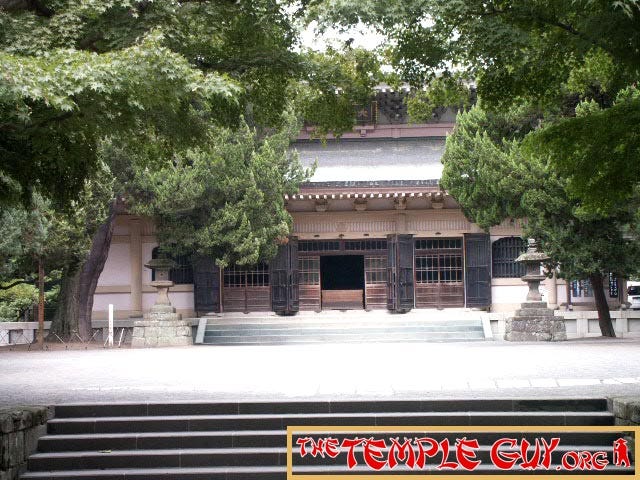 The
hondo
(main hall), where I stood...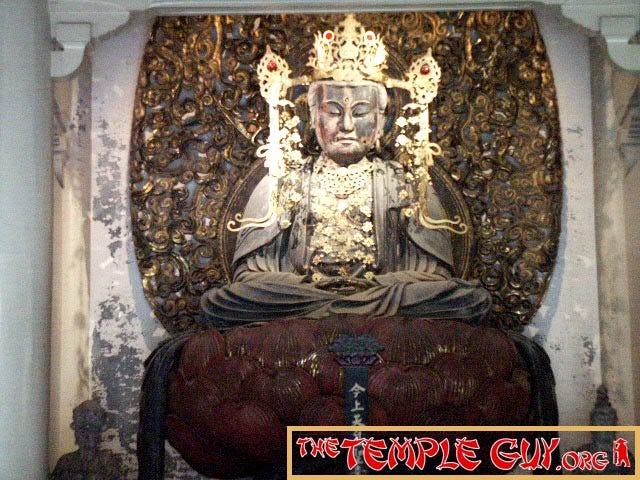 ...before the Buddha and...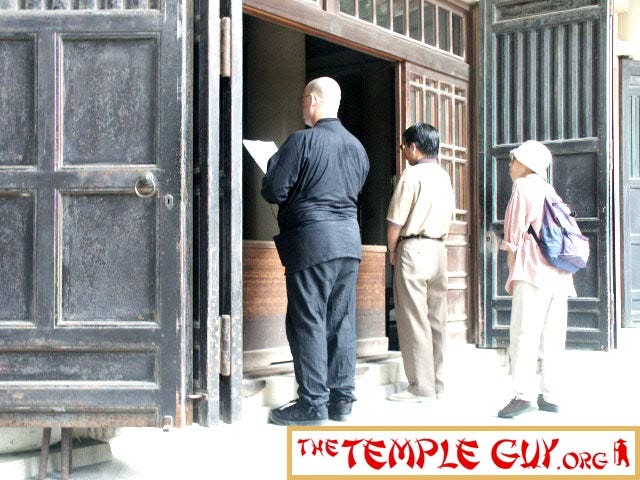 ...said my prayers. (My friend took the picture; he and his Japanese wife were amused by the looks I got as I chanted in bad Japanese.)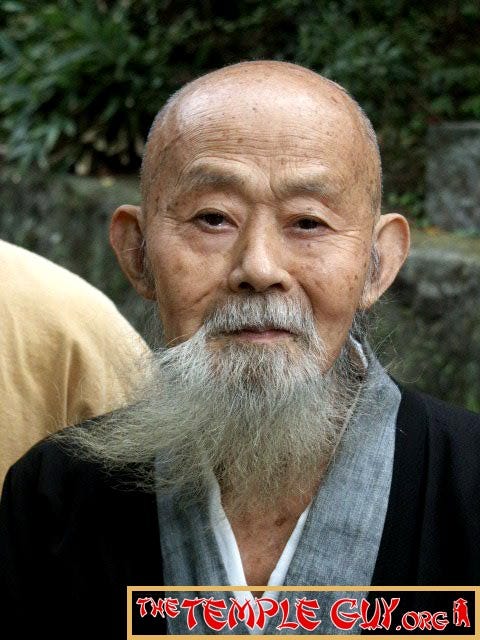 This monk helped us find the stamp office.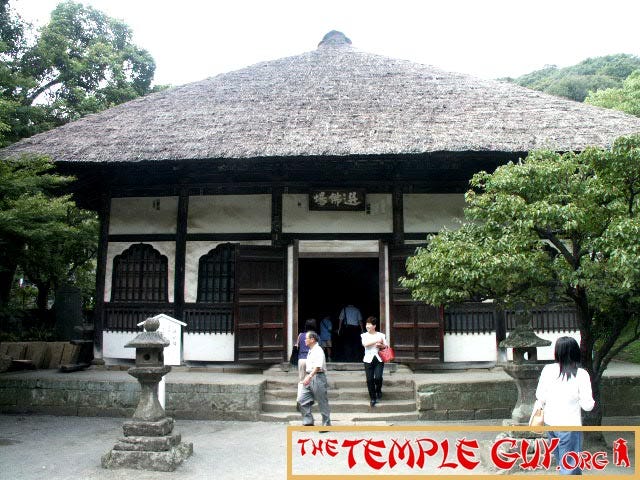 Three shots...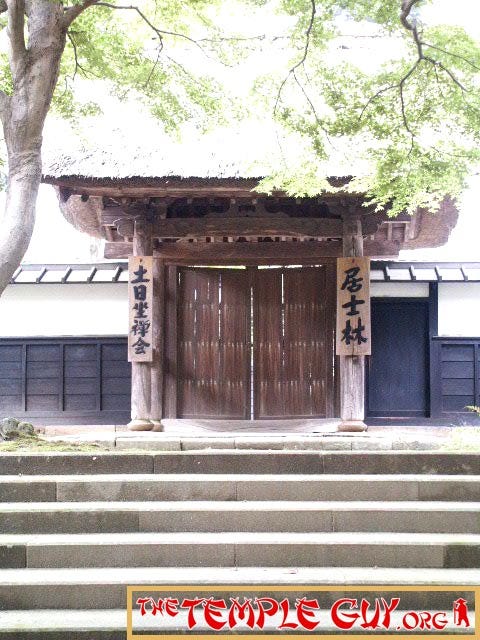 ...of Engakuji's...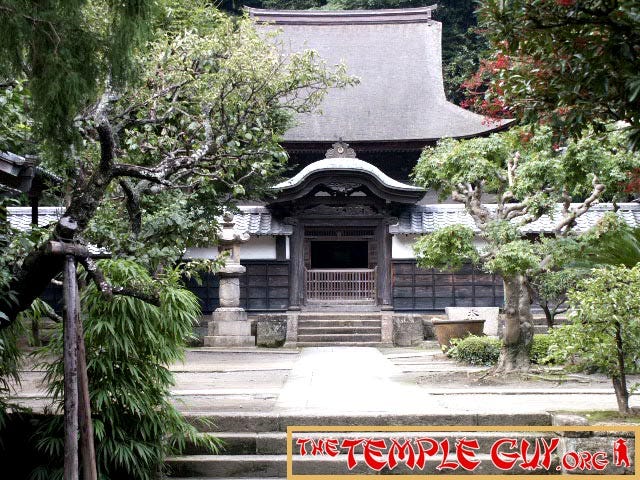 ...magnificent atmosphere.
--------
Yugyo-ji, Fujisawa
On the sixth day, after checking out of my friends' "hostel," I found myself at a temple with a most unusual tradition. Here is the (lightly edited) entry from my logbook for that day:
For some reason, the name of Yugyoji at Fujisawa rang a bell, but I couldn't quite place it...

After wandering around a bit, I went to have my temple register signed, and realized where I was. A priest came out while a deshi (disciple) was signing my book, and gave me a pamphlet (in Japanese) indicating that this temple belonged to Jishu, the Ji sect. At first I couldn't place it; then, when he said "Ippen," I got it. Here's the basic idea:

Ippen was a lay monk given to ecstatic dance in worshiping the Amida Buddha (object of "Pure Land" or Jodo Buddhism). His "trance dance happenings" in Kamakura attracted so many people that he was banned from the city. So he moved up here to Fujisawa--not far from Kamakura--and this temple was ultimately built.

Ippen's priests are a happy lot. They received me warmly, and a funny thing happened. They gave me four large cookies (Kamakura's famous dove cookies--that look like a chicken to me). They gave me an amulet. They gave me a pamphlet. I've received all of these from temples before.

But they also gave me cash, and asked me to pray for them. This is a major role reversal. Usually the priest takes the cash and says the prayers. I was stunned--and delighted. Not so much by the cash value, of course, but by the idea.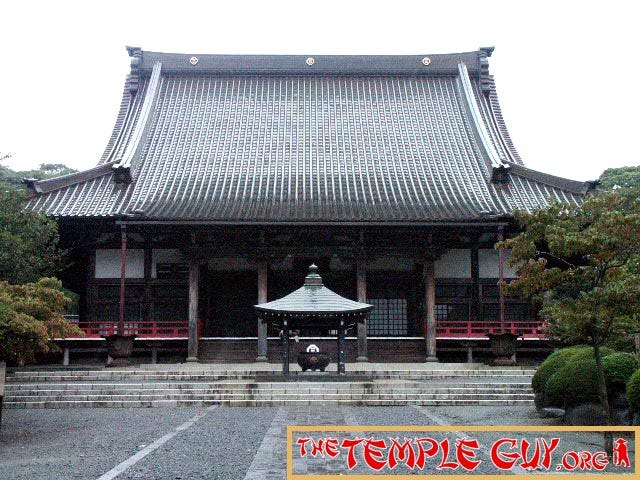 The
hondo
(main hall) of Yugyo-ji where I said my prayers (and those of my sponsors).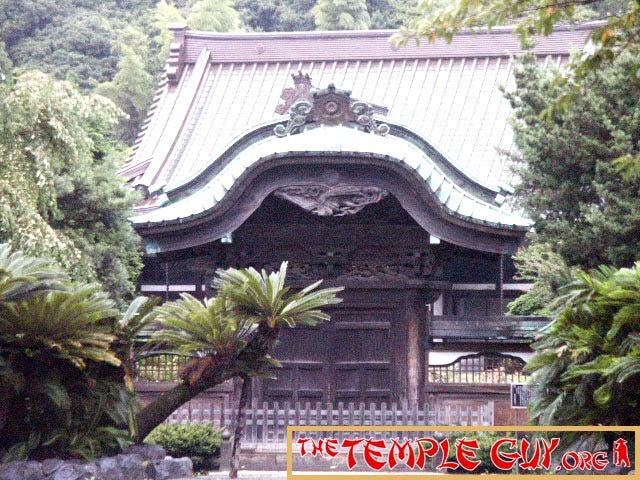 The lovely
chujakumon
gate, which bears roof tiles indicating association with, and approval by, the Imperial family.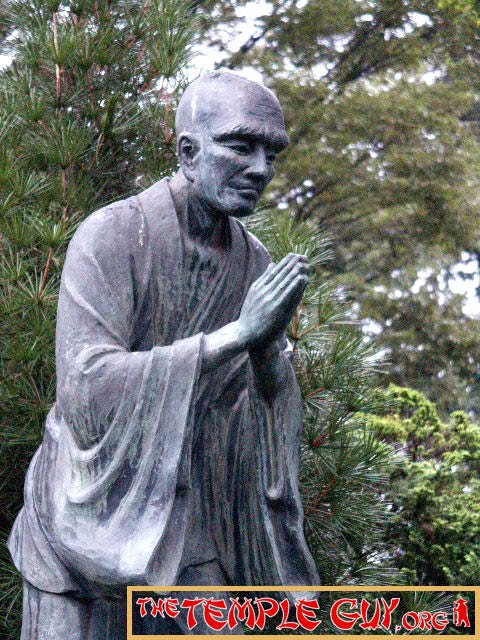 This statue of Ippen stands on a mound in front of the main hall. The pose is unusually dynamic for a statue of a saint.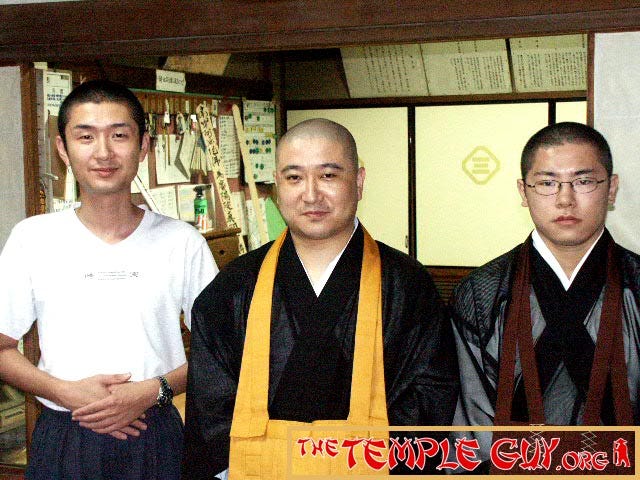 My new friends and benefactors
--------
Joshoji, Chigasaki
On the seventh day, I rested, due to a typhoon in the area. (This also happened to be September 11, 2001, the day of the World Trade Center attacks in America.) But I was up and at 'em again on the eighth day, when I visited a temple under renovation, Joshoji in Chigasaki.
There's not much to say about it, except that I learned to see closures and renovations not as disruptions, but as "history in the making." If you go there today, you can't possibly take the pictures I took!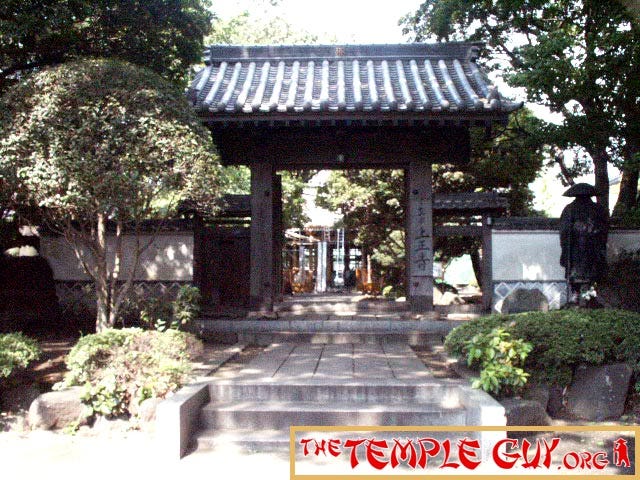 I was attracted at first by the gate of Josho-ji...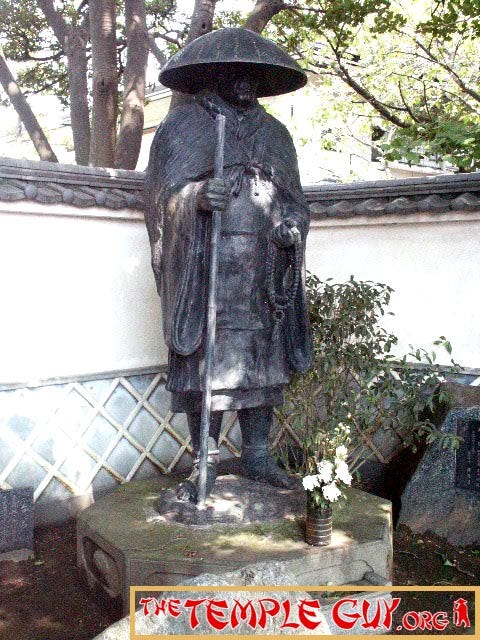 ...and the imposing figure outside. I later learned that this was Shinran, founder of Jodoshin-shu, a reformed version of devotion to the Amida Buddha.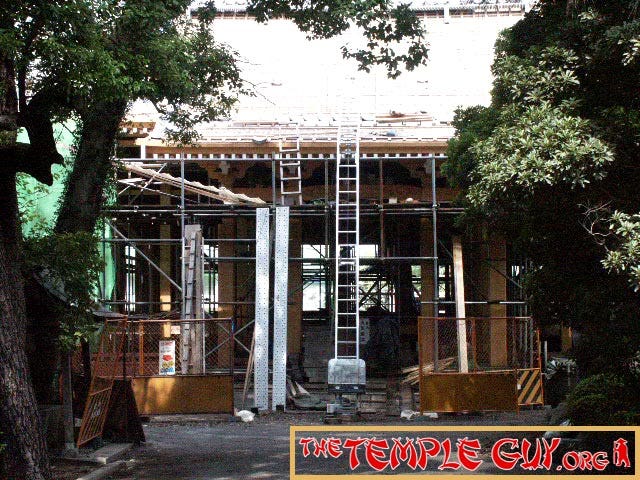 The
hondo
(main hall) is under reconstruction. It was to be re-opened in October of 2002. The location itself is over 800 years old.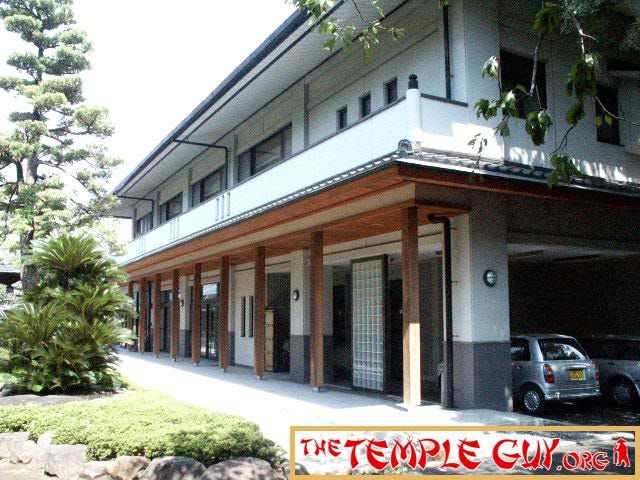 While the real
hondo
is closed, a worship hall is being used in this modern building.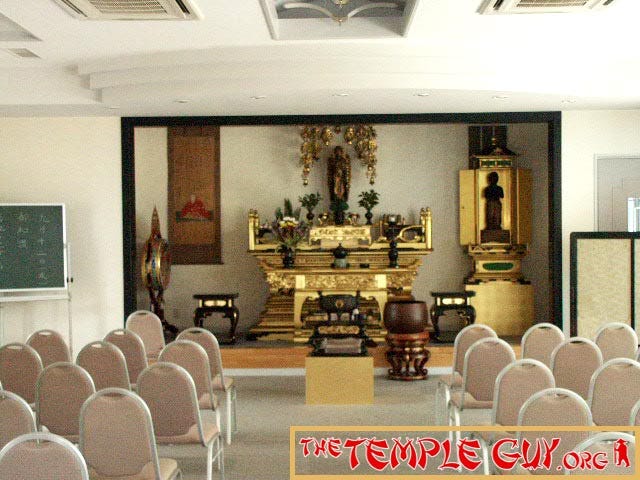 Here is the interior of the hall where I prayed; it looks a lot like a modern evangelical church.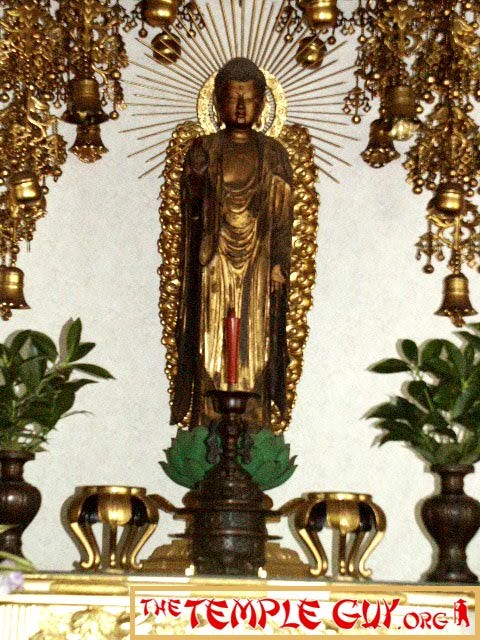 And here is the
honzon
(main image), Amida Nyorai.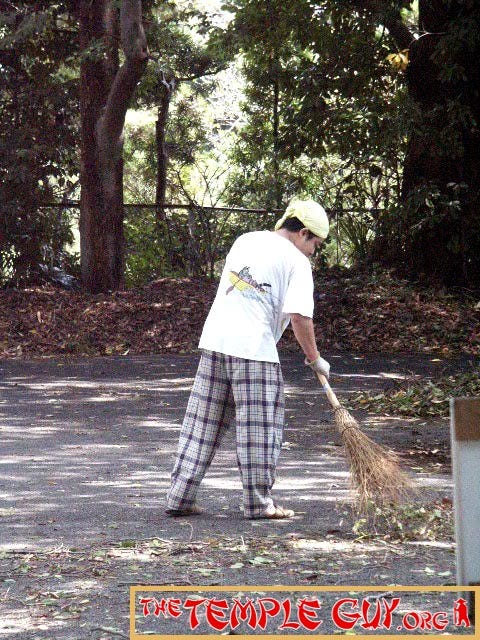 This young man is a 28-year-old priest who patiently paused in his yard clean-up to answer my questions.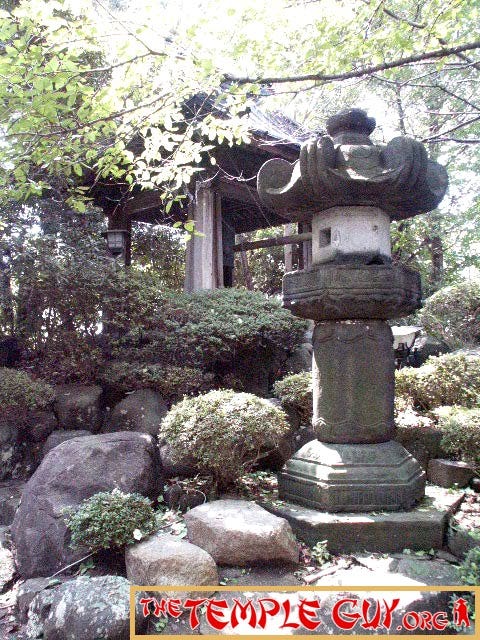 Although the
hondo
is closed, the rest of the grounds, such as this
toro
and
shoro
(lantern and bell tower) are quite beautiful.
--------
Togakuin, Ninomiya
For my final temple stop in Kanagawa--the next day is the one on which I toiled up to Hakone Pass (see Episode 012)--I visited Togakuin in Ninomiya Town, a visit I described in my notes as "disappointing." A man was locking up as I finished my prayers, and when I went to get my temple book signed, I was treated rather curtly (though it was late in the day, and to be fair, it looked like the temple couple were going out).
Anyway, the pictures will give you a feel for some of the many unspectacular but serviceable "suburban" temples throughout Japan. I must have walked by dozens on my journey, and seen hundreds in my life, very much like this modest temple.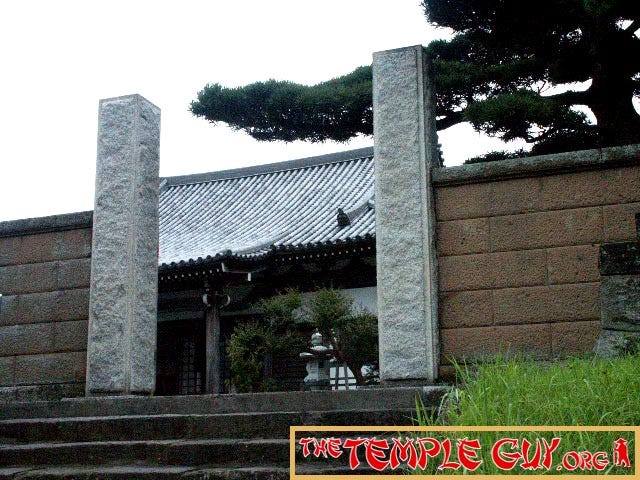 The front gate of Togaku-in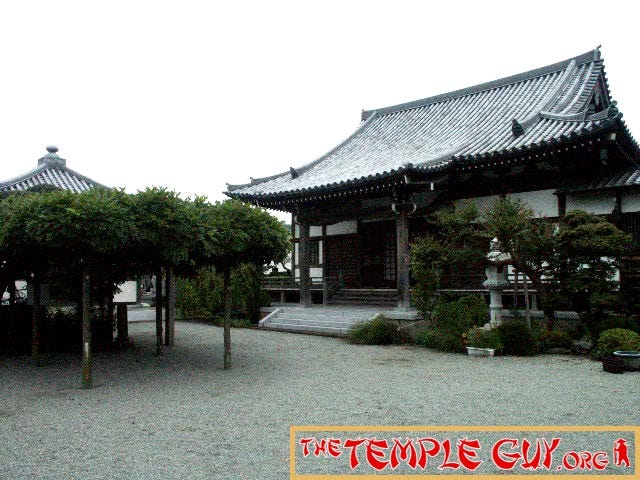 A general view of the precincts, including the
hondo
on the right, and the roof of the
Kannondo
peeking over the wisteria arbor on the left.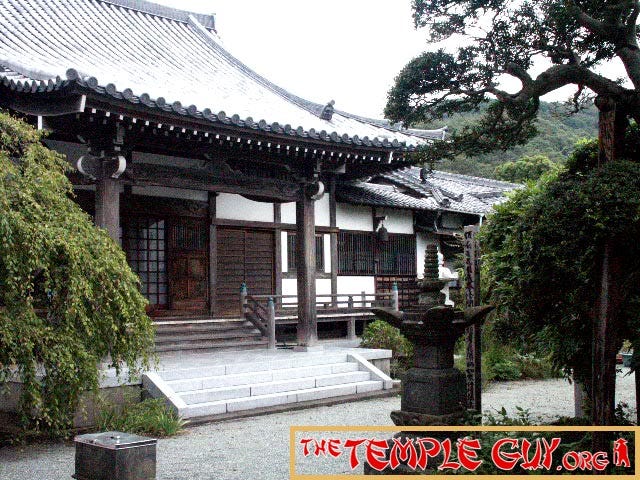 Another view of the
hondo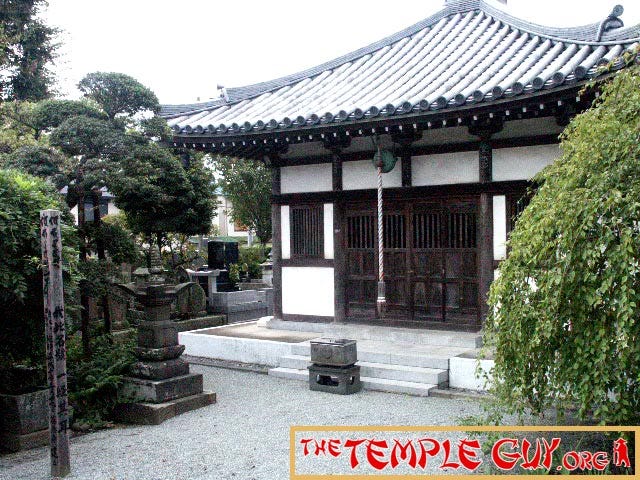 A closer shot of the
Kannondo
.
-do
means "hall," so this is the hall that holds the statue of Kannon.
Hon
means "main" or "true," so the
hondo
is the "main hall."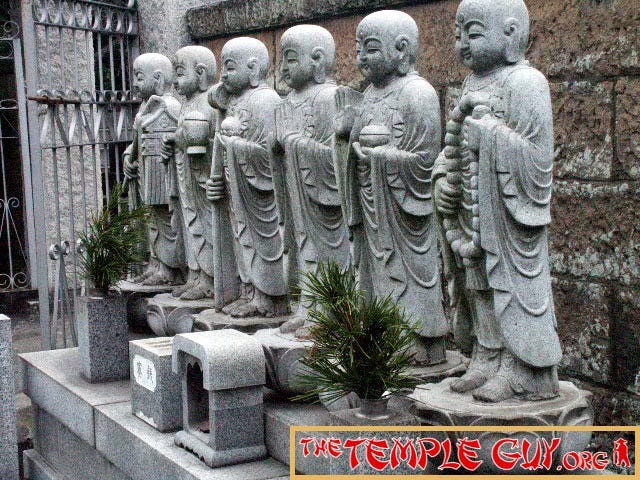 These six
jizo
live just inside the front gate.
--------
And that would be that. Until next time, may you and your loved ones and all sentient beings be well and happy.
Adios, Amigos!
---
GET MORE:
You may unsubscribe to Temple Tales at any time by simply replying to this Newsletter and writing "Unsubscribe." You will receive one more letter as confirmation.
If you have any problems reading the Newsletter or accessing the Podcast, please write to me at TheTempleGuy@GMail.com, and I'll help you in any way I can!
In the next episode: Let's go back and visit my first official temple in China, Hangzhou's Lingyan Temple.