Ep. 036: My Aki Meguri: Down the Old Tokaido
Over 300 miles on foot through Japan
In September of 2001, I took the first step of a ten-week, thousand-mile-plus journey down an ancient highway, through an ancient heartland, and around an ancient pilgrimage course in Japan.
Today I want to offer you vignettes of the first leg of my Aki Meguri or "Autumn Journey," the more-than-300-miles of the Old Tokaido, in this episode of
TEMPLE TALES!
Using the best Japanese technology available at the time, I wrote and posted a journal every day that I was on the road in late 2001, and you can still read it. But it's long, and has a lot of details like "I got a late start" and "I did laundry" (often on the same day!). So, let me offer you some background and highlights of my journey, much of it taken (with some editing) from my original journal.
---
The Old Tokaido

See an interactive Google map of the entire route here.
"The Tokaido"--meaning "Eastern Sea Road"--is used to refer to at least four routes. One is the Tokyo to Kyoto Shinkansen or "bullet train." Opened in 1964, just in time for the (first) Tokyo Olympics, it actually runs all the way into Osaka. But the Tokyo-to-Kyoto portion, which parallels my journey, takes--at its best, on the Nozomi service--two hours and twenty-two minutes to do what I did on foot in 35 days!
A second "Tokaido" is the local train service along a parallel route. I took it once, just for fun--around 11 hours, as I recall, and kinda torturous. A third "Tokaido" is the modern highway (express and local), National Route 1, opened to car and truck traffic in 1952.
But the Tokaido of which I'll speak is best called the Old Tokaido, a footpath more-or-less created in 1601. Though large parts of it are now buried under modern roads, and even sets the traveler dodging trucks on National Route 1 in some places, it's still possible to walk on cobblestones--but rarely.
For around 250 years, from about 1600 to the mid-nineteenth century, the Tokugawa family effectively ruled Japan in the Emperors' steads, as shoguns, or military rulers. I've written of a shrine dedicated to Ieyasu, the first Tokugawa shogun, in Episode 018.
One of the first moves Ieyasu made to consolidate his hard-won power was to designate the Tokaido as the official highway from his new capital, Edo (now Tokyo) to the ancient capital of Kyoto where the largely-powerless and symbolic Emperor still resided. Although the highway had existed for centuries, the Tokugawa shogunate designated 53 stations between Nihonbashi in Edo and the Sanjo Bridge in Kyoto, and provided for the construction of inns (called honjin) at these post stations, as well as general improvements to the road itself.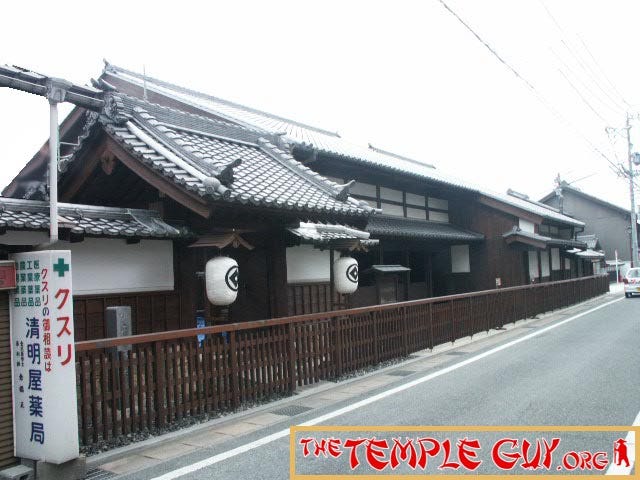 The
honjin
(official inn) at Futagawa, Station #33, in Aichi Prefecture
The stations were staging points for runners who carried messages between the Emperor and the Shogun in much the same way horses were used by the Pony Express. According to Japanophile Donald Richie writing in the Japan Times, back in the Edo Period "a man was expected to walk from Edo to Kyoto in 12 days (a woman was supposed to take 15), though there were expectations of something more speedy from couriers--six days for ordinary runners, three and a half for the two-legged Tokugawa equivalent of the shinkansen." It took me 35 days!
Although the system was not completed until 1624, Ieyasu's declaration was issued in 1601, so I walked the highway in its 400th anniversary year.
The following glimpses of my trip are in chronological (and therefore geographical) order.
---
Tokyo and Kanagawa Prefectures
September 5, 2001
The road starts--as does every road in Japan--at the "0 Kilometer" marker. All distances for major Japanese roads are measured from Nihonbashi, the official starting point of my journey.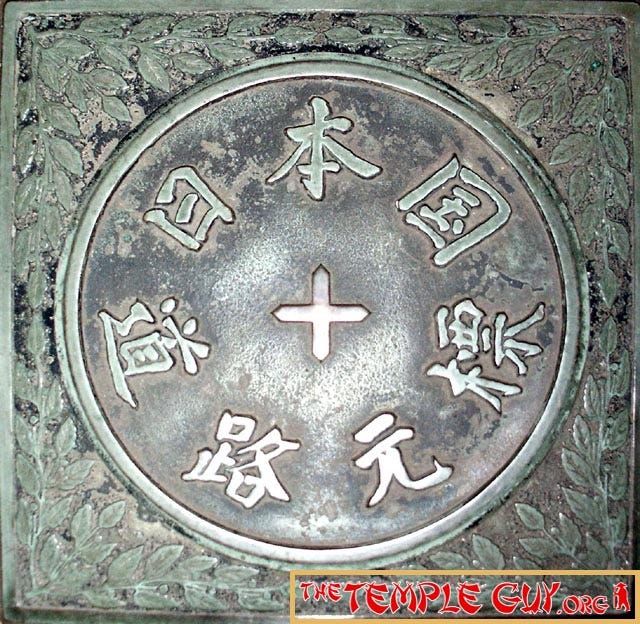 The "0 Kilometer" marker at Nihonbashi
Nihonbashi, the "Bridge of Japan," anchors one end of Tokyo's glitzy Ginza shopping district, one of the world's most elegant and luxurious streets. I left the bridge around 12:20, and--like generations of pilgrims before me--stopped at Starbuck's for a Raspberry Frappuccino for the road. The reaction from the staff as I walked in--with my umbrella-sized straw hat and taller-than-me walking stick--was priceless. Unbridled curiosity, amusement, puzzlement--eight young people staring at me agape. This, I thought, is gonna be fun.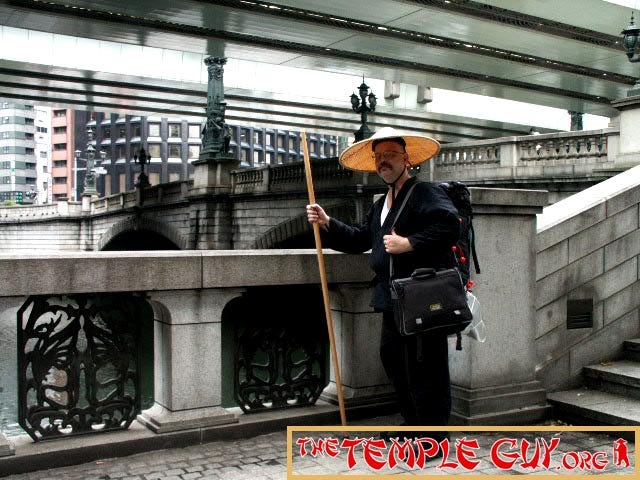 This get-up garnered some strong reactions in Starbucks!
Why does the road end at Nihonbashi? In fact, shortly after I began walking, I looked to the right and saw Tokyo Station. If the station weren't there I could have seen the Imperial Palace grounds. Well, in the Tokugawa Period the station wasn't there, so people starting out on this trip would have been looking at Edo Castle, the seat of the Tokugawas. (Of course, then as now, people just started from wherever they were and jumped on the road at its closest point.)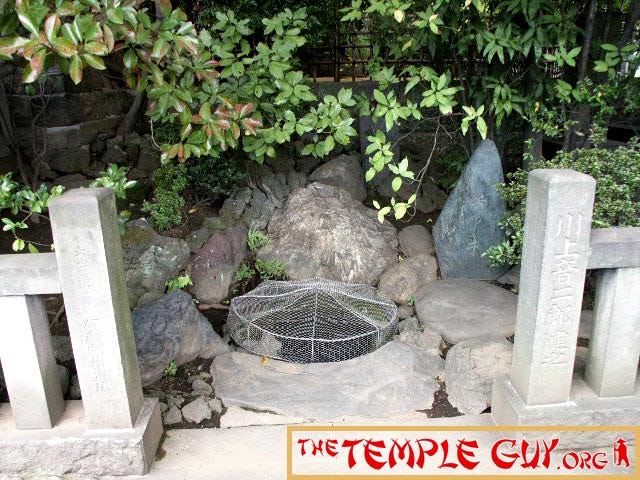 The well where Lord Kira--the bad guy's--head was washed after the 
Ako Roshi
 cut it off.
Late in the afternoon, I reached the ancient temple called Sengakuji. It celebrates the Ako Roshi, also known as the "47 Ronin." As the story goes, a group of samurai avenged their lord by killing the man who had wronged him, and were condemned to commit suicide as a result. Their graves are at Sengakuji, along with the well where they washed their victim's head.
September 6, 2001
After passing Shinagawa, Station #1, I walked down a quiet (for Tokyo) road, where I passed Suzugamori Execution Ground. Back in Episode 008 of Temple Tales, I wrote, "I was strolling down a tree-lined, two-lane road, with birds cheeping over my head, and dappled sunlight on the highway under my feet. And just under that, blood-soaked earth." Because, as I explained, it was the place where "the more-than-slightly paranoid Tokugawa Shogunate... used this roughly 1200 square meters (13,000 square feet) to execute their enemies (real or imagined); common criminals; and those rascally Christians." All that remains is a few stones--and a creepy feeling.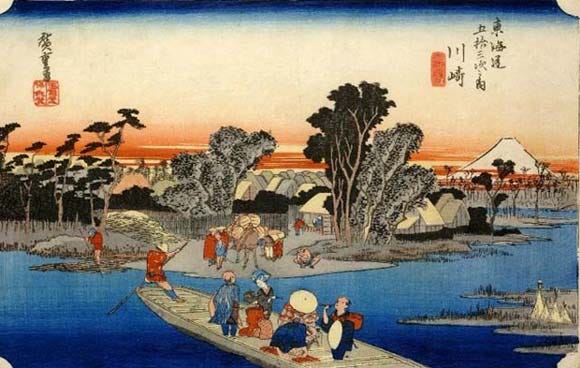 How they crossed the Tama River in Hiroshige's day; I just walked across a bridge.
That evening, reaching the Tama River--the border between Tokyo and Kanagawa Prefectures--I slept outside in my sleeping bag for the first and only time before changing my strategy. One traditional inn and three business hotels had been full; the love hoteliers chased me away. So I slept in the bicycle parking area of a brand new apartment building.
September 7, 2001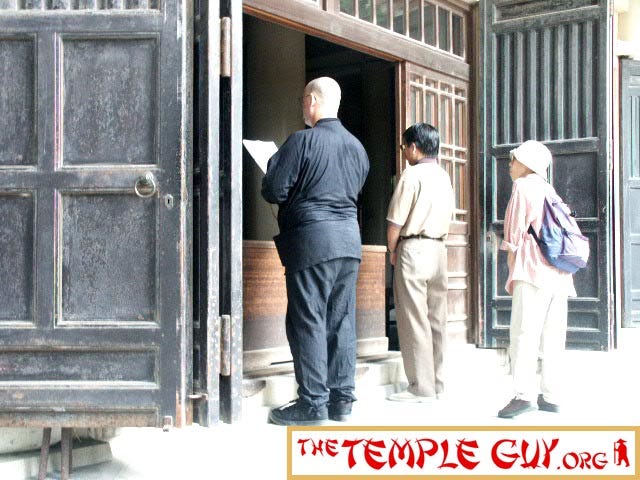 My friends took this picture at Engakuji in Kamakura; they were amused by the looks I got as I chanted in bad Japanese.
Yokohama is Kanagawa's largest city. Together with Tokyo it makes up the largest conurbation in the world, population-wise. But for the Tokaido walker, it was basically just little Kanagawa, Station #3. That night, I stayed with friends on the outskirts of Kamakura, and the next day visited some temples with them.
September 10, 2001
At Fujisawa, Station #6, I stopped at Yugyo-ji, a temple belonging to the Ji sect, founded by a lay monk named Ippen, who was given to ecstatic dance in worshipping the Amida Buddha. His "trance dance happenings" in Kamakura attracted so many people that he was banned from the city. So he moved up to nearby Fujisawa, where this temple was ultimately built.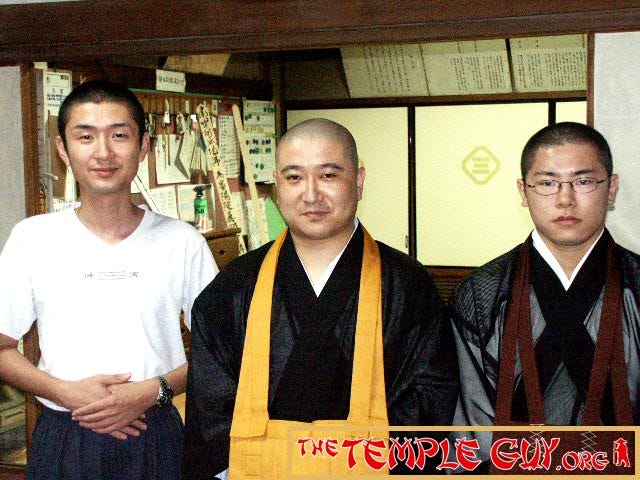 The jolly dancing monks of Yugyo-ji
Ippen's priests, a happy lot, received me warmly. They gave me four large cookies (Kamakura's famous dove cookies--that look like a chicken to me). They gave me an amulet. And they gave me a pamphlet. Now, I've received all of these from temples before. But they also gave me cash, and asked me to pray for them. This is a major role reversal. Usually the priest takes the cash and says the prayers. I was stunned--and delighted. Not so much by the cash value, of course, but by the idea.
September 11, 2001
Yes, that September 11. I hadn't walked at all that day because of a typhoon. Late in the evening, a friend called and told me to turn on the TV in my room. (I didn't usually, because even after 5 years my Japanese wasn't up to it.) On the screen was a repeated clip of a plane crashing into a building. I laughed. "What is this?" I asked. "A remake of Independence Day?" "James-san," he replied, "This is serious!" And then told me what he had gleaned from the reports.
I had been on the road exactly a week, and was planning to return to the U.S. when I was finished. If I were a good enough writer to make a novel out of this experience, the attacks would definitely become one of the "themes."
September 13, 2001
At Station #9, Odawara, I visited the reconstruction of Odawara Castle. One odd thing about this castle: an elephant lives there. Seriously! The area of the central bailey was apparently a zoo before the castle rebuilding began, and a few of the animals were still there. [2019: I learned that the old gal, Umeko, died in 2009, around age 62, after a forlorn life.]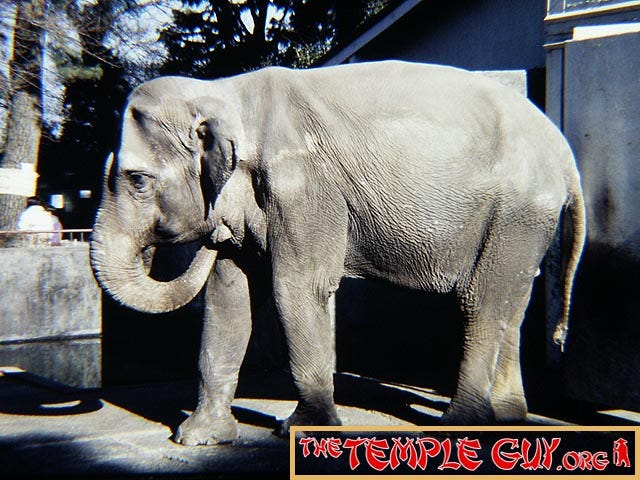 Umeko ("Plum Girl"), the unlikely elephant of Odawara Castle
September 14, 2001
I set out for what I had long anticipated to be the worst day of the trip: the uphill portion of the Hachi Ri, or Eight Ri (32 kilometers = 20 miles) of Hakone (Station #10), running from Odawara (#9) to Mishima (#11).
The climb up to Hakone is certainly the most strenuous section of the road. Starting near the sea, one ends up (usually the second day) at Hakone Pass: 846 meters--over 2,700 feet--above sea level. It is unrelenting, part of it including stairs. But mostly it's just slope. Slope and tourist buses. When the way veers off of the main highway, it's nicer, but still, it's slope.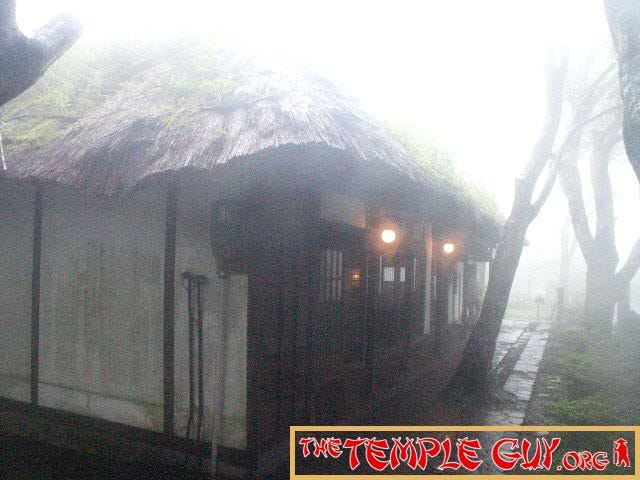 Sweet Rice Wine Teahouse in the mist
But along the way, I passed the Amazakejaya, or Sweet Rice Wine Teahouse. The sweet old lady in the teahouse asked the usual, "What country are you from?" and, when she heard I was American, said, "It's tough for America now, isn't it?" That tragedy in America had increased my awareness of my American-ness, even in that ancient out-of-the-way place.
Finally, after more trudging, I reached the shores of Ashinoko Lake, where I saw an odd little collection of statues, mostly Jizo-sama. The area is called Sai-no-kawara; I wrote about it in Episode 012.
I took a bus back to my hotel, and completed the downslope the next day.
---
Shizuoka and Aichi Prefectures
Let's do more skipping, looking at just four days out of the next seventeen.
September 18, 2001
At Yui, Station #16, I saw my first authentic honjin area--the "downtown" of inns and services back in the old days. There's a museum there dedicated to the woodblock prints of Hiroshige, who among other sets did one called "The 53 Stations of the Tokaido," which I used as a visual guide on my journey.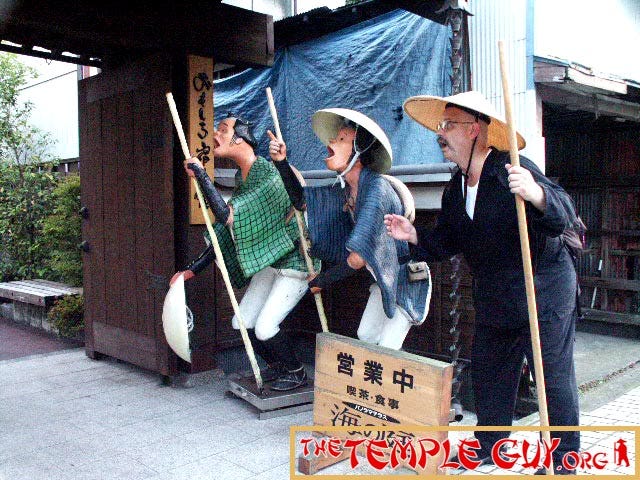 Yaji=san, Kita-san, and me at Yui, Station #16
Also, the author Ikku Jippensha wrote a comic novel about the Tokaido, called Shank's Mare. The protagonists, Yaji-san and Kita-san, are a couple of scalawags who bumble their way down the highway, having picaresque adventures. The novel is part amusement and part guidebook, so they became my guardian angels. I was delighted, then, to take a picture with life-sized statues of them looking at something shocking in front of a restaurant. (As nearly as I could tell, they were looking at the menu of the restaurant they were standing in front of. Was it the pictures? or the prices?)
September 19, 2001
Okitsu, Station #17, is where I got this whole idea. American author Oliver Statler used to stay at an inn in Okitsu that had once been a sub-honjin--an inn for those less than a feudal lord. This inspired him to write a book called Japanese Inn, which tells 400 years of Japan's history from the perspective of this inn. Statler fictionalizes the historic inn owners and their brushes with history along the road. I have read that Statler's inn is now the offices of a company.
September 20, 2001
In downtown Shizuoka--once called Fuchu, Station #19--stands Sunpu Castle, one of Ieyasu Tokugawa's main seats. Little remains of the castle today; it burned down in a fire started in a pile of pigeon dung.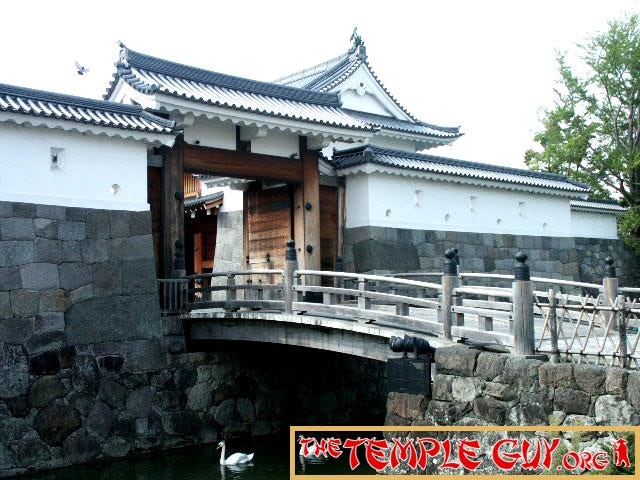 The reconstructed portion of Sunpu Castle at Fuchu (Shizuoka), Station #19
In fact, I had a funny experience regarding the castle's remains. On a trip to Shizuoka three years before, I had asked my friend Tomoko if we could "see the castle." There's no castle, she said, only a park. I showed her a brochure, and she was shocked! She had been living in Tokyo for a few years, and what there was to see of the castle--one building and some walls--had been built since she moved away!
The Shizuoka Prefectural Offices are located inside of the castle's old honmaru, or main keep. That means the people of the area are still being "ruled" from the same place!
Although actually born at another station farther down the Tokaido, Ieyasu was sent as a military hostage to Shizuoka at the age of seven; had one of his seats of government here at one point; and "retired" here, leaving his son Hidetada as shogun. He died at Sunpu in 1616. Again, this is described in Temple Tales Episode 018.
September 23, 2001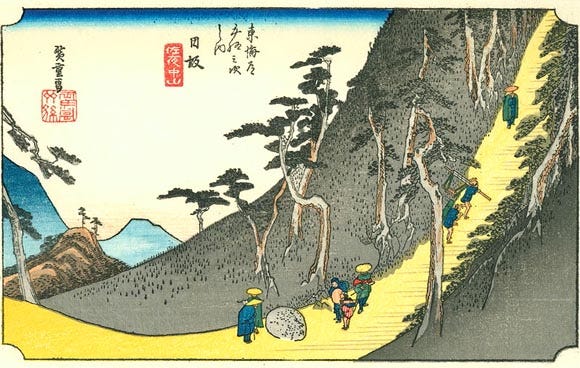 Hiroshige's print for Nissaka, Station #25, shows the
yonaki-ishi
, or Night Weeping Stone,
in situ
The yonaki-ishi, or Night Weeping Stone, is shown in Hiroshige's print for Nissaka, Station #25, and it resides today (they say) at Kyuenji Temple.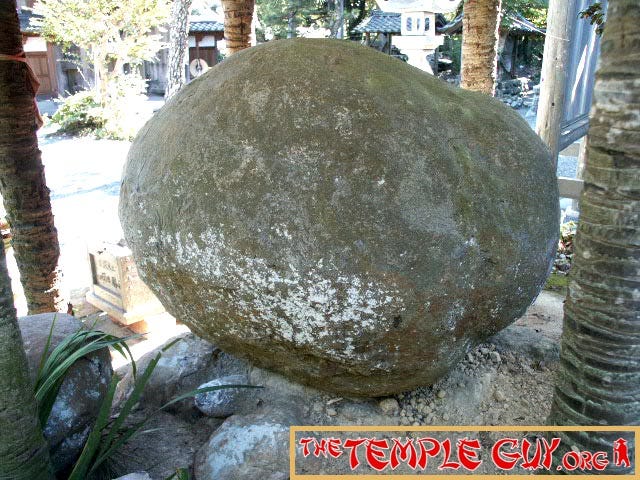 This is supposed to be the actual stone, at Kyuenji Temple (though there's another candidate in the area)
Here's the essence of its legend: Long ago, a pregnant woman was attacked on Sayo-no-Nakayama Pass, where she was robbed and killed. A stone nearby began to cry loudly. Someone heard it, found the dead mother, delivered the baby, and ensured that it would grow up safely. Most versions of the story add that the child grew up to avenge his mother's murder.
---
Aichi, Mie, Shiga, and Kyoto Prefectures
Okay, let's start moving a little faster.
October 2, 2001
Nagoya (also called Miya) in Aichi Prefecture was unique in that, located on a great estuary, it was the only place where Tokaido travelers were compelled to take a boat. This was the Shichiriwatashi, or the "Seven Ri Ferry." (A ri is about four kilometers, the distance a man with a burden can travel on foot in an hour.) Shichi means "seven" so this is a 28 kilometer (17 mile) ferry. It went from Miya (#41) to the next station, Kuwana (#42).
Before I started this trip, I checked with some friends to see if it were still possible to take the boat here. It wasn't, though there is a round-trip sight-seeing boat from the site of the old pier. I didn't take it. Instead I took a train around the river's mouth.
We are going to slide right over Mie Prefecture--a lovely place, but with nothing too different from what we've seen already.
October 8, 2001
When I passed into Shiga Prefecture, I began to recognize familiar territory again. I had been to several places along the highway when visiting temples during the previous two years, while basing in Kyoto. One of them was Ishiyamadera, Temple #13 of the 33 Temples in Kansai Sacred to Kannon, Bodhisattva of Compassion.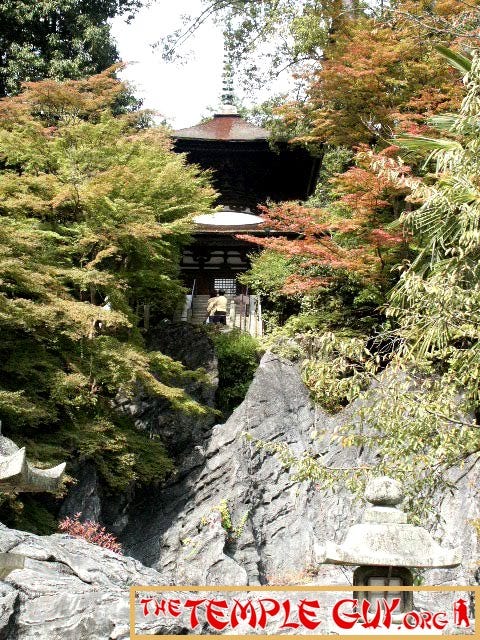 "Wollastonite" and the beginning of autumn colors at Ishiyamadera Temple
Ishi means "stone", so Ishiyamadera means "Stone Mountain Temple," so-called because of the presence of a rare rock called "Wollastonite"--so rare, in fact, that I never heard of it before or since. The stone-covered hillsides were lovely, especially as--this being October--the autumn colors had begun to arrive.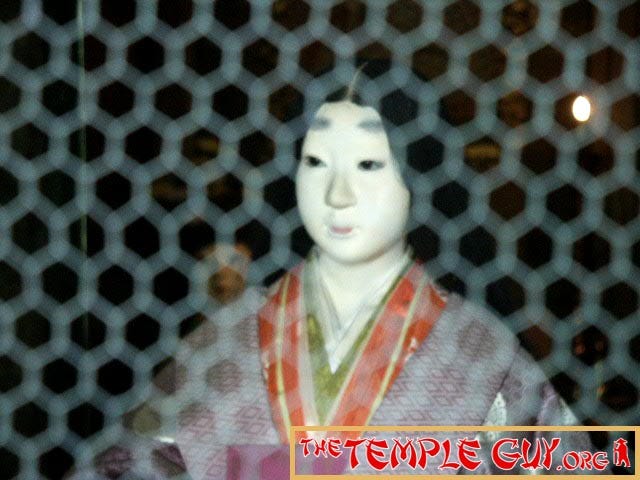 Murasaki Shikibu in a cage
Another outstanding feature of this temple is that it's where Murasaki Shikibu wrote part of the renowned Tale of Genji (often considered to be the world's first novel). You can see her effigy in a small chicken-wire-fronted enclosure next to the entry to the main hall.
October 9, 2001
At long last, Kyoto! To celebrate, I wrote an "open letter," which I share here.
To the College-Aged Girl at the Sanjo-Ohashi Bridge,

You'll never know what you've done for me. It wasn't so much the cash as the kindness.

You couldn't know this, but I had just walked from Tokyo to Kyoto on the Old Tokaido. It took me a month and five days. Some days I walked a little, some days a lot, and some not at all. I walked in the city and the country, on empty Sunday morning sidewalks, through busy train stations and deserted rice fields. I climbed mountain passes and crossed rivers.

And after all this, I was having an easy day, just an hour or so's stroll downhill to the goal.

But for the past hour, something had been bugging me. The basic thought was: What's next? There will be no celebration at the bridge, no news teams or friends to meet me. I'll just snap a couple of photos--as I have so many times--and catch a bus toward Kyoto Station.

About 30 meters from the bridge, I had an extraordinary experience. A group of about 30 grade school kids, with 3 or 4 teachers, was coming toward me on the side walk. So I stood aside, as I usually do, getting ready to smile and greet the kids as they alternately freaked out, then smiled at me. The leading teacher passed, and then the first two little boys behind him, with big smiles on their faces--flipped me off! Gave me the finger, blew me the bird.

Wow, I thought. Welcome to Kyoto. Is this my celebration? I'm sure they didn't know what the impact was; the other kids greeted me as usual. But it was a little surreal.

Then, as I reached the cross-street just before the bridge, you and I waited together at the signal. After some not-uncommon brief eye contact, we waited on, then crossed. As my foot hit the bridge--literally, as I stepped onto my goal of 35 days--you said "sumimasen," dug into your purse, and handed me a thousand yen [around $10]. With a quick request for a prayer, you turned and left as I was still saying "arigatou."

You'll probably never see this. I had no time to give you a card, or my name, or anything. I've heard that this sort of thing happens on Shikoku, but this is Kyoto, a place so thick with temples and religion that I would have thought the people here would be a bit callous about all that. I've received tomatoes along the way, and some monks gave me cash. But no one has just walked up to me and handed me money and walked away!

I cannot express the depth of feeling I experienced then--several hours ago--and am experiencing still. I prayed for you at Toji today, and will continue to.

May you find peace.

May you achieve your dreams.

May the world become a place in which you and your children and their children can live without fear of war.

Bless you. Bless you. Bless you.

James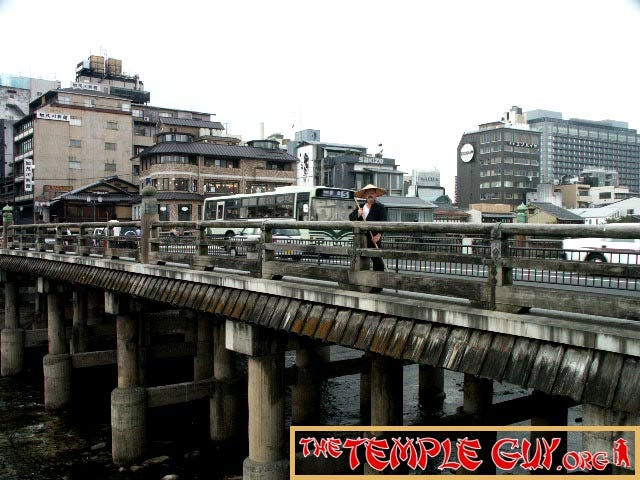 On Sanjo Ohashi Bridge in Kyoto, my goal for this leg of the journey
--------
Thanks for traveling along with me! There are lots more stories to tell about this and the other two portions of my Aki Meguri, but don't worry: you'll hear plenty of them!
Until next time, then, may you and your loved ones and all sentient beings be well and happy.
Adios, Amigos!
---
Subscribers to the Newsletter will see Questions at this point, and be invited to join the conversation in a "secret group" on Facebook. (Of course, if you don't use Facebook--sorry!) Want to get in on some of that? Hit that Subscribe button and send me your email!
---
GET MORE:
You may unsubscribe to Temple Tales at any time by simply replying to this Newsletter and writing "Unsubscribe." You will receive one more letter as confirmation.
If you have any problems reading the Newsletter or accessing the Podcast, please write to me at TheTempleGuy@GMail.com, and I'll help you in any way I can!
In the next episode: Let's visit my "home mission," San Gabriel, and learn how it gave birth to America's second-largest city.