Discover more from Temple Tales
Thrilling accounts of one man's journey to over 700 sites in Japan and China, with plenty of Buddhist teachings thrown in.
Ep. 050: All the Missions in a Day, Part II
Speeding Even Farther Up California's El Camino Real
Please note: I've made a "live" Google Map for my Temple Guy page that shows the missions of California and some associated sites. You can find it here.
--------
This Episode is Part II of the story of my epic one-day dash from the Mexican border to above San Francisco, visiting all of California's Spanish missions--in one day!
When last we saw our heroes, they had just visited the ninth of twenty-one missions. The wild ride--with a couple of wrong turns--continues in this episode of--
TEMPLE TALES!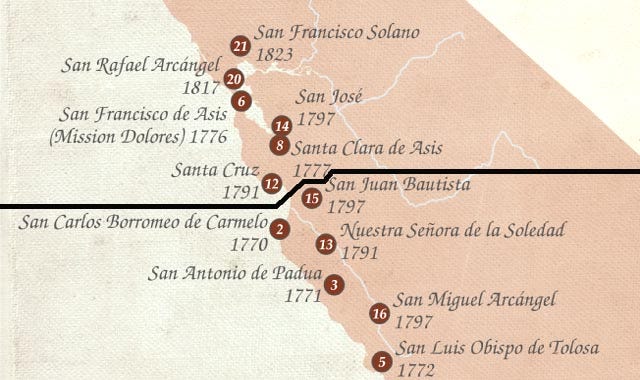 Map of the ten northernmost missions, from Wikipedia; the numbers indicate order of founding. The black line separates the Third (more southerly) Military District from the Fourth.
In Part I, my buddy Wayne and I started out on the longest day of 1996 (I think that was the year) at Mission San Diego, less than 20 miles from the Mexican border, snapping a few shots (with me holding a clock to indicate the time) and leaving there at 5:20 a.m. Barreling northward with snacks and food on board, we visited San Luis Rey near Oceanside (6:00), San Juan Capistrano (6:35), and San Gabriel (8:05), which together comprise the First Military District. Passing the once-tiny village of Los Angeles--now America's second largest city--we entered the Second Military District, where we stopped at San Fernando (8:40), Ventura (9:40), Santa Barbara (10:20), Santa Ines (11:05), and La Purisima (11:25).
Missions visited (however briefly): nine

Elapsed time: just over six hours

Distance covered: about 300 miles
And it wasn't even noon yet!
Please do take a look at Episode 049 for more details, and for the background of this whole "stunt." But now, let's push on to the Third and Fourth Military Districts, each with its own presidio or fort. ¡Vamonos!
---
The Third Military District: San Luis Obispo to San Juan Bautista (six missions)
10. San Luis Obispo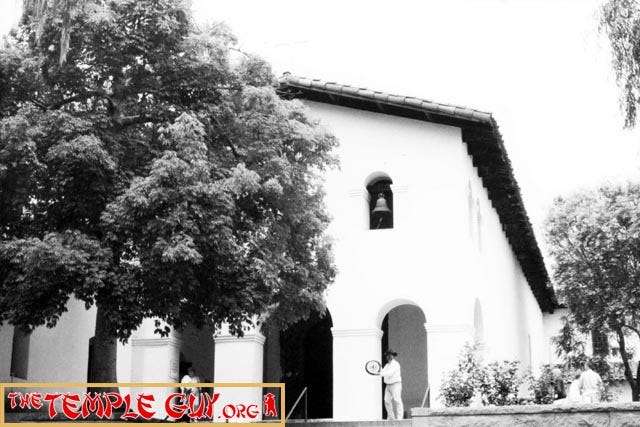 Mission San Luis Obispo, 12:30 p.m.
FULL NAME: Mission San Luis Obispo de Tolosa

PATRON: St. Louis of Toulouse (1274-1297), Franciscan Bishop of Toulouse in France

LOCATION: In the pleasant downtown area of the university town of San Luis Obispo (35.280611, -120.664000)

FOUNDED: 1772 (#5)

ARRIVED: 12:30 p.m. (65 minutes)

DISTANCE: 59 miles
From Lompoc we drove up California 1, then US Highway 101 to San Luis Obispo. (Had we stayed on CA 1, we eventually would have reached Carmel; but from San Miguel to Soledad, three missions are located on the back side of the coastal range, and Pacific Coast Highway misses them completely!) I don't have strong memories of the mission at "SLO," though I love the town. Aside from the imposing facade in front of which I'm standing in the picture, this mission sort of "blends in" to the run of 21. Its founding was interesting, though: Mission Carmel was running out of food, and Padre Serra (who founded the first nine missions) sent a hunting party to the area, based on stories he had heard from the overland expedition that he had met after his sea journey to Monterey. The hunt was successful, and--because there were also other natural resources, and pleasant weather, and pliable natives--Serra decided to plant this mission.
11. San Miguel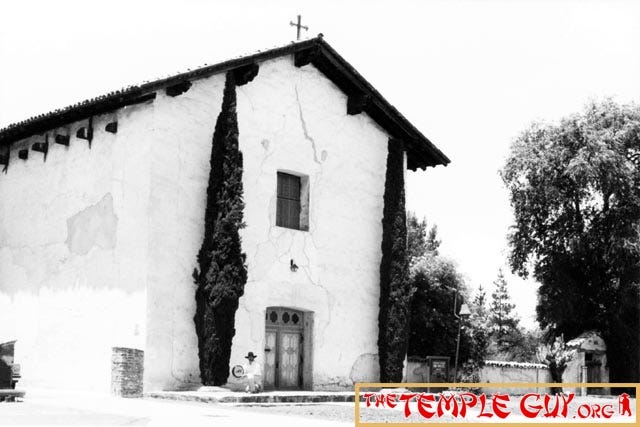 Mission San Miguel, 1:10 p.m.
FULL NAME: Mission San Miguel Arcángel

PATRON: The Archangel Michael, who defeats Satan in The Book of Revelation (and is often depicted doing so). He's the only figure the Bible actually calls an Archangel. In the Bible.

LOCATION: Right on Highway 101 at the south end of San Miguel (35.744972, -120.697111)

FOUNDED: 1797 (#16)

ARRIVED: 1:10 p.m. (40 minutes)

DISTANCE: 37 miles
Just a ways up the 101 from San Luis Obispo, San Miguel sits smack dab on the highway; you can see its free-standing bell wall as you whiz by. Which we didn't. I always loved its weathered front wall, shown in the picture, cracked perhaps as much by the rumble of trains on the railroad tracks just across the street as by earthquakes. Alas, Google Street View shows it's been replastered and painted. Progress. I hope they haven't touched the interior (which we didn't have time to see that day); its walls bore original artwork by local Salinan Indians. There's lots more to recommend this mission, and some great stories about it available online, especially from the rough-and-tumble "wild west" days after the missions were removed from church ownership in 1834.
12. San Antonio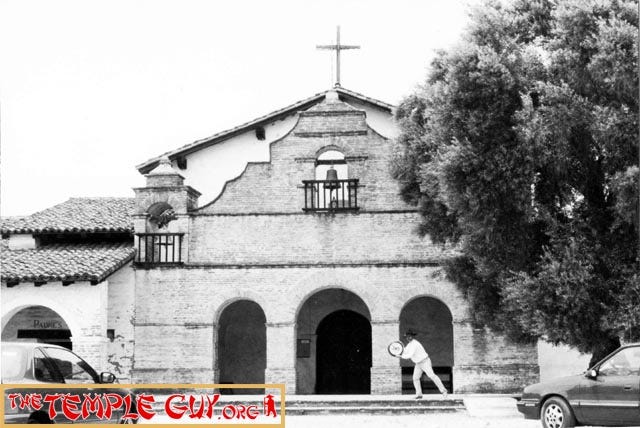 Mission San Antonio, 1:50 p.m.
FULL NAME: Mission San Antonio de Padua

PATRON: St. Anthony of Padua (1195-1231), Portuguese Franciscan priest and friar, one of the most quickly canonized saints in church history

LOCATION: On Fort Hunter Liggett northwest of Jolon (36.015278, -121.249694)

FOUNDED: 1771 (#3)

ARRIVED: 1:50 p.m. (40 minutes)

DISTANCE: 40 miles
We continued on 101 to the town of Bradley, then took a small country road northwest through Lockwood to Jolon and the turnoff to Fort Hunter Liggett, which once belonged to William Randolph Hearst. (The full story is told in Episode 025, where I wax rhapsodic about this mission). In the photo I'm standing in front of the church's three-arched wall, behind which is a vestibule with a vaulted brick ceiling. The preserved setting of this one is a real treat.
13. Soledad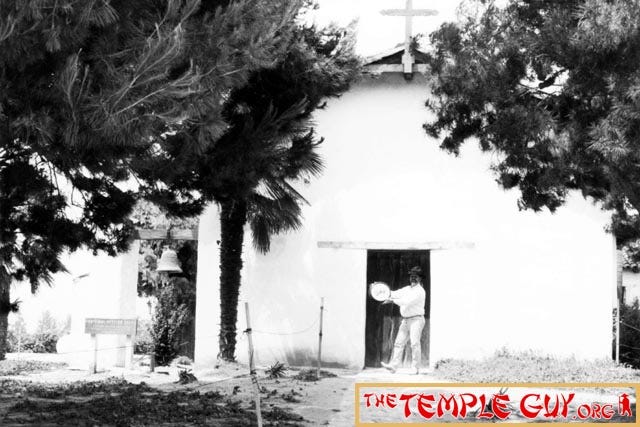 Mission Soledad, 2:35 p.m.
FULL NAME: Mission Nuestra Señora de la Soledad

PATRON: Mary, Our Lady of Solitude, a Spanish devotion focusing on Mary's loneliness on Holy Saturday, the day after Jesus died. In the Bible.

LOCATION: In a suitably lonely spot amid fields south of Soledad (36.404639, -121.355972)

FOUNDED: 1791 (#13)

ARRIVED: 2:35 p.m. (45 minutes)

DISTANCE: 44 miles
Leaving San Antonio, we drove a few miles back to Jolon and continued on a county road from there northeast to King City and the 101, whence to Soledad just two and a half miles off the highway. I hope you'll forgive me if I have little to say about this mission; I'm sure there's more there now than on my last visit, but the fact is that almost nothing here is any older than I am! The place was completely in ruins, and the reconstructed chapel was dedicated in 1955--the year I was born. (Which ain't that long ago!) All the other buildings on the site are younger still. But as the picture shows, it's pretty enough: as the saying goes, adobe looks old the day it's put up! Detached walls of the original quadrangle were still standing in my day (and Google Street View shows they're there even now, though covered by a shed roof); in some ways I'd rather see those than shiny new replicas. I loves me a good ruin!
14. Carmel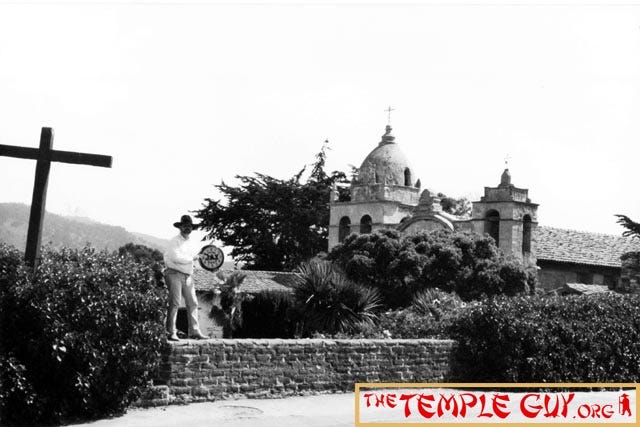 Mission Carmel, 3:50 p.m.
FULL NAME: Mission San Carlos Borromeo de Carmelo

PATRON: St. Charles Borromeo (1538-1584) Third Order Italian Franciscan archbishop of Milan and cardinal who, with St. Ignatius of Loyola and St. Philip Neri, combated the Protestant heretics

LOCATION: The town of Carmel, but was originally in nearby Monterey (36.543000, -121.920028)

FOUNDED: 1770 (#2)

ARRIVED: 3:50 p.m. (75 minutes)

DISTANCE: 45 miles
Carmel, ah, Carmel. The setting "by the sea"; the town, where actor Clint Eastwood was mayor for a couple of years; the mission at the town's south end--all are heavenly. It's a little hard to reach these days, though; we backtracked from Mission Soledad to the 101, then turned off just before Salinas (birthplace of John Steinbeck, whose ink stains are all over this region) through Spreckels (the company town for a sugar plant) and along California 68 to good old CA 1, which came here by the coastal route from near San Luis Obispo. We just skirted Monterey with its famous aquarium. This was the first capital of California, and the Carmel Mission's original site; the presidio for the Third Military District was located there (and still is, as a U.S. Army installation and site of the Defense Language Institute). The old presidio's chapel is now San Carlos Cathedral in Monterey, the only presidio chapel to survive; thus it's the oldest cathedral in the U.S., completed in 1794. But back to Carmel: Padre Serra had a falling out with the military governor in Monterey and moved lock, stock, and candlesticks to Carmel, even keeping the same patron as the church in Monterey. Serra used Carmel as his headquarters for the remainder of his life, and is buried under the church floor. That grave is not to be confused with the artistic cenotaph, or "empty tomb," in a side "chapel gallery," depicting him reclining on a bier, palms joined, with three of his companion padres standing or kneeling around his life-sized corpse. But we didn't see any of that: as the photo shows, we never even entered the grounds. I just stood on a surrounding wall, with the church's unique (and beautiful) non-identical twin towers behind me, as Wayne snapped the picture. And off we flew.
15. San Juan Bautista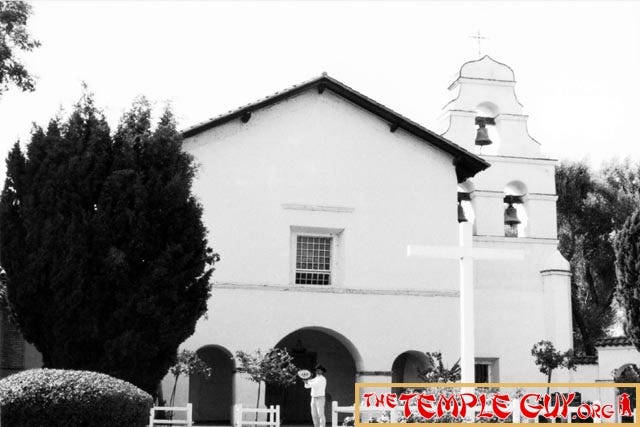 Mission San Juan Bautista, 4:30 p.m.
FULL NAME: Mission San Juan Bautista

PATRON: St. John the Baptist (late 1st century BCE to 28-36 CE), cousin and initiator of Jesus. In the Bible.

LOCATION: On the plaza in San Juan Bautista (36.845861, -121.535583)

FOUNDED: 1797 (#15)

ARRIVED: 4:30 p.m. (40 minutes)

DISTANCE: 37 miles
North again on California 1 through Castroville to 156, which joins and leaves 101 again, into the lovely town square of San Juan Bautista. When I was a teen, my parents had visited here (as well as San Jose's Winchester Mystery House and the 3.25-mile "Roaring Camp & Big Trees Narrow Gauge Railroad" through the redwoods in Felton, outside of Santa Cruz). So impressed was Dad by these sights that he took me--just me, not any of my sibs--and we retraced their steps. Of all the things I saw--Mrs. Winchester's stairways going nowhere, the cinders in my eyes from the little steam loco that could--nothing impressed me like this place, famous for its (slightly altered) appearance in Hitchcock's Vertigo (Hitch added a bell tower, the crux of the whole story); and for its "fault scarp" right next to the church, with an unpaved section of El Camino Real running below it, tracing California's dreaded San Andreas Fault, which we'll hear more about in a minute. Anyway, the square in front of San Juan B sports some fine old American period buildings, including the Plaza Hotel (which started as adobe housing for Native American laborers before the mission was built, then served as a barracks, before opening as a hotel in 1856) and a livery stable built in 1874 for the Overland Stage Company, "parent" company of the famed Pony Express. The photo shows me in front of the church with its three-bell wall (not a tower, as in Vertigo) on the Plaza's northern corner and looking out over all this Old West splendor.
---
The Fourth Military District: Santa Cruz to Solano/Sonoma (five missions, plus the Villa of Branciforte--now Santa Cruz--and the Pueblo of San Jose)
16. Santa Cruz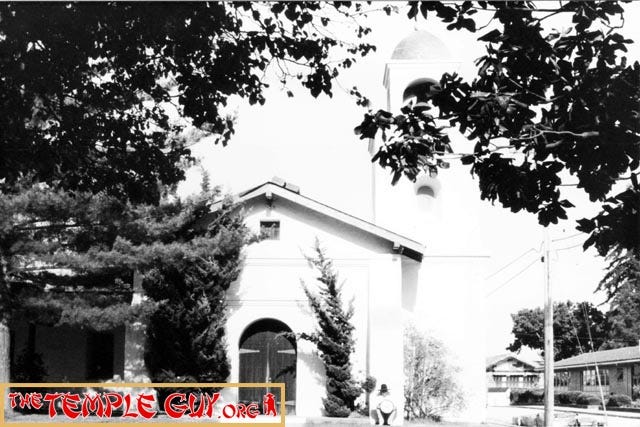 Mission Santa Cruz, 5:20 p.m.
FULL NAME: Mission Santa Cruz

PATRON: The Exaltation of the Holy Cross, the one that Jesus hung on. In the Bible.

LOCATION: Just north of downtown Santa Cruz (36.978056, -122.029556)

FOUNDED: 1791 (#12)

ARRIVED: 5:20 p.m. (50 minutes)

DISTANCE: 35 miles
Driving north we crossed 101, where we connected with California 129 past Watsonville and thence back on good ol' 1 to the Mission Plaza in Santa Cruz. Well, that was the plan anyway. But somewhere, due to road construction, we took a wrong turn and wasted 15 or 20 minutes getting back on the right path. This was only our first hiccup. Anyway, the mission is located not far from the city's famed antinomian UC campus (a "hippie school," they say, though it's hotly denied). The city began as Alta California's only "villa," called Branciforte after a Spanish Viceroy. Founded in 1797, this was basically California's third pueblo (after Los Angeles and San Jose), but never really got off the ground. Branciforte was annexed into its more prosperous neighbor, which had grown up around the mission less than a mile to the west, in 1905. The little chapel I'm standing in front of in the photo, with its modest bell tower, is a replica built in the 1930s as a chapel of the larger, older Holy Cross Church, which was built slightly to the north in 1889 on the original mission's foundations. Little else remains.
17. Santa Clara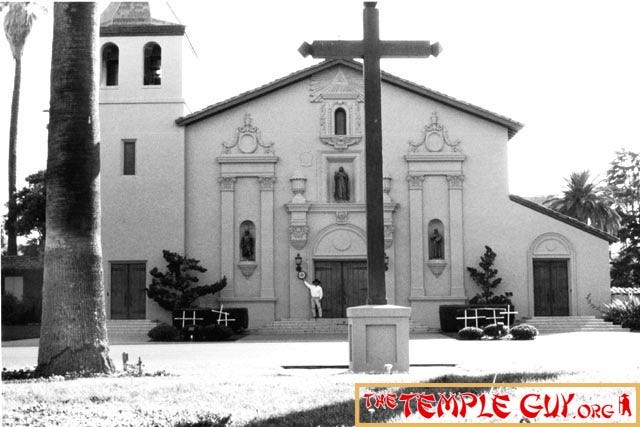 Mission Santa Clara, 6:00 p.m.
FULL NAME: Mission Santa Clara de Asís

PATRON: St. Clare of Assisi (1194-1253), friend of St. Francis, also of Assisi, and founder and first nun of the "Poor Clares," the Franciscan Second Order, for women

LOCATION: On the campus of the Jesuit-run Santa Clara University in Santa Clara, a "twin city" to San Jose (37.349361, -121.941222)

FOUNDED: 1777 (#8)

ARRIVED: 6:00 p.m. (40 minutes)

DISTANCE: 30 miles
From Santa Cruz we took another "pass road"—like the one above Santa Barbara--this one through the Santa Cruz Mountains and redwood country on California 17, then a little bit of Interstate 880 to Washington Street and on into the campus of Santa Clara University, California's oldest. As the picture shows, this place looks nothing like a Spanish mission. There's a good reason for that: in 1861, the original was enshrouded in a wooden facade, and in 1885 the original adobe walls were removed to widen the church. The now wooden structure burned in 1925, and what we see today was its replacement completed in 1929. The original cemetery and a few random walls remain in the area. But see that cross standing in the foreground? There's a little window in the base of it (it's hollow) through which you can see an old piece of wood, said to be an original cross from 1777. The eight white crosses flanking the door (and me) commemorate the six Jesuit priests, their housekeeper, and her teenage daughter, who were killed in El Salvador in 1989 by the death squads for standing with the poor. Sobering. As far as I know, this is the only California mission in Jesuit hands--ironic, since they started the chain in Baja California in 1697.
18. San Jose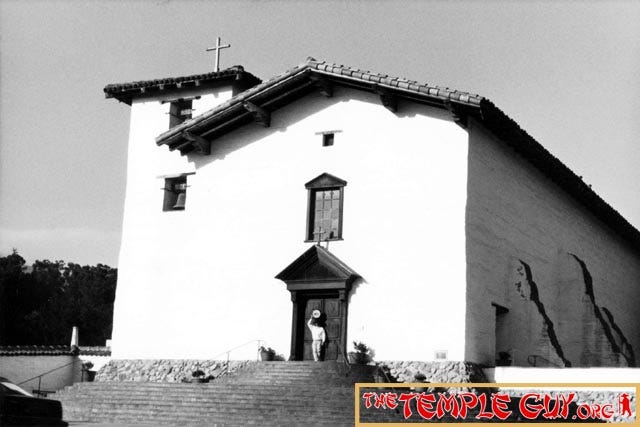 Mission San Jose, 6:40 p.m.
FULL NAME: Mission San Jose

PATRON: St. Joseph (dates unknown), foster father of Jesus. In the Bible.

LOCATION: Peculiarly, not in San Jose at all--that city had been a pueblo--but instead in Fremont (named for American explorer and former California Military Governor John C.) (37.533861, -121.919944)

FOUNDED: 1797 (#14)

ARRIVED: 6:40 p.m. (40 minutes)

DISTANCE: 44 miles
We backtracked to 880 north to the California 262 Interchange in Fremont; then 262 and Mission Boulevard to the Mission. I've sung this song before: This building ain't nuthin' but a replica. But unlike some we've seen, the restorers really knocked themselves out on this one. The original church succumbed to an 1868 earthquake on a fault that runs right under it. (A priest, apparently no architect, had removed some of the church's buttresses.) The remains were cleared and a wooden church built right over the intact floor. But better sense prevailed: the wooden structure was sold to some renegade Anglicans in San Mateo, and the splendid sturdy replacement, considered a near-perfect copy of the original, was completed in 1985. Oh, and, in the photo, notice the rough-hewn buttresses along the side? Better sense indeed.
19. San Francisco (Mission Dolores)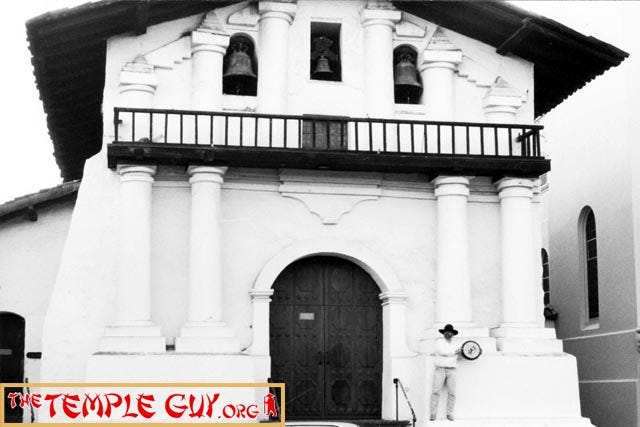 Mission San Francisco, or Mission Dolores, 7:40 p.m.
FULL NAME: Mission San Francisco de Asís

PATRON: St. Francis of Assisi (1181/1182-1226), founder of the Franciscan Order of monks, more properly the Order of Friars Minor (O.F.M.)

LOCATION: San Francisco (37.764167, -122.426500)

FOUNDED: 1776 (#6)

ARRIVED: 7:40 p.m. (60 minutes)

DISTANCE: 44 miles
We went back to 880 and up the east side of San Francisco Bay, and west on 80 and across Yerba Buena Island (one of S.F.'s original names) on the Oakland Bay Bridge. (Yeah, I know, the padres had no such bridges. But how did they get in and out of this place? Around the south end of San Francisco Bay, up the peninsula, then back down again, and all the way around a whole bunch of water to San Rafael? Or were there ferries? I dunno.) We then should have turned north--not south, as we did--on the 101, and then take surface streets to the mission. Another costly mistake, with no roadwork as an excuse. But hey, who has driven in San Francisco and never gotten turned around? Incidentally, a block and a half east of the present mission was a creek, now culverted (some say it was a lake, now filled in) named Dolores, meaning "sorrows" or, more bluntly, "pains." (This is a reference to the sorrows suffered by Mary, the mother of Jesus. In the Bible.) This lent its name to the original Spanish settlement on the site, so Mission San Francisco is sometimes still called "Mission Dolores." This little mission with its classical pilasters (little changed since the 1780s) is a bit of a miracle, having stood through the 1906 earthquake--there's that pesky San Andreas Fault again--when over 80% of the city was destroyed. They say the subsequent fires marched right up to the steps where I'm standing in the photo! Another side effect of that disaster: the "moderner" brick church immediately to the mission's north was destroyed, and a yucky (sorry) basilica in the regrettable Churrigueresque or "Ultra Baroque" style with its elaborate ornamentation was completed on that site in 1918. (You can see its plain side wall in the right side of the photo.) Oh, it's nice enough for old Spain, but completely inappropriate on the frontiers of New Spain. Dolores indeed.
20. San Rafael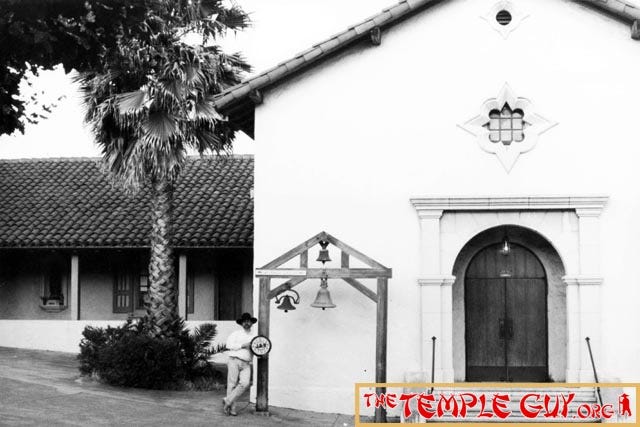 Mission San Rafael, 8:15 p.m.
FULL NAME: Mission San Rafael Arcángel

PATRON: The Archangel Raphael, who protects a traveler by binding a demon and such, in a book that Catholics consider scripture but Protestants do not. So, in the Bible--sort of.

LOCATION: San Rafael (37.974333, -122.528056)

FOUNDED: 1817 (#20)

ARRIVED: 8:15 p.m. (35 minutes)

DISTANCE: 19 miles
Heading north through a welter of streets--but mainly ultra-hip Divisadero, because Wayne and I were nothing in those days if not ultra-hip--we joined 101 again through the Presidio and across the Golden Gate Bridge (ahhh!!) up the west side of the Bay through Marin and into San Rafael. That presidio, by the way, is the fourth and last one covering a military district. It was then a U.S. Army base until 1994, when it was transferred to the U.S. National Park Service. Part of it sits under the south end of the Golden Gate Bridge, which we crossed. Mission San Rafael started out as an asistencia or "sub-mission" of San Francisco; the northern location's salubrious weather made it a good place to establish a sanitorium for Native Americans infected with some of the new diseases brought by the Europeans. (Saint Raphael is the Catholic angel of healing.) The site didn't achieve full mission status until 1822, just 12 years before all of the missions were de-commissioned (get it?). This place bears the dubious honor of being the "most obliterated of California's missions." It was abandoned in 1844 and re-churchified a year after that. A new chapel was built in 1861, and in 1870 the remnants of the old mission were removed to make way for San Rafael City's burgeoning business district--the mission cemetery was actually paved over. Only a single pear tree from the mission's orchard survived this orgy of "progress." An odd, almost phallic-looking edifice replaced successive churches in 1919, and a guesstimated replica of the original mission chapel was built in 1949 in front and to the right of that church, at right angles to its prototype. That replica is the building I'm standing in front of in the photo, leaning on a rustic wooden frame bearing three forlorn-looking little bells.
21. Solano (Sonoma)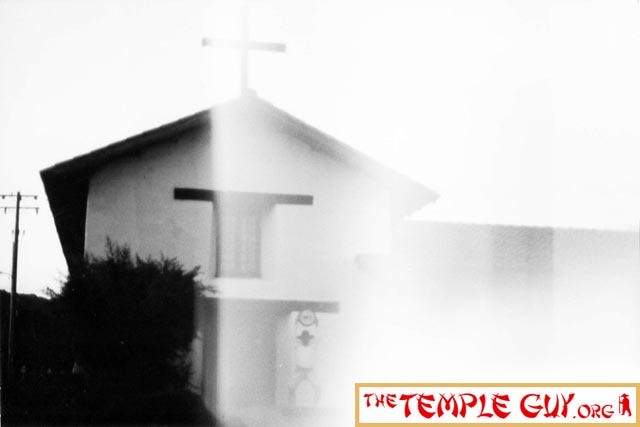 Mission San Francisco Solano, or Mission Sonoma, 8:45 p.m.
FULL NAME: Mission San Francisco Solano

PATRON: St. Francis Solanus (1549-1610) Spanish Franciscan missionary to South America

LOCATION: Sonoma (38.293667, -122.456111)

FOUNDED: 1823 (#21 and last)

ARRIVED: 8:45 p.m. (30 minutes)

DISTANCE: 27 miles
We continued up 101 on the west side of the bay--this far north called "San Pablo"--and in Novato changed to California 37 to Sears Point; there we changed to CA 121 to CA 12 to Sonoma State Historic Park. There had been some talk of moving Mission San Francisco de Asis and/or Mission San Rafael farther north, again to ward off those pesky Ruskies that had prompted the whole mission-planting enterprise over a half a century earlier; they had actually founded a colony, Fort Ross--a corruption of rus or "Russian"--some 60 miles away, out on the coast, in 1812. In scouting for a new mission location, a priest and some soldiers staked out the site at what is now Sonoma, planting a large redwood cross there in 1823. The decision was made to build here in addition to--not instead of--the other two missions. But this was late in the game, and rounding up a sufficient crop of natives proved difficult. But things got rolling until--again--the end of the mission era arrived in 1834. A few years later, the locals started cannibalizing the structures for building materials, and the place started to disintegrate. In 1841 (?), a chapel was built at the far end of the convento building from the original. This and the convento became part of the California Park System in 1906. The buildings were refurbished, and I'm standing in front of one of them in the photo--though you can hardly tell, as this was the end of a roll of film (remember film?) and somehow the negative got "flashed." No "Play" button on old-school cameras! A "fifth presidio," now known as Sonoma Barracks, was built nearby; never actually part of the overall military plan, it nevertheless housed soldiers sent from the San Francisco Presidio in 1835 to protect the Europeans in this most remote of all the California missions.
--------
And that concludes our whirlwind tour of all 21 of the California missions--in a day! There's still a lot of California--about a third of it, or 250 miles or so--north of Sonoma, but we were done. In fact, less than a half-hour after we snapped our last picture, I stepped out of the restaurant where we were dining and tried a light reading--and it was too dark! We had just made it, partly due to those two wrong turns. We found a cheap place to stay for the night, and drove down Interstate 5--the fastest way--back to L.A. the next day.
This episode:
Missions visited (however briefly): twelve

Elapsed time: nine hours and twenty minutes

Distance covered: about 460 miles
Final tally:
Missions visited (however briefly): twenty-one

Elapsed time: sixteen hours and twenty minutes

Distance covered: about 760 miles
Until next time, then, may you and your loved ones and all sentient beings be well and happy.
Adios, Amigos!
---
Subscribers to the Newsletter will see Questions at this point, and be invited to join the conversation in a "secret group" on Facebook. (Of course, if you don't use Facebook--sorry!) Want to get in on some of that? Hit that Subscribe button and send me your email!
---
GET MORE:
You may unsubscribe to Temple Tales at any time by simply replying to this Newsletter and writing "Unsubscribe." You will receive one more letter as confirmation.
If you have any problems reading the Newsletter or accessing the Podcast, please write to me at TheTempleGuy@GMail.com, and I'll help you in any way I can!
In the next episode: Let's visit what UNESCO calls the "largest" and "tallest" ancient Buddha statue in the world--and a pretty little nearby temple, in Leshan, China.