Discover more from Temple Tales
Thrilling accounts of one man's journey to over 700 sites in Japan and China, with plenty of Buddhist teachings thrown in.
Ep. 049: All the Missions in a Day, Part I
Speeding Our Way Up California's El Camino Real
Note: As we approach our 50th Episode, we're going to try something a little different: this journey will be a two-parter, so I can give you all the thrilling details of my California adventure. Enjoy!
Also note: I've made a "live" Google Map for my Temple Guy page that shows the missions of California and some associated sites. You can find it here.
--------
At some point in their lives, many Californians have dreamed of "doing the Mission Trail"--traveling to each of California's 21 Spanish missions along the El Camino Real, the "Royal Highway." I even belong to a group of over 1200 "Mission Walkers" on Facebook, people either finished with, in the process of, or dreaming (like me--though it'll be hard to do from my home in the Philippines) of walking the 600 or so miles from San Diego near the Mexican border to Sonoma north of San Francisco. But when I did the Mission Trail, it was the antithesis of "mission walking." Stay tuned for all the frantic details in this episode of--
TEMPLE TALES!
It all started with a myth, and some math. The oft-told story (even repeated today on the usually-reliable Wikipedia) is that the California missions--founded in the late 18th and early 19th centuries by Spanish Franciscans to discourage Russian settlement in what Spain saw as her territory of "Upper California"--were spaced one day's journey (approximately 30 miles) apart. As I've ranted before, this is sheer nonsense.
Aside from common sense--just look at a map, for cryin' out loud--I have it on good authority that this whole image was fostered by people like Charles Lummis (a personal hero of mine, actually) and the other romantic "mission boosters" of the turn of the 20th century.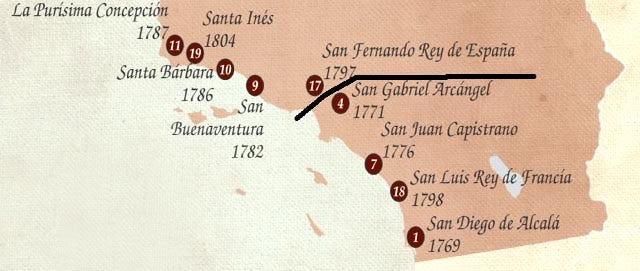 Map of the nine southernmost missions, from 
Wikipedia
; the numbers indicate order of founding. The black line separates the First (more southerly) Military District from the Second.
The chain of 21 California missions began in San Diego in 1769. They were not founded in order up the coast; instead, the second was at Carmel, around 90 miles south of San Francisco as the crow flies; next came San Antonio de Padua, between the first and second; and so on, filling in until the chain was complete from the Mexican border to north of the Bay Area.
The ostensible purpose of the missions (prophetically called "reductions") was to "Christianize" the native peoples. A more cynical view is that it was a way to pacify the locals and exploit their labor so the Spanish could avail themselves of the region's rich resources (while keeping the Ruskies out). The fact that there was a military presence, and that the kindly old padres were not allowed to travel between missions without an armed escort, supports this darker version of the story--as do the uprisings, the first of which happened just six years after the San Diego Mission's founding, when Luis Jayme, one of the resident priests, was subjected to 18 arrows and a face-smashing at the hands of some 600 natives.
But the pious padres persevered, and the buildings they built--or at least the reconstructions of them--still dot the landscape of California. Familiar place names--San Francisco, San Diego, Los Angeles (not actually a mission, but an asistencia, a sort of "sub-mission") all attest to the effectiveness of their plantings.
--------
I once had the pleasure of invading, all uninvited, the office of Monsignor Francis J. Weber, archivist for the Archdiocese of Los Angeles and the highest-level "missioner" I've ever met. (I had seen him once before at Dawson's Books in Larchmont, so felt bold to drop in on him in his office at Mission San Fernando.) In a great conversation which ended near 5:00 with him kicking me out (asking, "If I give you some books, will you just leave?"), he confirmed that this one-day-apart thing was entirely made up.
The Monsignor also, incidentally, called the extraordinary feat I'm sharing in these Episodes "quite a stunt." Peculiarly, my late, beloved bookseller Davis Dutton, author, one-time editor of Westways Magazine, and a font of Californiana, chose the same noun to describe my adventure! (Among my treasures is a book of mission documents edited by Dave, which he inscribed something like "To Jim: A missionary in his own right." I don't know what that means, but I cherish it nonetheless!)
Look, using Google maps and modern highways, we can easily confirm that the distance between the mission at San Gabriel and its neighbor to the south, San Juan Capistrano, is about 57 miles. Even accounting for the idea that the original location of San Gabriel was intended to be somewhere in Orange County (see Episode 037), they clearly missed by miles.
BUT in June of 1996 (I think it was--the year is kinda fuzzy) I didn't know this--and dang near confirmed the myth!
Here was my reasoning (and the "math" bit): If a man walks at three miles an hour, and could cover the gaps between the 21 missions in 20 days, that would be the same as traveling by car at 60 miles per hour in one day. Get it? 3 x 20 = 1 x 60!
So, on the morning of the summer solstice--the longest day of the year, to hedge my bets--my buddy Wayne and I woke in a cheap motel room in San Diego before dawn. (Traveling south-to-north was another hedge, as daylight lingers longer in northern latitudes.) By 5:00 a.m. or so, we were in the mission's parking lot.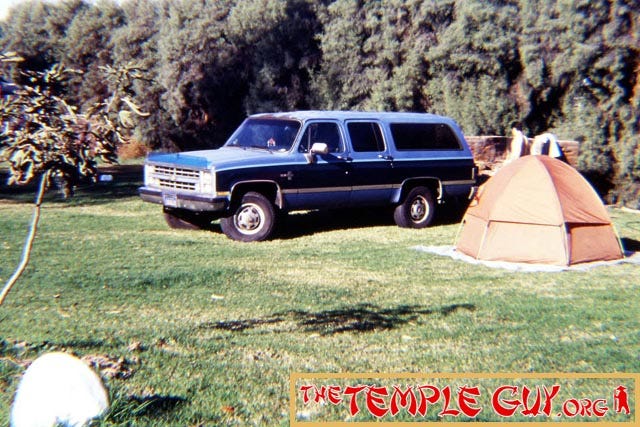 My old '86 'Burb, on a missioning trip in Baja California
Naturally, I had done my research, having visited all of the missions several times before. Where would we gas up? (I drove a 1986 Chevy Suburban, a real gas hog.) Where would we stop for pee breaks (aside from the gas stations)? And to avoid unnecessary stops, we had packed lunches and snacks. I pretty much covered every contingency--or so I thought.
We headed to the mission, where I set up my camera on a tripod. I kept checking the light reading, and when I could shoot at 1/60th of a second--the slowest practicable speed for hand-held shooting--I declared it Day and asked Wayne to hit the shutter three times at my command as I struck three different poses holding a large clock "borrowed" from my uncle's darkroom, hands set to the time (though as you'll see, I made one mistake--because of that huge gap between Capistrano and San Gabriel!)
The following brief sketches of each mission, with the time (per the clock in my pictures--no time-stamping cameras in those days); the route (as I remember it, with a little nudge from Google Maps); the distance (also per Google Maps); and a description of the photo, will give you a pretty solid--if whirlwind--sense of what the El Camino is all about. Did we make it? Did we travel "all of the missions in a day"? You'll have to read to the end to find out!
I have named the missions from south to north, the direction in which we drove and the route one would take when traveling from Spanish Mexico. Also, I've divided the trip by military districts, a division made back in the day. Each district had a presidio or fort for protection, and some of them included pueblos or villas--nascent cities.
---
The First Military District: San Diego to San Gabriel (four missions)
1. San Diego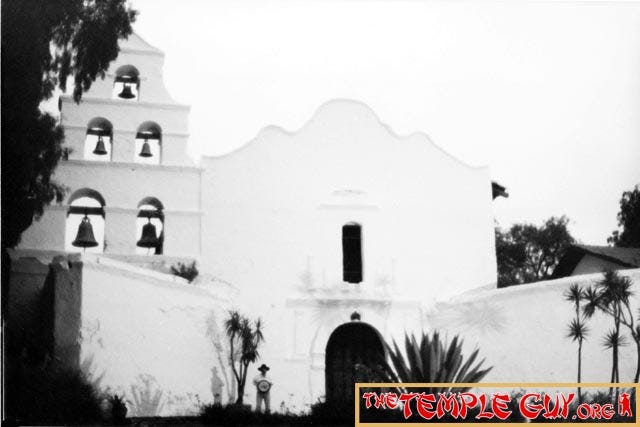 Mission San Diego, 5:20 a.m.
FULL NAME: Mission San Diego de Alcalá

PATRON: St. Didacus of Alcalá (c. 1400-1463), a Franciscan lay brother and one of Spain's first missionaries to the Canary Islands

LOCATION: In Grantville (named for US President Grant), now a quiet suburb of San Diego around 20 miles north of the current Mexican border (whence the padres came) (32.784556, -117.106472)

FOUNDED: 1769 (#1)

STARTED: 5:20 a.m.
The photo was taken between the church's five-bell campanario (bell wall) and the main door, which are thankfully street-side (otherwise we couldn't have entered at 5:00 a.m.!) The mission was originally located on Presidio Hill, above what is now San Diego's Old Town, until the natives said nyet to Padre Jayme, as described above. The Junípero Serra Museum, named for the mission's founder, stands on the hill today. The foundations of the old Presidio, which guarded the entire district all the way to San Gabriel, are nearby.
2. San Luis Rey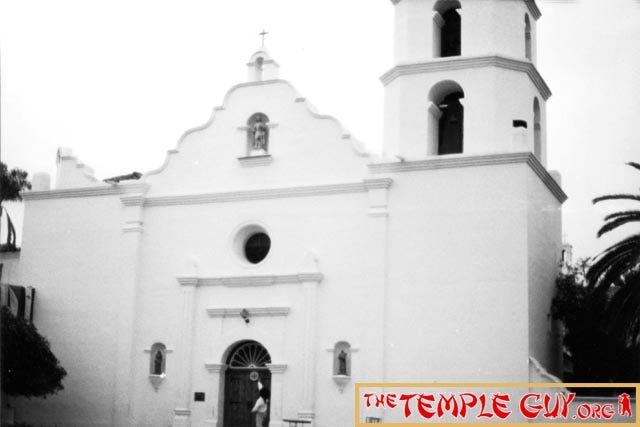 Mission San Luis Rey, 6:00 a.m.
FULL NAME: Mission San Luis Rey de Francia

PATRON: St. Louis, King of France (1214-1270), a member of the Franciscan Third Order, for those who remain in the world

LOCATION: Four or five miles inland from the city of Oceanside, on a nice-sized piece of land now surrounded by housing (33.232250, -117.319417)

FOUNDED: 1798 (#18)

ARRIVED: 6:00 a.m. (40 minutes)

DISTANCE: 41 miles
Up Interstate 5 to Oceanside, and then a pretty drive a few miles inland. In this photo, I'm standing in front of the church's door, above which is a statue of Saint Louis, the French king. Just out of shot is the gateway to the old cemetery with a skull and crossbones over the gate--a deliciously gruesome touch added by Disney artists when this mission stood in for San Gabriel in a few 1957 episodes of Zorro. Below the church is an excavated lavanderia (wash area) with Olmec-looking stone spouts. I have attended a re-enactment at the mission when horsemen in period costumes came down a hill across the way. Stirring. I have also stayed on the grounds for a student retreat when I was Dean of a Catholic high school.
3. San Juan Capistrano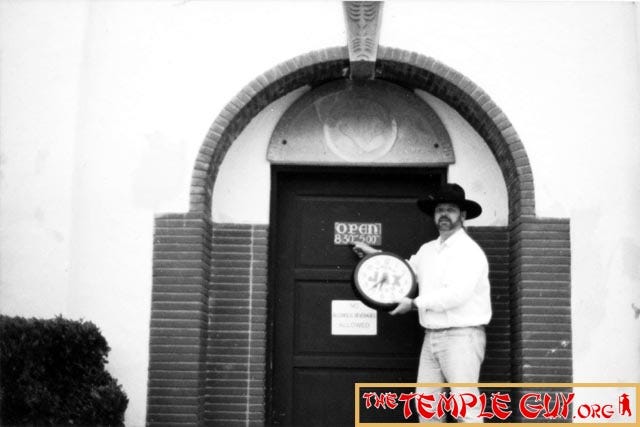 Mission San Juan Capistrano (gate), 6:35 a.m.
FULL NAME: Mission San Juan Capistrano

PATRON: St. John of Capistrano (1386-1456), an Italian Franciscan friar--and inquisitor, who led a crusade against the Turks at the age of 70

LOCATION: On a street corner in the small town of San Juan Capistrano (population around 35,000) (33.502028, -117.662167)

FOUNDED: 1776 (#7)

ARRIVED: 6:35 a.m. (35 minutes)

DISTANCE: 33 miles
Back to Interstate 5 and Capistrano. Sadly, Capistrano Mission is surrounded by a wall, so my picture shows me in front of the ticket office and entrance gate outside, in front of a sign reading "Open 8:30-5:00"--with my clock reading 6:35! Too bad, as this is one of my favorite missions, with its huge broken Great Stone Church (destroyed in the Earthquake of 1812); its ivy-covered four-bell wall; and the narrow, low-roofed 1782 Serra Church, said to be the oldest standing building in California. A semi-replica of the stone church was finished in 1986. Sadly, I have never been there in March, on St. Joseph's Day, to see the legendary "Return of the Swallows." (Gulp!)
4. San Gabriel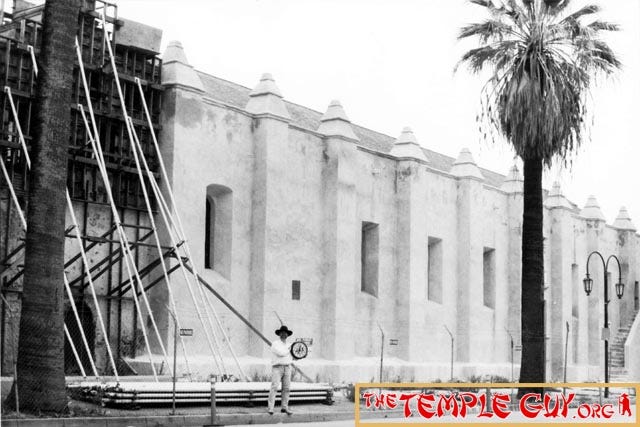 Mission San Gabriel, 8:05 a.m.
FULL NAME: Mission San Gabriel Arcángel

PATRON: The Archangel Gabriel who (though called only an angel, not an Archangel) announces the births of John the Baptist and of Jesus. In the Bible.

LOCATION: Nine miles from downtown Los Angeles in the city of San Gabriel, namesake of the valley in which it stands (and where I grew up) (34.096667, -118.106583)

FOUNDED: 1771 (#4)

ARRIVED: 8:05 a.m. (the time in the picture is 7:05; my mistake!) (90 minutes)

DISTANCE: 57 miles
We jumped back on Interstate 5 to the 605 (the "5" in its name designates it an alternative to the 5), and then west on Interstate 10 to San Gabriel, and through some surface streets. Along with San Miguel and San Rafael, this is one of three missions named for an archangel (though Biblically speaking, only Michael is actually dubbed an archangel, and Raphael is not even named in the Protestant canon at all!) I have treated this mission thoroughly in Episode 037, and will point out here only that, in the photo, I am standing in front of the campanario under repair from the 1987 Whittier Narrows Quake, and that the bell wall is only there at all because the 1812 earthquake that took down Capistrano's Great Stone Church took down the bell tower that used to stand on the other side of San Gabriel's church.
---
The Second Military District: San Fernando to La Purísima (five missions, plus the Pueblo of Los Angeles)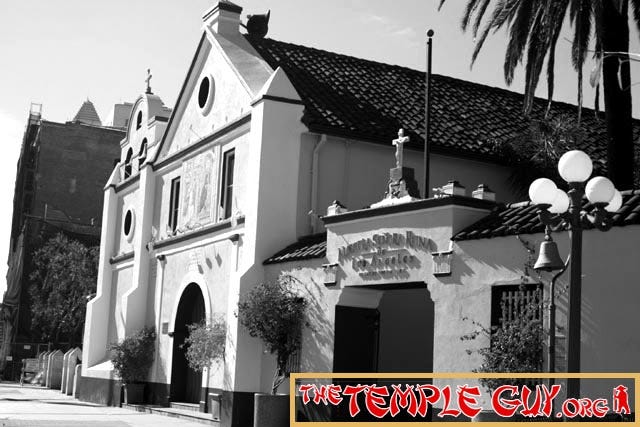 The church on the Plaza in Los Angeles
As we drove from San Gabriel to San Fernando (on the 10 to the 101 and 170 to the 5 again), we passed through the sleepy little Mexican village of El Pueblo de Nuestra Señora la Reina de los Ángeles sobre el Río Porciúncula or "The Town of Our Lady, Queen of the Angels, on the Porciuncula River" (the Porciuncula or "little portion [of land]" was the founding place of the Franciscan movement in Assisi).
But "L.A." is much easier to say! Los Angeles, as I wrote in Episode 037, is the "Godchild" of San Gabriel, and still has a mission-era church, an asistencia of San Gabriel, on its Plaza. We didn't have a chance to stop there on our way through.
5. San Fernando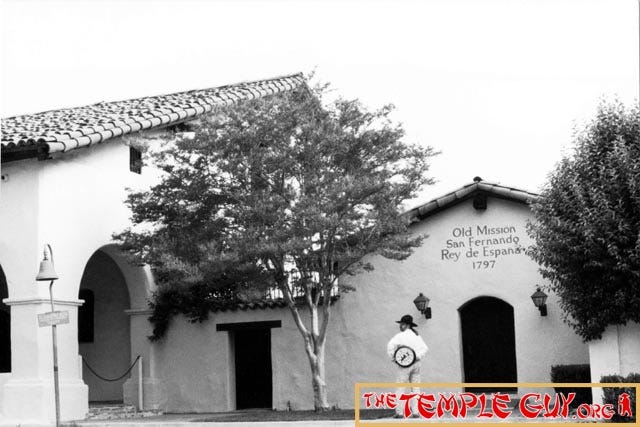 Mission San Fernando, 8:40 a.m.
FULL NAME: Mission San Fernando Rey de España

PATRON: St. Ferdinand, King of Spain (1199/1201-1252), a member of the Franciscan Third Order

LOCATION: In the San Fernando Valley north of downtown Los Angeles (34.273944, -118.461861)

FOUNDED: 1797 (#17)

ARRIVED: 8:40 a.m. (35 minutes)

DISTANCE: 30 miles
Like San Gabriel, this mission lies in a suburb of Los Angeles, and in a valley named for it; like San Luis Rey it's named for a king (this time of Spain) who was also a Third Order Franciscan. (This is not the Ferdinand who kicked off this whole mess by loosing Columbus on the New World; he came along two and a half centuries later.) My greatest association with this place is the meeting with Monsignor Weber I described above; I have also taken students from a photo class there to shoot. Otherwise, it's a pleasant place with a good museum, which I'm standing near in my photo: out on the street, and across from a small park.
6. Ventura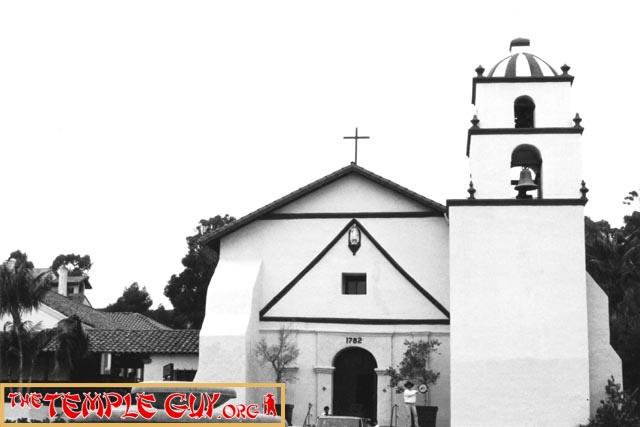 Mission San Buenaventura, 9:40 a.m.
FULL NAME: Mission San Buenaventura

PATRON: St. Bonaventure (1221-1274), Italian Franciscan theologian

LOCATION: "Downtown" Ventura, another sleepy town and seat of Ventura County (34.280944, -119.297722)

FOUNDED: 1782 (#9)

ARRIVED: 9:40 a.m. (60 minutes)

DISTANCE: 60 miles
Back down to the 101, the modern version of El Camino Real, on which we'll drive for most of the trip. We headed up the Ventura Highway to the breezy seaside town right on the highway. In the photo I'm again standing street-side between a main door and a bell tower, this one with pink or red candy stripes on its dome. A champion spitter might be able to hit the ocean from here. An excavation, two small museums, and a small park are nearby.
7. Santa Barbara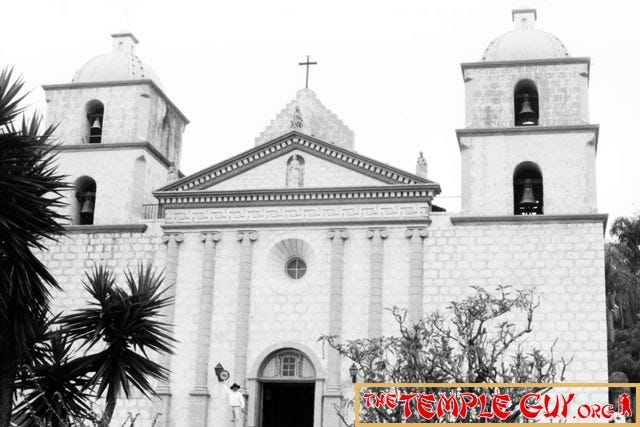 Mission Santa Barbara, 10:20 a.m.
FULL NAME: Mission Santa Barbara

PATRON: St. Barbara (mid third century), early Greek martyr, whose complex story was probably made up four centuries after her supposed life, and was removed in later reforms of the Catholic Calendar of Saints.

LOCATION: Santa Barbara, one of the most desirable cities in California to live in (34.438389, -119.713083)

FOUNDED: 1786 (#10)

ARRIVED: 10:20 a.m. (40 minutes)

DISTANCE: 30 miles
To get to the mission, you turn off the 101 from Ventura and drive through a city of fine houses and beautiful gardens. You also pass the largely reconstructed Presidio of Santa Barbara (though one of its buildings claims to be the second-oldest in California, after Capistrano's Serra Chapel). This fort was responsible for areas from San Fernando to La Purisima, near Lompoc. Now, the Mission, with its pink faux-columns (called "pilasters") and the twin bell towers with pink domes, along with a view of the ocean three miles to the south, is drop-dead gorgeous--one of the most beautiful in the chain, for my money. In the photo I'm standing by the front door, facing a fountain off-camera. Though the door's open, we didn't have time to enter.
8. Santa Ines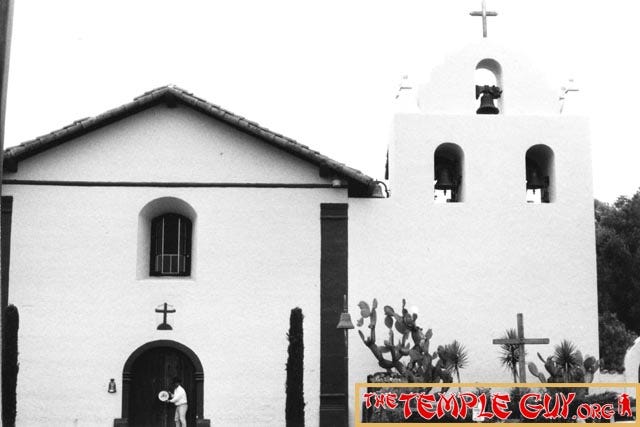 Mission Santa Inés, 11:05 a.m.
FULL NAME: Mission Santa Inés

PATRON: St. Agnes (c. 291-c. 304) virgin martyr and (naturally) patron saint of girls and chastity

LOCATION: On the outskirts of Solvang, the Danish-themed tourist village (not to say "tourist trap") of 5,000 or so people (34.594694, -120.136417)

FOUNDED: 1804 (#19)

ARRIVED: 11:05 a.m. (45 minutes)

DISTANCE: 32 miles
So far, our route had been mostly on freeways. But now we took the real El Camino: California 154 over San Marcos Pass and past Cachuma Lake is about as authentic as it gets. Parts of it were still unpaved in my day! Going this way, we approached the mission from the east, without going through kitschy Solvang, a real "culture shocker." In the photo I'm in the parking lot next to some cactus near the mission's front door. I recently read that a mission-era mill is now open to the public nearby; next time.
9. La Purisima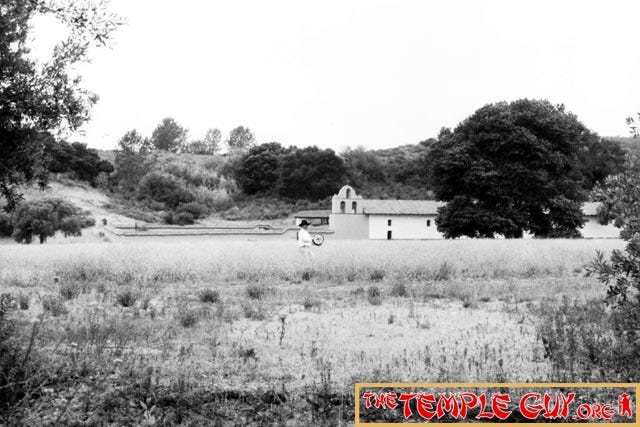 Mission La Purísima Concepción, 11:25 a.m.
FULL NAME: Mission La Purísima Concepción

PATRON: The Immaculate Conception of Mary, the idea that Mary had to be born free of original sin so Jesus could be, too; an ancient idea that didn't become church dogma until 1854

LOCATION: In its own state park, northeast of Lompoc, a town of 40,000 near Vandenburg Air Force Base (34.672000, -120.421583)

FOUNDED: 1787 (#11)

ARRIVED: 11:25 a.m. (20 minutes)

DISTANCE: 18 miles
It's a straight shot on California 246 from Santa Inez to La Purisima Mission State Historic Park--one of the coolest of the missions to visit. Like the final mission and destination of our trip, Solano/Sonoma, La Purisima is a state park, and hasn't been in the hands of the church for ages. During the Great Depression, the Civilian Conservation Corps restored it to its function as a "working mission"; there's plenty of land, and active agriculture--pigs and chickens and even some growing crops. My picture shows me standing in a vast grassland, with a stately oak tree and the mission buildings far behind me. Definitely in my top five favorite missions--but I say that a lot!
--------
And here, I'm going to leave you. Sure, I covered the entire Camino Real in one day--but I can't show it all to you in one Episode! There's so much to say about the 12 remaining missions that I think it's best if we put them on hold until the next episode--which will be Number 50!
Until then, may you and your loved ones and all sentient beings be well and happy.
Adios, Amigos!
---
Subscribers to the Newsletter will see Questions at this point, and be invited to join the conversation in a "secret group" on Facebook. (Of course, if you don't use Facebook--sorry!) Want to get in on some of that? Hit that Subscribe button and send me your email!
---
GET MORE:
You may unsubscribe to Temple Tales at any time by simply replying to this Newsletter and writing "Unsubscribe." You will receive one more letter as confirmation.
If you have any problems reading the Newsletter or accessing the Podcast, please write to me at TheTempleGuy@GMail.com, and I'll help you in any way I can!
In the next episode: I tol' you and I tol' you: Next time we'll finish up the "mission challenge," encounter a couple of hiccups, and see if we make it before the day is over!