Discover more from Temple Tales
Thrilling accounts of one man's journey to over 700 sites in Japan and China, with plenty of Buddhist teachings thrown in.
Ep. 088: Shanghai's "Incense Pavilion"
Chenxiang Ge, not far from the City God's Temple
Shoving off from my digs in Beilun, I at last moved from this trip's first base to its second and last, a hotel in the Jing'an district of Shanghai, where I visited one of the most precious little temples I saw in all of China, the "Incense Pavilion." Join me in this episode of
TEMPLE TALES!
I spent the entire day after my visit to Qita Temple, in Ningbo, in transit. I took a highway bus from Beilun to Shanghai South Bus Station, and (being an "old hand" at using subways, from my experience in Shenzhen - heh heh), managed to get to a stop near my hotel by taking only two lines.
The hotel was strategically chosen to be walking distance from three of my five "target" temples. (In fact, the district and the nearby subway stop are named for one of them, Jing'an Temple, which we'll visit in a few weeks.) That evening I took a pricey taxi to a pricey restaurant popular with expats, Malone's American Cafe, for the first and only night-on-the-town splurge of the entire trip. Nevertheless, I was in bed by nine! Big night.
Up the next morning, I stuck to what would become a fairly stable regimen of seeing the far-out first, and the nearby next. This led me to take a train and a bus down to the area of the City God Temple near Yuyuan Gardens, an area that looks more like an American Chinatown than an actual town in China!
An easy walk down a small side street took me to the day's first temple.
---
The
Chenxiang Ge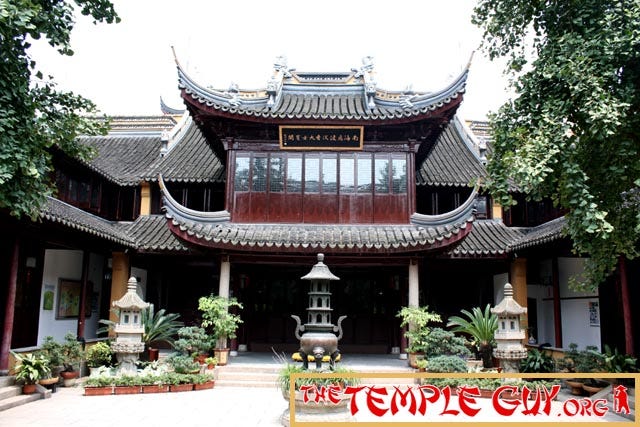 The mostly-wooden
Chenxiang Ge
, Shanghai's "Incense Pavilion"
Called in Chinese Chenxiang Ge, both parts of the temple's name require some explanation. Let's take the last part first.
As I mentioned in Episode 056, most temples in China are named si (寺); the same character is pronounced ji in Japan, where it's also the most-used designation for temples. A number of other temples in China use yuan (院; Japanese in), meaning "compound" or "enclosure."
But these are not the only options. In some cases, the last element of a temple's name may be a specific building or other feature in the temple, and that is the case here. A ge (阁) is a pavilion, usually of two stories, and this one is named for a pretty little pavilion at the back of the compound.
Chenxiang is, of course, the name of the pavilion. The word denotes a type of wood I had never heard of before. In English it's called "eaglewood," with a native range from India to Southeast Asia, including the Philippines (where I live now). Its heartwood is called "agarwood," which is a "fragrant dark resinous wood used in incense, perfume, and small carvings," according to Wikipedia. And that is precisely how it's used here.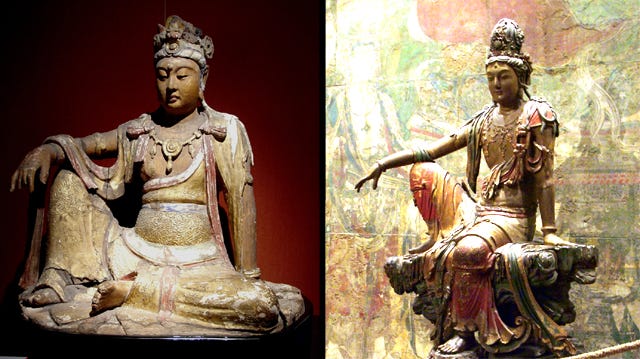 A Song-Dynasty Guanyin (
left
) from the Nelson-Atkins Museum of Art in Kansas City, MO, has her left foot cross-wise; the Liao-Dynasty figure (
right
) at the Shanghai Museum has her foot dangling. Both from Wikipedia.
Because it's not that the "pavilion" is made of agarwood, but that it houses an agarwood one-meter-high statue of Guanyin, seated in the lalita-asana or "royal ease" position. Try this:
start by sitting cross-legged;

rest your left hand on the ground slightly behind you;

raise your right knee up so your right foot is flat on the ground, next to the sole of your left foot;

then drape your right arm across your knee.
This is one of the most casual-yet-elegant portrayals of Guanyin (and other figures in Indian religion). In a variation, the figure is seated on a platform, and the left foot rests on the ground below, rather than being flat as in the cross-legged position.
The original of this statue was carved during the Ming Dynasty, around 1600. Alas, it--like so many others--was destroyed by the Red Guards during the Cultural Revolution (1966-1976), when the temple space was used as a factory. The one we see today is a modern replica, said to have been presented to the temple by Hong Kong Buddhist believers (though another story says the abbot personally brought the wood back from Thailand, and it was carved locally--maybe the HK devotees paid for it?).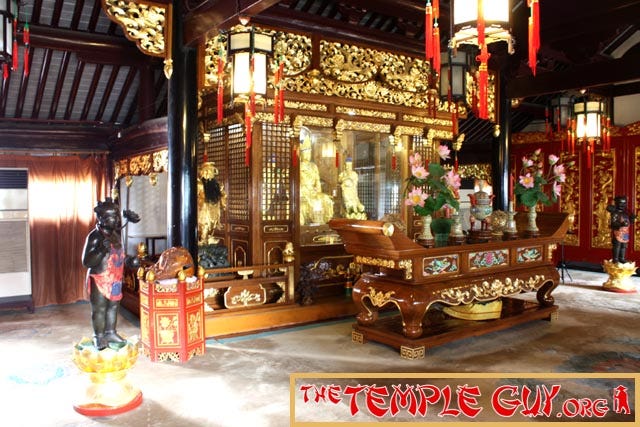 The modern figure can barely be seen in this shot of its gaudy case.
The (unfortunately) gilded statue sits rather far behind a railing in a gaudy gold and red-lacquered wood cabinet, with an altar in front and attendant statues all around. I had to sneak a couple of shots from the side, but frankly I didn't find it all that attractive. I can only imagine how beautiful the original might have been, though a Chinese page says (in translation) that the current statue's "appearance and craftsmanship are not inferior to the original image."
No, what I found beautiful was the building itself. Most of the temples I have visited, before or since, are made of hard materials--mostly poured concrete, though also some block, brick, or stone. This was a wood-fronted building in a plant-adorned courtyard. If I ever get to build a temple...
---
The Rest of the Temple
Pan Yunduan, builder of the nearby, world-famous Yuyuan Garden (built between 1559 and 1577), was a Shanghai native who served as the governor of Sichuan Province during the Ming Dynasty. He established the temple in 1600 and placed the original agarwood statue there, calling the place Ciyun Chan Temple (still, I believe, its formal name). Ciyun means something like "Cloud of Compassion," alluding to Guanyin's primary trait. Chan, of course, is Zen.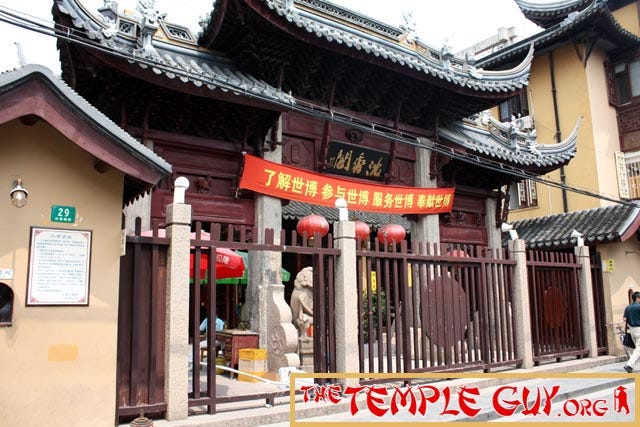 The restored Ming-Dynasty
pailou
gate
The front of the temple has a roofed pailou gate, with a Heavenly Kings' Hall immediately inside. The Maitreya here is in the more elegant Bodhisattva style, not the jolly "Laughing Buddha" usually seen. As usual, he is surrounded by the Four Kings, with the fierce figure of Weituo behind (see Episode 003).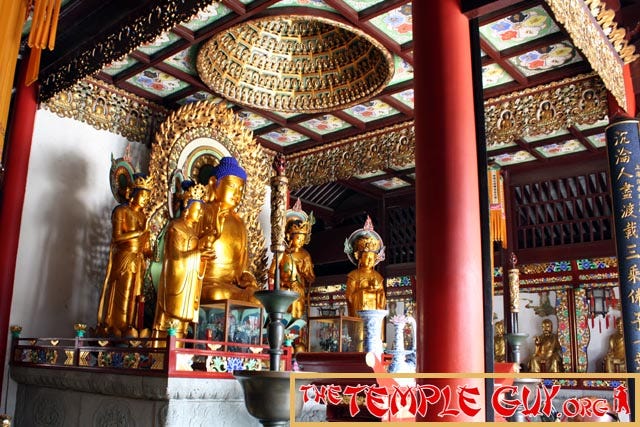 The figure of Shakyamuni in the main hall is surrounded by two Bodhisattvas and two Indian gods.
Across a courtyard is the "Precious Hall of the Great Hero," with an unusual arrangement of four attendants around the figure of Shakyamuni. They are Manjushri (Ch. Wenshu) and Samantabhadra (Ch. Puxian), who, when seen with Shakyamuni, make the "Three Sages of the Huayan"; as well as Buddhist figures derived from the Indian gods Brahma and Indra, called in Chinese Buddhism Fantian and Dishitian (also known as Shakra). The usual 18 arhats are arranged in the hall, nine to a side.
Across yet another courtyard is the "Incense Pavilion" described above.
Other halls are dedicated to the Guanyin of Great Compassion; the Dharma Protector Guanyu; and a renowned modern master named Yingci. Born in 1872 to a family made wealthy by salt in Jiangsu, Yingci was a quick student who, after his father's death, was tonsured at Fayu Temple on Putuoshan (see Episode 080) and fully ordained at Tiantong Temple (see Episode 082). He studied at several other temples we will visit in the future, and from 1943 until his death in 1965 taught at the Chenxiang Ge at the invitation of the abbot.
--------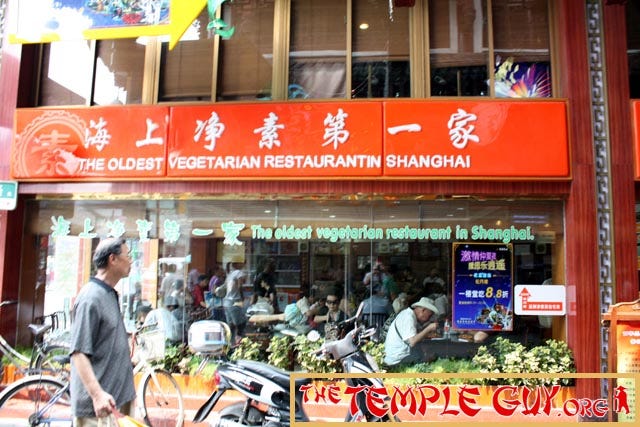 Song Yue Lou, the (disputed by some) "oldest vegetarian restaurant in Shanghai"
The temple itself is now a nunnery; these places make me happy, as Buddhist nuns are almost always sweet-hearted and accommodating. Typically, this temple serves a free vegetarian lunch at noontime; and sure enough, the nuns asked me to stay, but I had my heart set on dining at another Shanghai institution nearby: Song Yue Lou claims to be Shanghai's oldest vegetarian restaurant (though there are counterclaims).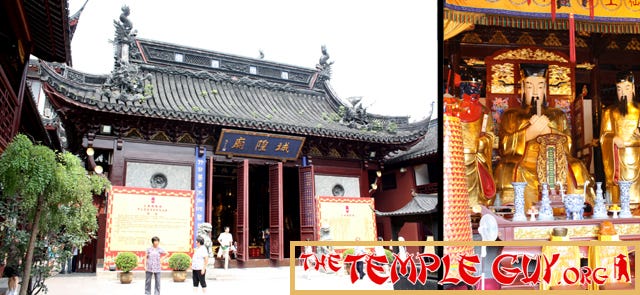 Shanghai's
Cheng Huang
, "City God"
After a passable lunch, I walked a little farther to pay my respects to the City God of Shanghai, whose temple is located in a noisy hustle-and-bustle of shoppers and worshipers a few blocks and worlds away from Chenxiang Ge; and then boarded a bus to my next temple.
And that's about that. Until next time, may you and your loved ones and all sentient beings be well and happy.
Adios, Amigos!
---
GET MORE:
You may unsubscribe to Temple Tales at any time by simply replying to this Newsletter and writing "Unsubscribe." You will receive one more letter as confirmation.
If you have any problems reading the Newsletter or accessing the Podcast, please write to me at TheTempleGuy@GMail.com, and I'll help you in any way I can!
In the next episode: We'll visit the tasty little eight-sided Nan'endo at Kofuku-ji in Nara, Japan.