Discover more from Temple Tales
Thrilling accounts of one man's journey to over 700 sites in Japan and China, with plenty of Buddhist teachings thrown in.
Ep. 074: The Final Residence of a Crazy Monk
Jingci Temple on Hangzhou's famous West Lake
Let's continue reliving my day trip to Hangzhou, and the first two of the temples I went to on my Chinese Pilgrimage to 132 of the 142 Key Temples of China. We'll visit Jingci Temple, last home of a crazy monk named Ji Gong, in this episode of
TEMPLE TALES!
---
West Lake
I had arrived at Hangzhou's Lingyin Temple by buses: a highway bus from Ningbo, where I was staying, and a local bus from the highway bus terminal to the temple. This latter had taken me counter-clockwise around the top and down the west side of Hangzhou's super-famous West Lake.
Although it has a certain amount of natural beauty, the lake's claim to fame is more cultural than natural. Several footpaths cross it on causeways, and these as well as the lakeshore are lined with any number of temples, stone monuments, plantings, pagodas, pavilions, bridges, and other such structures, so that when it was named a UNESCO World Heritage Site in 2011, the criteria all related to culture and tradition--none to "natural phenomena or areas of exceptional natural beauty and aesthetic importance." Specifically mentioned was its influence on landscape design not only in China, but in Japan and Korea as well.
You can barely go anywhere in Hangzhou without a view of the lake. It's definitely the biggest tourist draw in the city, and well worth loitering around. But being a pilgrim, not a tourist, I couldn't indulge in a lakeside stroll, so I saw little of it, first crawling around it by bus and then, in a hurry as I left Lingyin, zipping the five miles or so across the south end to Jingci Temple by taxi. I arrived there a little after four--and the temple closed at five!
---
Arriving at Jingci Temple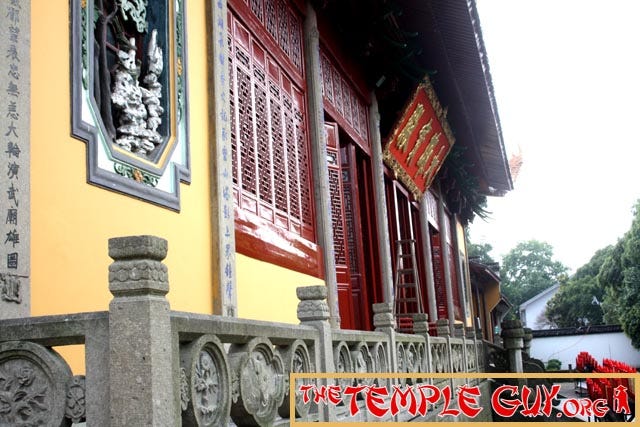 The Main Hall at Jingci ("Pure Compassion") Temple
I jumped out of the cab on the lake's southern shore, bought my ticket (10rmb), and dashed into this little temple, which was quite a contrast to Lingyin:
First, there's a gauntlet to be run before reaching Lingyin. It's inside a "scenic area," with a shopping street out front, so it's quite far from the parking area. Jingci is right on the road that circles the lake.

Second, Lingyin is huge. Jingci is intimate (though there was construction going on, so who knows now?).

Third, I paid about $10 to get into Lingyin, with separate tickets for the scenic area and the temple itself. Jingci was more like a buck and a half.

Finally, at Lingyin, one monk took time to answer my questions in the Main Hall, but no one else paid any attention to me. But at Jingci, in the space of an hour, people reached out to show very personal warmth and kindness three times, without prompting. As a rule-of-thumb, the smaller the temple, the friendlier the people.
I was greeted by several friendly old laymen at the gate, who thanked me for coming, asked where I was from, and then, catching themselves, told me to hurry on in as the temple would be closing in an hour! Next, when I entered the Hall of the Heavenly Kings, an elderly monk jumped up, offered me his chair, and started aiming an electric fan at me. (I guess I looked haggard after my "mountain climbing" outside of Lingyin.) I refused the chair and encouraged him to sit back down, but did enjoy the fan for a few moments before moving on. The third incident happened farther up the hill.
But perhaps I shouldn't have been surprised: the temple's name means "Pure Compassion"!
Approaching the Main Hall, I discovered there was a ceremony in progress--not uncommon in temples around 4 or 5 o'clock, I was to learn. After listening (blissfully!) for a few moments, I moved around to the hall's back door where I could observe, unseen, the statue of one of this temple's "famous sons."
---
Ji Gong, the "Crazy Monk"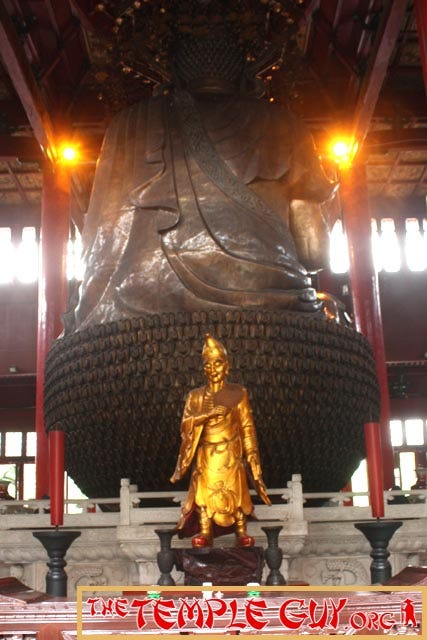 Ji Gong stands behind the statue of Vairochana in the Main Hall, a place usually occupied by Guanyin.
Statues of Chan (Zen) Master Daoji, also called "Ji Gong" (Father Ji), or, more tellingly, "Crazy Ji," wear a funny little hat with the character for "Buddha" on it, and monk's robes nearly in rags. His left hand usually holds a fan (for comfort--and magic), and in his right is a gourd containing wine. This may account for the seemingly-drunken smile on his face.
Historically, he was a man named Li Xiuyuan (1130-1209), famed even in his own time for his eccentric behavior (drinking alcohol and eating meat--no-nos for a monk), and for using magic powers to help the poor and suffering. People still appeal to him for help. After his death, he was adopted into Daoist and folk beliefs, and some Buddhists hold him to be a bodhisattva or an arhat (he is sometimes included in the list of Eighteen Arhats as the Dragon-Taming Arhat--see Episode 058).
He also can be seen often today in films, television shows, and even video games.
At age 18 he was ordained a monk at Lingyin Temple, where a hall is dedicated to him today--somewhat surprising, as he was kicked out of that temple for his un-monk-like behavior! He was then accepted into Jingci Temple, where he performed numerous miracles.
In one of these, after a fire had destroyed some halls, Ji Gong was sleeping off a hangover. The abbot of Jingci kept shaking the monk, asking him to help obtain wood for rebuilding. At last, the annoyed monk cried out, "Leave me alone! There's enough wood in the well to finish the job!" Sure enough, upon inspection the abbot found huge timbers in the well and completed the building. (Sadly, I didn't learn this story until after I had visited the temple, and thus failed to seek out the well.)
Ji Gong died at Jingci Temple in 1209 and some of his relics reside in a pagoda at Hupao ("Running Tiger") Spring (allegedly dug by two tigers to help ease a drought). This is another place I wish I had had time to visit in Hangzhou. But not to worry: We'll meet Ji Gong again when we visit Tiantai Mountain in another part of Zhejiang, where he was born.
---
Around the Temple
Unable to enter the Main Hall, I opted to stroll around, and saw the magnificent newly-cast bell. The original bell was the source of one of Hangzhou's "Ten Scenes of West Lake," called the "Evening Bell Ringing at Nanping Hill." (The Chinese, like the Japanese, are mad about creating lists of "must-sees"--or in this case, "must-hears." Another audio "scene" is "Orioles Singing in the Willows." Visuals on the list include "Moon over the Peaceful Lake in Autumn," "Three Ponds Mirroring the Moon," and so on. Hurry! Hurry! Step right up!)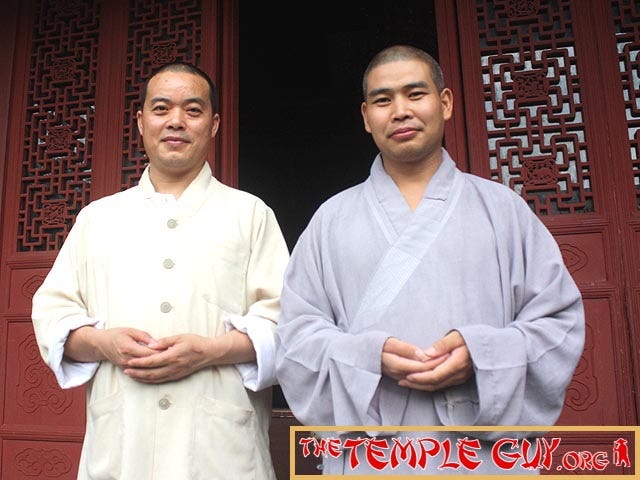 The two kind monks who "gifted" me a peach
I then headed up the hill behind the Main Hall, and saw several other halls (mostly dating only from the 1980s), including a sutra repository and a "Longevity Hall" dedicated to Amitabha Buddha. A relic hall was being built at the top (for whom, I don't know--it was inaccessible during my visit), but in the hall before it, I had a nice treat: the two kindly young monks tending the Three Western Sages offered me a fresh peach! "Pure Compassion" indeed, and the third unsolicited kindness I encountered at this temple.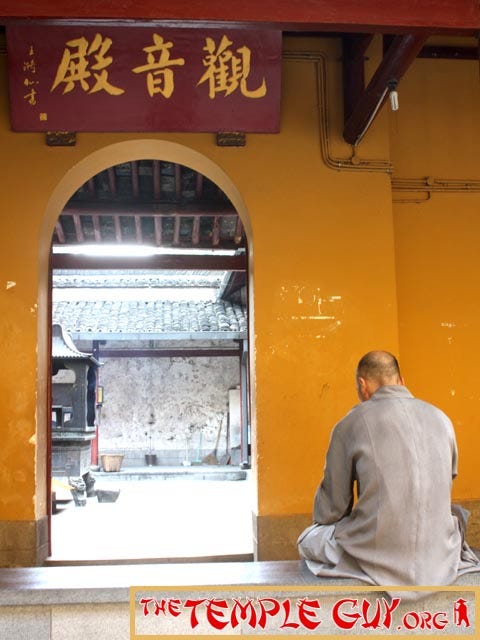 Monk reciting sutras near the Guanyin Hall
Many rebuilt temples hang onto vestiges of their former, run-down selves--often just a single hall that managed to weather the Cultural Revolution and the other vicissitudes of the 19th and 20th centuries. I suspect that the small Guanyin Hall (dedicated to Avalokiteshvara, the Bodhisattva of Compassion) is just such a remnant. It stands in its own small courtyard off to the side of the large Main Hall. These places seem to serve as the seed from which the shiny new plant has grown, and often have a more authentic "feel" than the more impressive constructions. Small, dilapidated, and unimpressive though the hall and its statues may be, I was nevertheless glad to see a monk reciting sutras in the hall's small courtyard.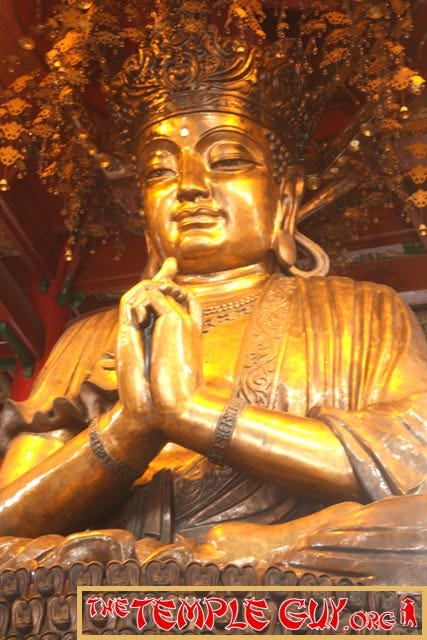 A statue of "my own personal Buddha," Vairochana, sits on the main altar
When the ceremony was finished in the Main Hall, I was finally able to enter, where I found that the main figure was a stately Vairochana, "The Great Sun Buddha"--who is my personal favorite. The hall also had an unusually fine set of Eighteen Arhats in bronze. And I was able to take a closer look at the figure of Ji Gong (described above) behind the Vairochana, in the place usually occupied by Guanyin.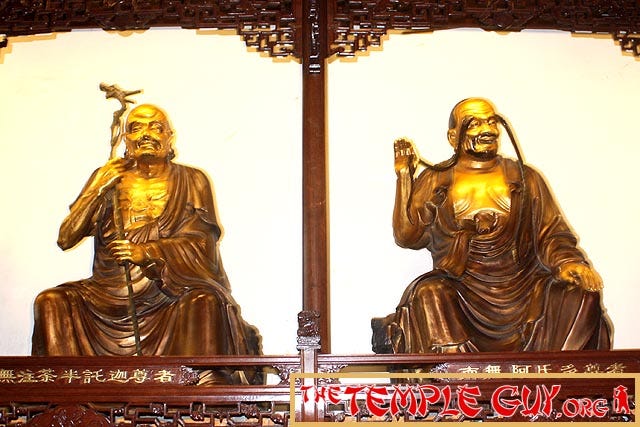 Some of the fine bronze Arhats in the Main Hall
---
Leifeng Pagoda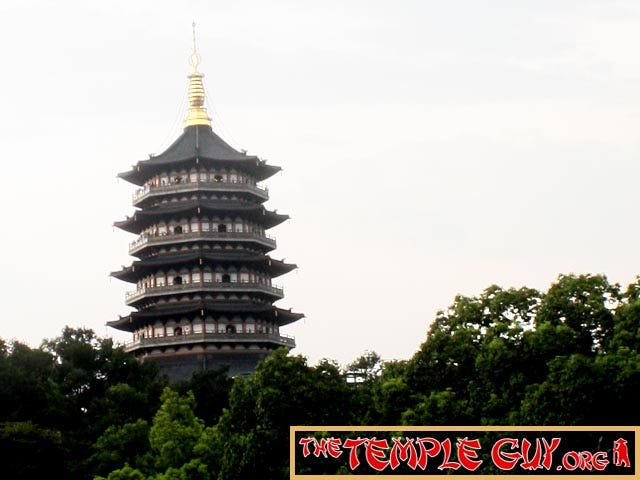 Leifeng Pagoda by West Lake, seen from the bell tower at Jingci Temple
Across from the temple is the very modern eight-sided five-story Leifeng ("Lightning Peak") Pagoda, which I had been able to get some good shots of from Jingci's bell tower. It had originally been constructed in 975, but its wooden elements were burned by Japanese pirates during the Ming Dyansty. Later, a superstition developed that the bricks of the remaining skeleton could prevent illness and miscarriage, so the people began to steal them to grind up and ingest. Through this "death by a thousand cuts," the tower collapsed in 1924. What I saw in 2009 had just been built in 2002, and included four elevators to take tourists up for a view of the lake--and even two escalators to get them to the pagoda's base!
Sadly, the pagoda was closed by the time I exited the temple, so I hopped into another cab to get back to the long-distance bus terminal.
The bus I boarded was nearly empty--but not empty enough. Three college students rode with me, and seated themselves fairly far from each other. They then proceeded to carry on a shouted conversation over the roar of the bus! After trying hard to sleep on the empty back seat, I finally got up and, through pantomime and the few words in my vocabulary, asked them to hold it down. They immediately complied; they just hadn't realized how loud they were. Experiences like this were to be repeated again and again in my travels in China--initial thoughtlessness followed by kind compliance after a gentle reminder.
--------
And on that cranky note, I leave you wishing that, until next time, you and your loved ones and all sentient beings may be well and happy.
Adios, Amigos!
---
GET MORE:
You may unsubscribe to Temple Tales at any time by simply replying to this Newsletter and writing "Unsubscribe." You will receive one more letter as confirmation.
If you have any problems reading the Newsletter or accessing the Podcast, please write to me at TheTempleGuy@GMail.com, and I'll help you in any way I can!
In the next episode: We'll continue with Japan's 188 Temples, visiting Number 2 on the Saigoku Route: Ki-mii-dera in Wakayama.