Discover more from Temple Tales
Thrilling accounts of one man's journey to over 700 sites in Japan and China, with plenty of Buddhist teachings thrown in.
Ep. 070: China's Heaven Horse Mountain
Venerable Deru's wild ride
Putuo Shan in Zhejiang; Jiuhua Shan in Anhui; Wutai Shan in Shanxi; and Emei Shan in Sichuan: these are the "Four Great Buddhist Mountains of China," but that's just the tip of the iceberg. There may be hundreds of smaller peaks covered in temples, and we'll visit one of them, Tianma Shan or "Heaven Horse Mountain," in this episode of--
TEMPLE TALES!
In Episode 006, I talked about just some of my experiences at Zhiti Shan Huayan Temple in Ningde, Fujian, China, where I spent a week in the summer of 2006 teaching Buddhism-in-English to over a hundred kids.
Among many other things that happened that week, I met a young flute-playing monk named Deru, who, though his English was minimal, exhibited a sweet spirit--and a quick wit.
Ven. Deru, Huayan Temple, July, 2006
Fast-forward five years to June 2011 when Lila and I visited Kunming and, walking past a downtown temple to get to a vegetarian restaurant, ran into Venerable Deru again! In the intervening years he had been to the Philippines (Lila's home country, where we live now) and studied English, so when we sat down to talk, things went a lot more smoothly. He was passing through the area on his way to volunteer to teach some rural kids for a month in Sichuan, because that's the kind of guy he is.
---
Return to Fujian
We kept in better touch after that, and when I returned to Fujian the following October, he volunteered to drive me (in a car borrowed from a layperson) back up the mountain to Huayan Temple, where we had first met--a good thing, because I don't know how I would have gotten there otherwise.
Here's something you should know if you ever get into a car with a friend driving in China: there will likely be plenty of stops and detours that you hadn't expected. I have had a friend casually say he had to make a stop, then stand outside the car and point at me while telling a friend--or, more probably, a business associate--who-knows-what story about me, perhaps using me as a sort of "credential" to close a deal (long story). Lay Buddhist friends have detoured to temples to impress an abbot with their "international Buddhist" connections. I have been presented as having a PhD (I don't) and as having studied in Europe (I haven't); I only found out about this "enhanced bio" later.
But there was no guile in what Deru did with me after visiting Huayan Temple: He just wanted to show me his hometown and the temple where he lived! So off we went.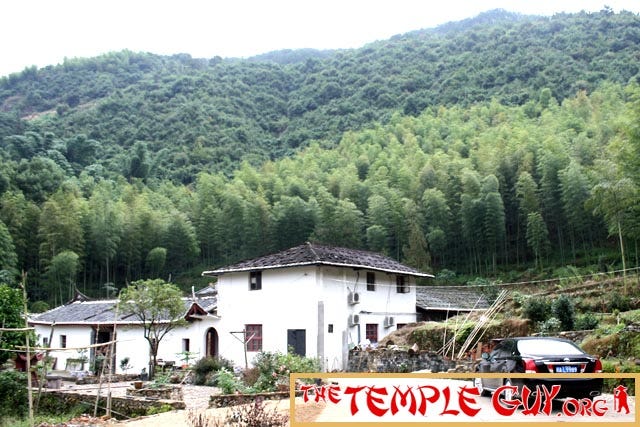 Shuiyun Temple, a small, quiet place good for meditation
At the base of Zhiti Shan (the name is a transliteration of Chaitya, a Sanskrit word for a specialized kind of stupa or pagoda) we stopped briefly at Shuiyun (Water Cloud) Temple, set in the foothills against waves of bamboo forest. When I asked Ven. Deru to compare this temple to big city ones like the ones I had visited in Fuzhou the day before, he said, "We all prefer places like this": nature, quiet, a chance to focus the mind. Ahhhh.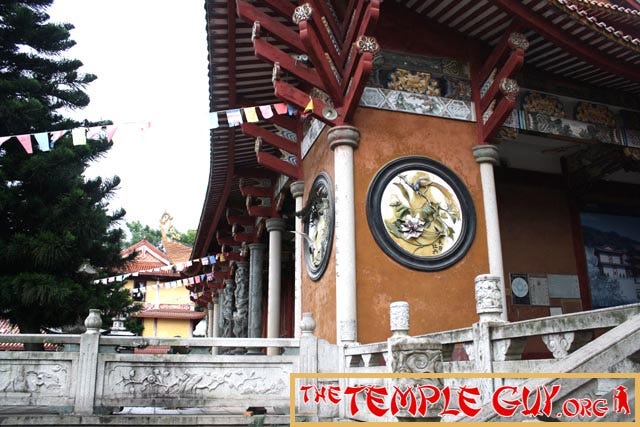 Zhongde Temple, biggest in Fu'an
Deru's friend (the abbot, natch) wasn't in at Shuiyun, so we quickly headed north to Zhongde (Planting Virtue) Temple, on the outskirts of Fu'an, which Ven. Deru said is the largest in the city, and the site of a Buddhist college.
---
In Fu'an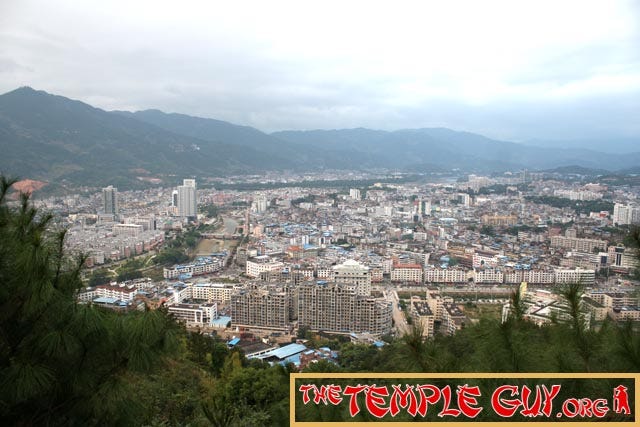 View of Fu'an from the top of Tianma Mountain
Fu'an (Lucky Peaceful) City itself is a rather unusual place. Deru told me proudly that this town of 600,000 (with 200,000 in the city center) has over 300 Buddhist temples--one for every 2,000 people! Many, however, are no more than a single small hall; one hill we passed had more than 10, he said. All that in just 26 square miles! It's located nearly 100 miles from Fuzhou, where I had been staying and would need to return to that night. Its primary product? Tea.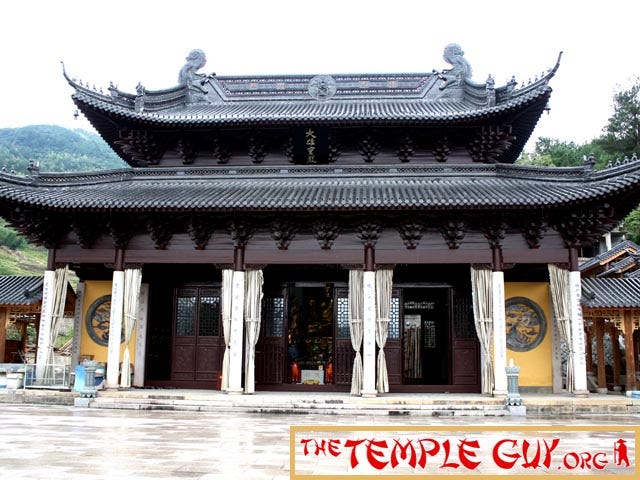 Qiyun is "a thousand years old"--but really just ten.
Our next stop was Qiyun (Settle Cloud) Temple, where Ven. Deru had lived for the last five years. He said the temple was founded in the Tang Dynasty, more than a thousand years ago. Yet it was only 10 years old. "How so?" I asked. He explained that a monk or a group of devotees who wish to re-found a temple must first find a founding document (the one for this temple is indeed from the Tang), and then obtain proof that a temple had been located in a particular place. This may be through records, archaeological evidence (e.g. foundations, a well, etc.), or the testimony of residents. A petition may then be submitted to the government to rebuild a former temple, and the government may then agree to clear the land of current use or occupants and get things going. He said that, previously, there had been a mental hospital on the site. (We agreed that the Buddhist principle of curing the mind of delusion means that a temple and a mental hospital may not be so different!) There was chanting going on--he said it's daily, morning and evening--so I didn't see inside the main (and just about only) hall.
---
Heaven Horse Mountain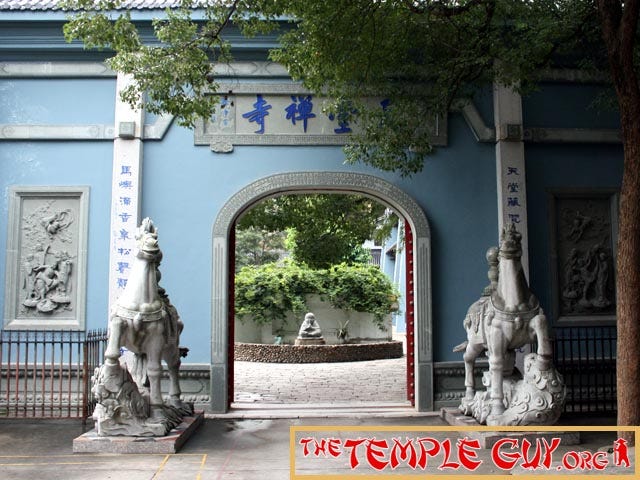 The gateway to Tiantang Temple. The horses represent those who first officially brought monks and scriptures from India to China; Baima (White Horse) Temple is named for them.
We then went on to Fu'an's Tian Ma (Heaven Horse) Mountain, site of several temples. It allegedly looks like a winged horse from some angle or another, but I have been unable to find any evidence. Incidentally, this "mountain," while steep, isn't particularly high: barely 350 feet.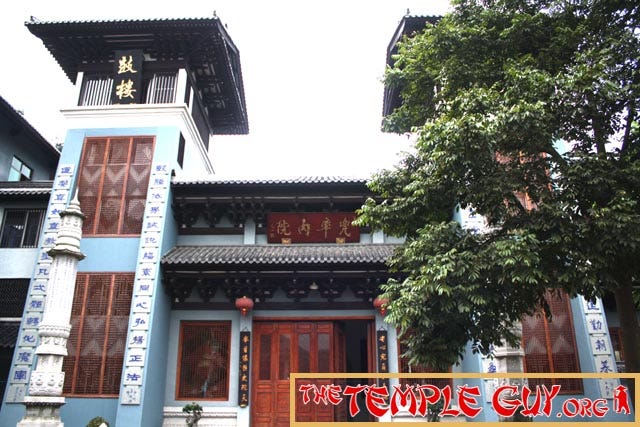 The highly-unusual facade of Tiantang Temple
We bypassed the Daoist Mazu Temple (remember her, from Episode 033?) at the mountain's base and, halfway up the steep road, stopped at Tiantang (Heaven Hall, or simply Paradise) Temple, one of the most architecturally unusual temples I have ever seen. It was very modern, with an almost European aesthetic. The front of the building is flanked by tall drum and bell towers, making it look almost like a church. The Maitreya downstairs was the elegant Bodhisattva-looking version, not the usual fat "Laughing Buddha." Upstairs, over the entry, was a statue of Weituo surrounded by a very fine set of 18 Arhats, and the other statuary inside was no less spectacular--especially the "jade" Shakyamuni Buddha with its very Hollywood-like lighting effects, and a sutra engraved on the wall behind.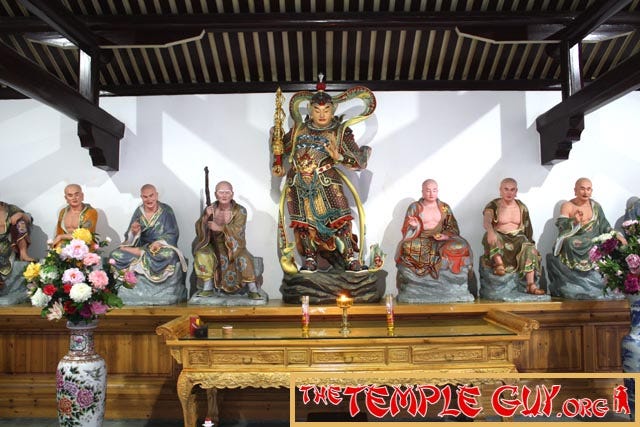 Weituo surrounded by arhats in the upstairs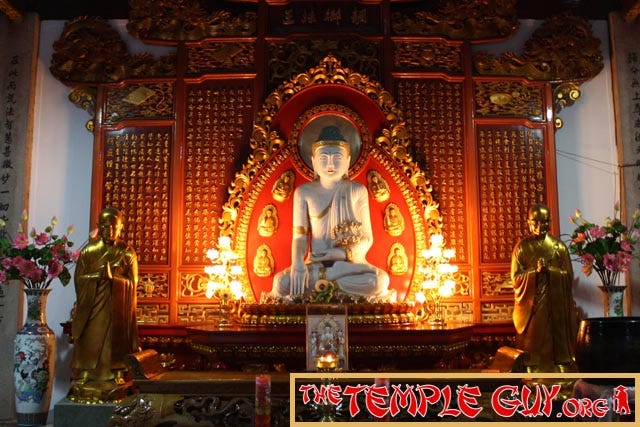 The very dramatic jade Shakyamuni
Continuing to the mountain's peak we saw a pretty pavilion and a rather grandiose-but-small Daoist temple which, if I'm not mistaken, is named Tianma, the same as the mountain.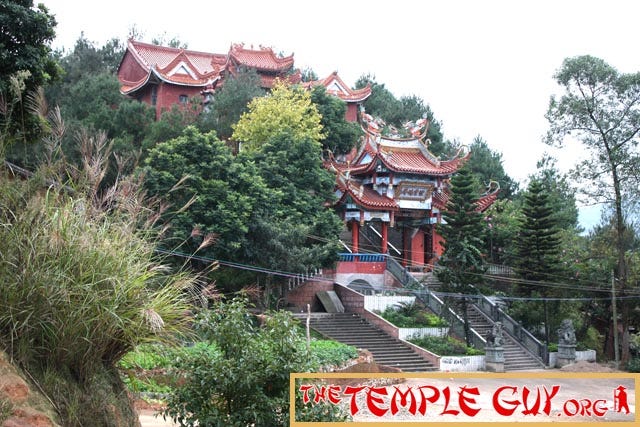 The grandiose-but-small Tianma Daoist temple
---
Last Stop: Xiangshan Temple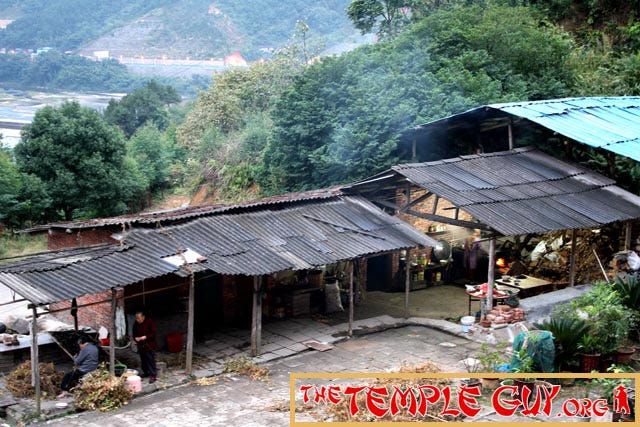 The primitive outdoor kitchen at Xiangshan Temple produces heavenly food
Coming back down just part-way, we stopped in at Xiangshan (Fragrant Mountain) Temple, where the nuns cook an excellent dinner. Despite the recent addition of a proper modern indoor kitchen, they still prefer to work in the outdoor shed-like lean-to facility, weather permitting. It's amazing what great food can come out of such a humble place.
One of the coolest things about Deru's life as a monk (in addition to the many monastic friends he has) is his avid pursuit of Chinese culture. When we met, as I mentioned, he was playing the flute. By the day we went up Tianma, he had become a first-class calligrapher. So, before dinner at Xiangshan Temple, he took me to an upstairs room and showed me some of his work.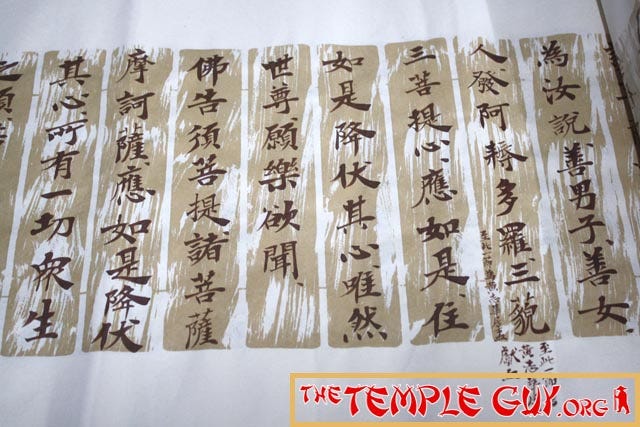 Deru's blood calligraphy
I had seen "blood writing" before: the recording of scriptures by a lone monk using his own blood, usually drawn with the pen-point from the tongue or finger. Deru had a modern take on this practice: a registered nurse drew blood from members of the local sangha (Buddhist assembly); it was mixed together with an anti-coagulant; and Deru used it to create some of the most beautiful calligraphy I had ever seen--and I've seen a lot--this being the Diamond Sutra. The next day Deru's (biological) brother and I visited Yongquan Temple on Fagu (Dharma Drum) Mountain in Fuzhou and the old monk (about my age!) there was delighted to show me some of the 657 "blood sutras" in the library--"to underline the message," a sign said.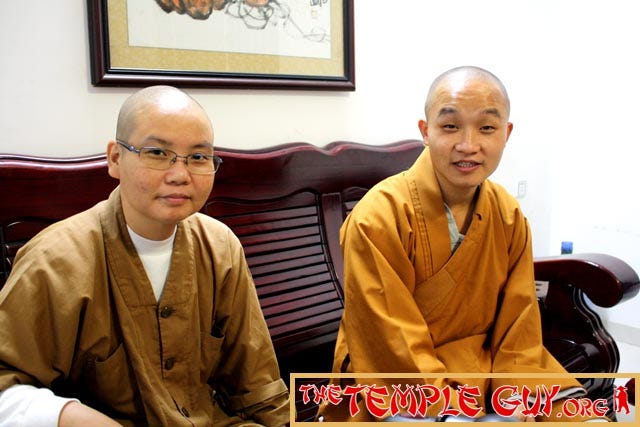 Deru's friend, Ven. Yixiang, abbess of Xiangshan Temple
Finally, at dinner I met a new friend, our hostess, Ven. Yixiang, abbess of Xiangshan Temple. Ven. Deru eats there once a week or so, and it's clear they're good friends. She has a smattering of mostly-useless English, gained when she spent seven years in Australia where her master has several temples, so Deru translated.
I also met her 82-year-old mother briefly--an incredible vegetarian cook. Though Ven. Deru said everyone in this small temple cooks, Yixiang's mother was the main cook that night. I thanked her profusely for her kindness.
During tea after dinner, Ven. Yixiang showed her compassion by attaching a new strap to my phone, as mine was apparently too ratty for her taste.
It was a great way to end the day before a long car ride to the "local" train station (over 30 miles away--I thought we'd never get there!) and a train back to Fuzhou, where I arrived tired but happy.
--------
And that's the end of our tour. I haven't seen Deru since, thou we keep in touch on WeChat!
Until next time, then, may you and your loved ones and all sentient beings be well and happy.
Adios, Amigos!
---
GET MORE:
You may unsubscribe to Temple Tales at any time by simply replying to this Newsletter and writing "Unsubscribe." You will receive one more letter as confirmation.
If you have any problems reading the Newsletter or accessing the Podcast, please write to me at TheTempleGuy@GMail.com, and I'll help you in any way I can!
In the next episode: It's Photo Essay Friday again! We'll take a look at some of the temples I visited in Tokyo and Kanagawa Prefectures on my Aki Meguri or "Autumn Journey" down the Old Tokaido Highway in the fall of 2001.