Discover more from Temple Tales
Thrilling accounts of one man's journey to over 700 sites in Japan and China, with plenty of Buddhist teachings thrown in.
Ep. 029: The Big Bathing Baby Buddha of Wuxi
Come along as my wife and I help induct a brand-new Buddhist abbot, and visit "Heaven" in a Buddhist theme park!
Of all my tempular experiences, perhaps none was both as intense and as broadening as the year I spent teaching "Buddhism in English" to monks at Jianzhen Buddhist Academy at Daming Temple in Yangzhou, Jiangsu, China. The effects of that adventure continue, as I still have former students seeking me out on WeChat.
---
My Affinities with Jianzhen Academy's Students
Twice, though, the connections I made there led to some strange experiences. In 2010, I was on the dais at the dedication of a new temple in Ji'ning, Shandong. And in 2012, my wife and I were VIP guests (our name tags said so!) at the investiture of a former student, Venerable Neng Chao, as abbot of Kaiyuan Temple inside Meiyuan ("The Plum Garden") in Wuxi, Jiangsu.
Neng Chao is a great guy. Often on Friday afternoons, after classes at the Academy, he would drive me to the bus station, where I would catch the bus to the airport and then fly home to Shenzhen, as he drove on "home" to the temple in Wuxi. Though he struggled with English (I hear it's much better now), he always did his best to communicate, and was unfailingly cheerful.
That was in 2007-2008. So we were delighted when, in late 2011, another student--a monk formerly named Dao Cheng, and now Da'an--contacted us about flying (at Kaiyuan Temple's expense) to Shanghai, whence we would take a train to Wuxi. We--along with hundreds of other guests--were put up in a swanky hotel on the shores of Lake Taihu, and toured around by Da'an, the "Master of Ceremonies" for the whole affair.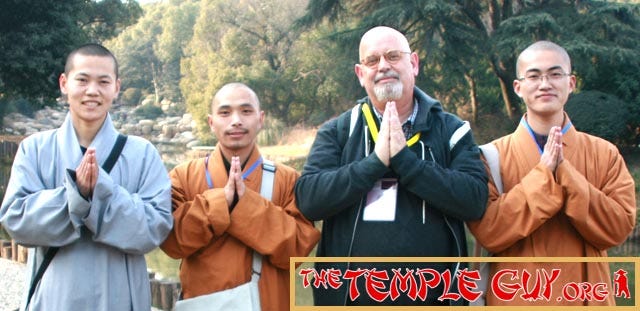 A corny shot with some of my Jianzhen Academy students before the ceremony ion Wuxi; that's Da'an on the left.
Da'an is an amazing young monk. Raised in extreme poverty, he came to the Academy from Lanzhou, capital of far-flung Gansu Province, at about the age of 16. After graduating (I think), he returned to Lanzhou and de-frocked for a time, until Neng Chao invited him to Kaiyuan Temple, where he took the name Da'an. There, he became a sort of PR person for the temple, while developing his skills at building web pages. I don't know how--perhaps by making a fortune on the net?--but he is now abbot of his own temple back in Lanzhou.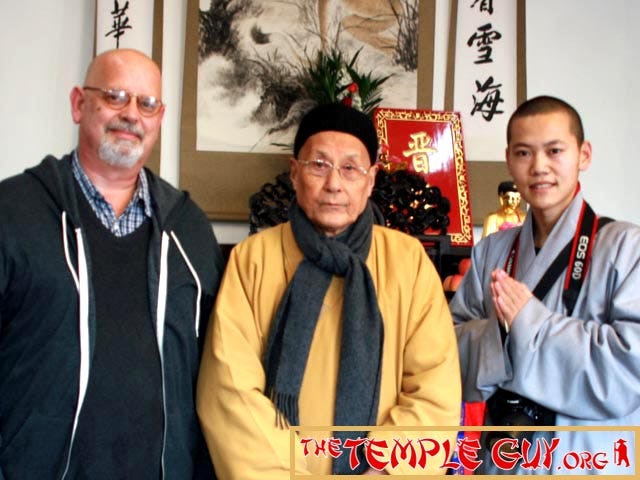 Venerable Da'an really really wanted a picture with me and Master Wuxiang--an august personage otherwise unknown to me. He was one of the many, many respected senior monks that attended the ceremony.
---
The Ceremony in Wuxi
And so, off we went to Shanghai on the freezing New Year's Day of 2012. My wife, a Filipina, isn't too nuts about the cold, but her perpetual, intense interest in seeing what there is to see helped her overcome her discomfort and we did a lot in Shanghai, considering we were only there for one day. We visited Jing'an and Yufo ("Jade Buddha") Temples, where I had been in August of 2009; walked around the Bund; and visited the Yuyuan Garden area--which feels like a "Chinatown" (in China!)--and the City God's Temple. The next morning, we were with Da'an in a devotee's car on the way to Wuxi.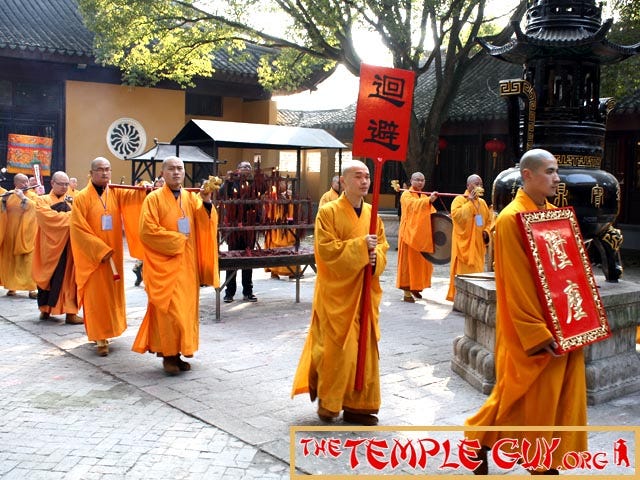 Most of the monks in this rehearsal procession are my former students.
After checking in to our hotel, our first stop was the rehearsal for Neng Chao's ceremony at Kaiyuan. There we saw a lot of my former students, and had a quick chat with Neng Chao himself. We also went through the program for the next day.
Let me tell you about those festivities, before describing our visit to "Heaven."
The ceremony was huge, and numerous dignitaries and celebrities from all over the Buddhist world were in attendance. The Abbot-to-be processed from hall to hall, venerating the statues in each, and at last reached the Dharma Hall, where the investiture took place.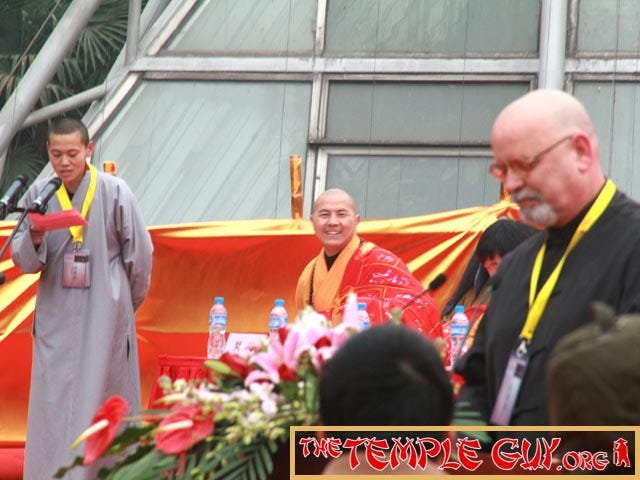 My former students: venerable Da'an translates my speech as new-Abbot Neng Chao looks on (with his trademark smile)
Afterward, we retired to a temporary stage set up in a large lawn area of the Plum Garden, where a number of foreigners, including yours truly (with Da'an translating), committed speechifying. I actually made it into the local news! According to Google Translate (from this article), "Mr. James, a postdoctoral fellow at Western University of the United States, delivered a congratulatory message. Master Da'an of Kaiyuan Temple in Wuxi made simultaneous translations in Japanese and Chinese." That's a pretty good trick, simultaneously translating into two languages at once! (Not to be picky, but I hadn't been in the program at the University of the West in a decade--and never made it to the doctorate, let alone being "post-doctoral"! Anyway...) Some of the grandeur of the event can be seen in this video (in Chinese)--out of which they managed to edit my 90 seconds or so in the "sun."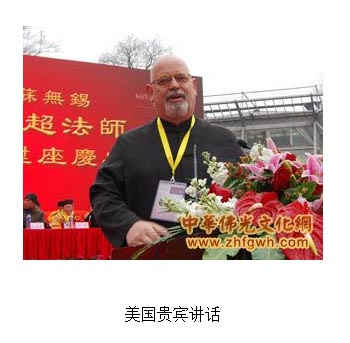 Swiped from a Chinese online newspaper.
After the ceremony, we retired to yet another hotel for a huge vegetarian banquet and the obligatory gift-giving. Another layman took Lila and me directly from the hotel to a fast train to Shanghai Pudong Airport, where we caught a flight back to Shenzhen. We taught the next day.
---
Wuxi Lingshan Buddha Scenic Area
But let's back up to the day before the ceremony. After greeting the future Abbot and getting the lay of the land, we were taken to the new-ish Wuxi Lingshan Buddha Scenic Area, a sort of Buddhist Disneyland. As I understand it, the site was built on the grounds of an old temple, Xiangfu, which is still there, though it seems a little overwhelmed by the colossal constructs around it.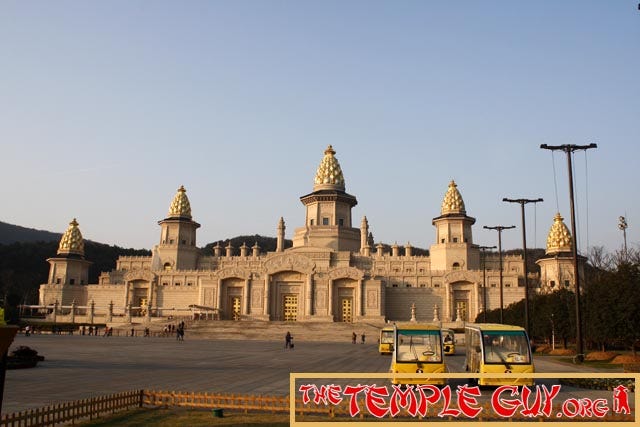 The "Brahma Palace" (exterior)
Da'an had said repeatedly that he was going to "take us to Heaven," being as mysterious as his unfailingly grinning mug could manage. And sure enough, the first place we visited on the ground was the Palace of Brahma, a Hindu god. If Heaven were gaudy, it would look like this. The Sistine Chapel-like ceiling was subjected to an ever-changing light show, and the statuary throughout was almost oppressively opulent.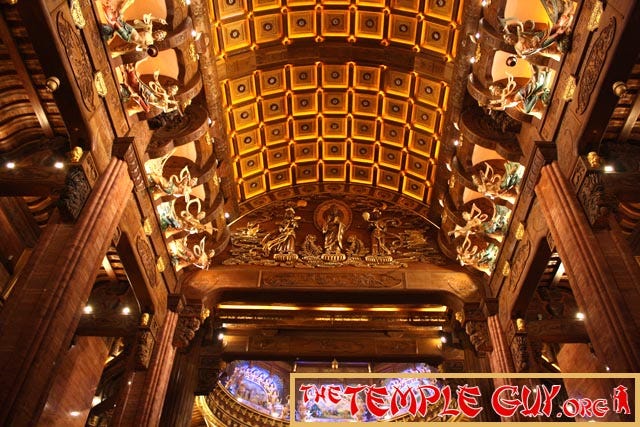 The "Brahma Palace" (interior)
As we strolled away from the Palace, senses reeling, we passed other edifices, such as a huge Tibetan-style temple.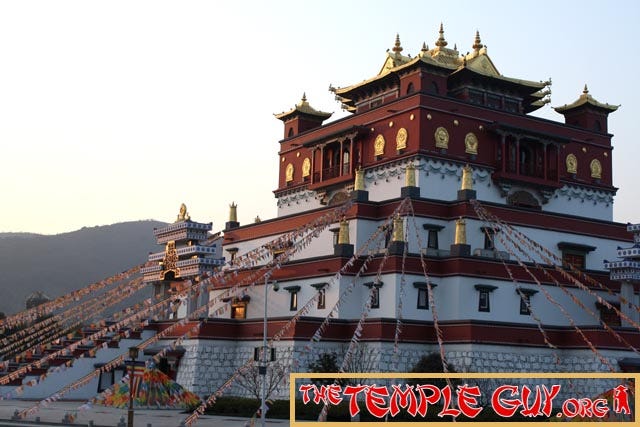 "A huge Tibetan-style temple"
At last, we approached the piece d'resistance. We arrived in the zone of the "Grand Buddha of Lingshan," at 259 feet, the 11th-tallest statue (of any kind) in the world at the time of this writing, and the fifth-tallest Buddha. It represents Amitabha, Buddha of the Western Pure Land, with the usual one-hand-raised gesture of "Fear Not" and the one-hand-lowered "Boon-Bestowing" gesture.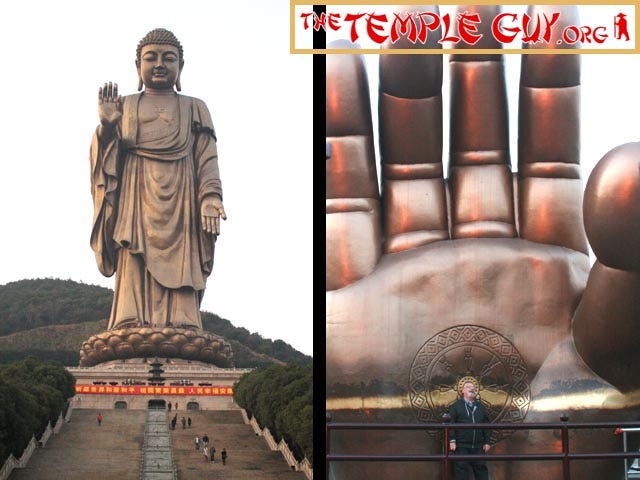 "It is colossal." See the people on the stairs? See me in front of a hand the same scale as the Buddha's?
It is colossal. One way to get a sense of its size is to note the scale of the people climbing the steps to its base--not unlike ants to a human. The other is to stand in front of the replica of the statue's raised right hand; I barely came up to the base of his thumb!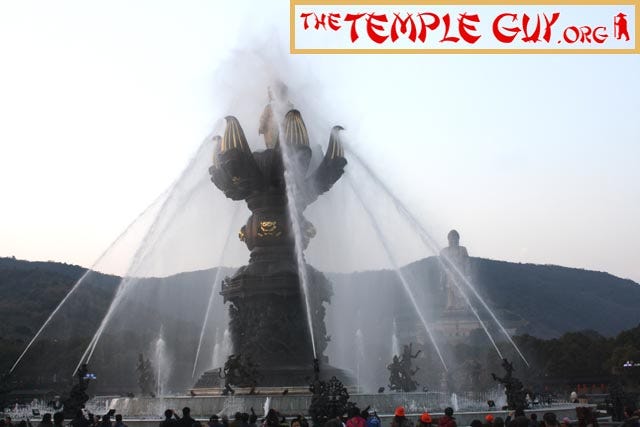 Because of the scale of the statue, you can barely make out the dragons "spitting" on the Baby Buddha. The Colossus is seen behind the fountain.
But the Big Guy is not the only attraction in the area. In front of him, as we walked toward the statue, we were just in time to see a most unusual sight. A 24-foot tall gold-plated statue of the baby Buddha Shakyamuni was being sprayed by nine fountains in the form of dragons--figures virtually lost in the scale of the statue. It's said that the new-born Buddha-to-be was bathed by these creatures, who emerged from pools in the garden where he was born.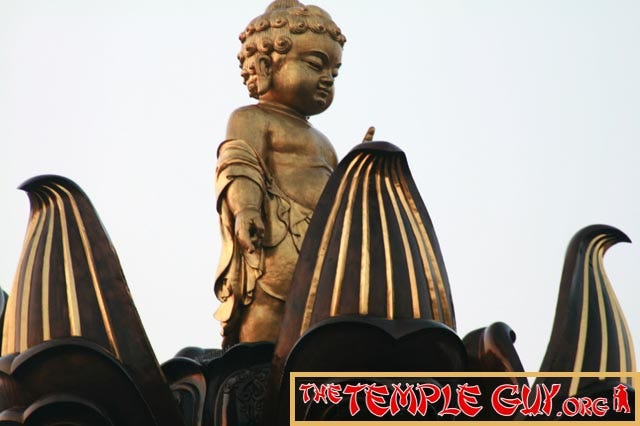 "A 24-foot tall gold-plated statue of the baby Buddha Shakyamuni"
The spectacle takes place four times a day (with two shows added on holidays), and begins with a closed lotus. The specially-composed music swells, the lotus slowly opens, and the dragons start "spitting," as one website puts it. Once the baby is thoroughly drenched, the petals close, the music fades, and all we see is a chalice-like lotus on a pedestal.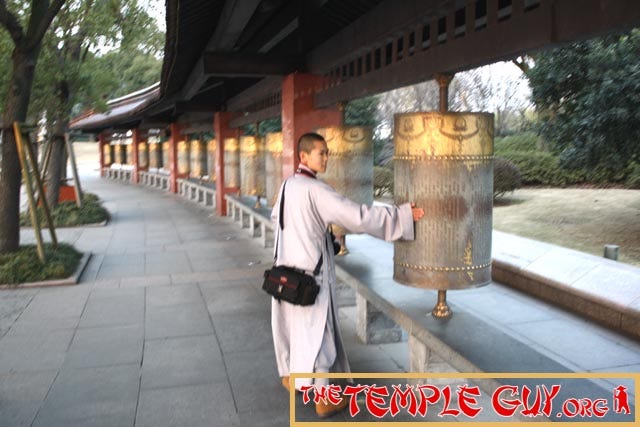 Now-Abbot Da'an spins Tibetan prayer wheels
Also in the area are 108 Tibetan "prayer wheels"; turning one equals praying one sutra. And there's a great deal of statuary related to the Buddha's life.
I did feel a little bad for tiny Xiangfu Temple, though, being ignored amidst all this "splendor."
--------
Well, that's the report on Wuxi's Wonderland of Buddhism. Until next time, may you and your loved ones and all sentient beings be well and happy.
Adios, Amigos!
---
Subscribers to the Newsletter will see Questions at this point, and be invited to join the conversation in a "secret group" on Facebook. (Of course, if you don't use Facebook--sorry!) Want to get in on some of that? Hit that Subscribe button and send me your email!
---
GET MORE:
You may unsubscribe to Temple Tales at any time by simply replying to this Newsletter and writing "Unsubscribe." You will receive one more letter as confirmation.
If you have any problems reading the Newsletter or accessing the Podcast, please write to me at TheTempleGuy@GMail.com, and I'll help you in any way I can!
In the next episode: Let's visit a wintry mountaintop in Japan, just another snowy day at Nariai-ji in Miyazu, Kyoto Prefecture, Japan.