Discover more from Temple Tales
Thrilling accounts of one man's journey to over 700 sites in Japan and China, with plenty of Buddhist teachings thrown in.
Ep. 007: The Missions of Baja California
Traveling the Royal Road
1990 was not a great year for me. A year earlier, in August of 1989, my first wife had done up and left me. The year before that--1988--we had spent Christmas in Santa Fe, vowing "never to spend Christmas at home again." After my personal apocalypse, I spent Christmas and New Year at the end of 1989 at home, my truck sitting on the driveway with a cracked block or something (I'm not sure; I never did understand cars). Not a great way to "ring in the new."
We filed for divorce in 1990, and I was teaching junior high, which took a lot more oomph than I really had. So I made another vow: "I will end this year on a high note."
---
Baja Bound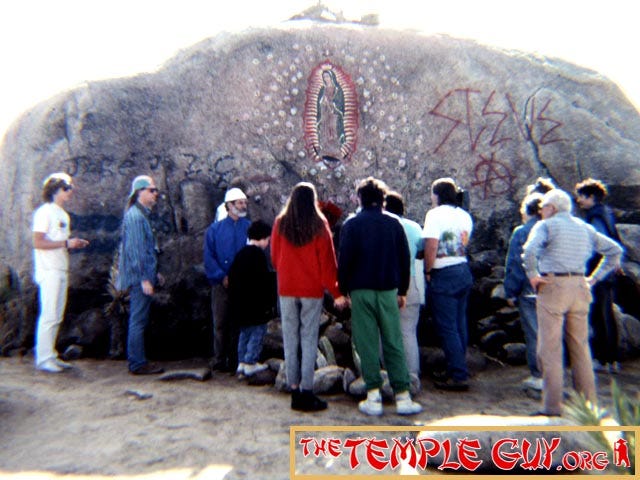 The intrepid class at a roadside shrine; Professor Muthena Naseri is in the white hat
And I did. My interest in the missions of California and the Southwest had been longstanding and strong. So my curiosity was piqued when I heard that the nearby junior college was having a class that would culminate in a road trip from Moorpark (where the college was and is located) to Cabo San Lucas, at the tip of the Baja peninsula. Google Maps tells me that's around 1,200 miles each way, about 1,000 of those south of the border.
My love of Mexico was acquired honestly. My great-uncle Jim (for whom I was named) had visited every state and territory of Mexico except Baja California Sur by the time he retired to Baja California (Norte) with his wife Annie. I spent my 18th birthday with them there, less than two miles north of the ruins of Misión San Miguel la Nueva (known as Misión El Descanso), the northernmost of the Baja missions. But I didn't know that at the time.
Uncle Jim was no longer with us by 1990, so the trip was more than a respite for me: it was an homage to him.
Furthermore, to this day, I have what must be the finest private collection of books on Baja in the Philippines--nearly 30 books, some over a century old, by everyone from learned Franciscan monks to rough-and-ready backroads adventurers. The newest, I think, is a 1994 Lonely Planet guide. (This doesn't count the handful I've added in digital form in recent years.)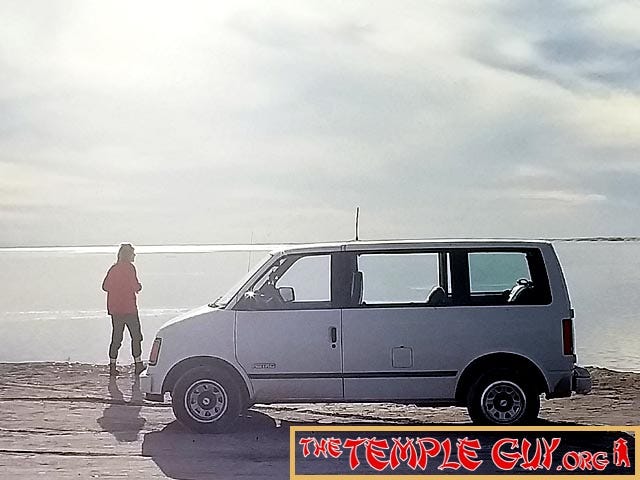 The college rented "mommy-vans" for the trip.
Aside from that college trip (in my thirties!) I had only once ventured beyond the checkpoint at Maneadero that serves as a "second border" (or did at the time), allowing tourists to enter a fairly wide border zone without passports (no longer, I imagine!). With my friend who was a Spanish teacher and her Spanish boyfriend, I ventured as far as El Rosario, a noticeable eastward bend in the normally north-south road about 220 miles south of the border. El Rosario was named for its mission, Nuestra Señora del Santísimo Rosario de Viñadaco, the first and southernmost of the Dominican establishments, reduced now (like virtually all of the Dominican missions) to moldering adobe humps.
Some of the pictures you'll see below are from that trip, in 1993.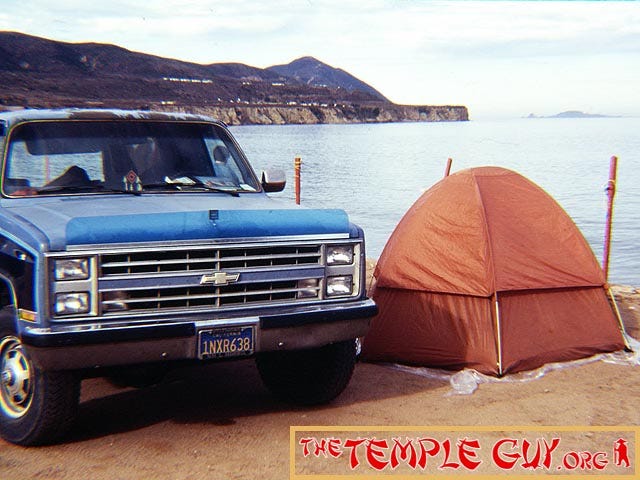 Truck-and-tent camping in Baja with my beloved "Beast," in 1993
At any rate, we had our few planning meetings at the college, and a couple of lectures on Baja's history and botany and whatnot, and then about a week before Christmas Day 1990 off we went.
---
The Founding of the Missions of Baja California
Let me tell you a bit of background on Baja's missions. In 1683, Jesuit Padre Eusebio Kino founded Misión San Bruno on the east coast of the Baja California peninsula (across from the Mexican mainland) about 16 miles north of Loreto (as the crow flies) in the modern state of Baja California Sur. That mission failed in just under two years. Kino continued to agitate for a return effort, and finally, on October 19, 1697, the Jesuits founded the first permanent mission, just down the non-existent road at Loreto. (How destitute I was to miss the 400th anniversary of that founding; I was just beginning to chase temples in Japan at the time.) Unfortunately, Kino was unable to participate in this successful endeavor, since he had been called to join what became his greatest success, and the one for which he is known today: the Missions of the Pimeria Alta, in what is now northern Sonora (Mexico) and southern Arizona.
The Jesuits subsequently developed 16 more missions in Baja before they were expelled from all Spanish realms (part of a larger suppression involving other Catholic kingdoms). They were booted from New Spain (what we call Mexico) in June of 1767; a month later, Franciscan Padre Junipero Serra was appointed president of the Baja missions, but didn't stay long before setting out to found the chain of missions in what is now California, USA.
Along the way, however, Serra founded one mission in Baja, Misión San Fernando Rey de España de Velicatá--the first mission he actually founded, and the fulfillment of a life-long ambition--when he was already 56 years old.
In 1772, the missions of Baja California were turned over to the Dominicans, who added nine more missions to the chain in Baja--as it happens, its northernmost members. Serra's single Baja Franciscan mission at Velicatá neatly divides the 17 Jesuit missions to the south from the nine Dominican foundations to the north.
---
Baja's Missions as I Saw Them
The rest of this episode is simply highlights of some of the mission sites I have visited along Baja's "Camino Real" or "Royal Road" (also called, more grandiosely, the "King's Highway"). The sites the class visited were, necessarily, near the Transpeninsular Highway (mostly a two lane road--completed in 1973 and not maintained at all thereafter--which I drove from end to end and back; the class teacher, Muthena Naseri, drove the other van). Very little off-roading for us, though we did creep two-and-a-half miles down a road which Google Maps Satellite View still shows as dirt, leading to that one Franciscan mission. If I recall correctly, that's about as adventuresome as we got in our rented mommy-vans. In 1993, my friends and I took my trusty (NOT) 1986 Suburban, called "the Beast," a bit further off-road, but still nothing really intrepid.
Though visitors from the states usually experience these sites from north to south, I will portray them as the padres would have seen them when they set out on foot and by burro from Loreto: from south to north.
It should be noted that there are eight missions SOUTH of Loreto, which is over 300 miles by road, or 230 as the crow flies, north of Cabo San Lucas. In one of these, Santa Rosa de las Palmas (sometimes mislabeled online as Nuestra Señora del Pilar) in Todos Santos, I enjoyed Christmas Eve Mass in Spanish in 1990 (Catholic though I'm not). The southerly churches tend to be built of stone and plaster, and in some cases--as at Todos Santos--give the impression of being the faux-mission architecture often seen in upper California.
So, from Loreto.
---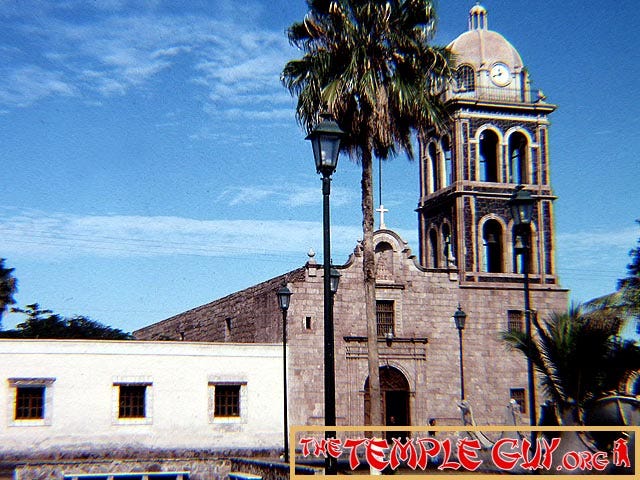 Misión de Nuestra Señora de Loreto Conchó
LORETO
Rightly called the Mother of the California Missions, Misión de Nuestra Señora de Loreto Conchó was the first permanent foundation in Baja California, meaning in ALL of the Californias. Planted in 1697 (though the current edifice was begun in 1740 and completed in 1744), it is, as mentioned, the ninth from the southern tip of the peninsula. It was once the capital of the Spanish Province of Las Californias; that honor now belongs to La Paz, some 220 miles to the south, and home of the next southerly mission along the Transpeninsular Highway. Today, Loreto is a sleepy little town of 20,000 people or so (fewer than the student population of the college where I taught in China).
--------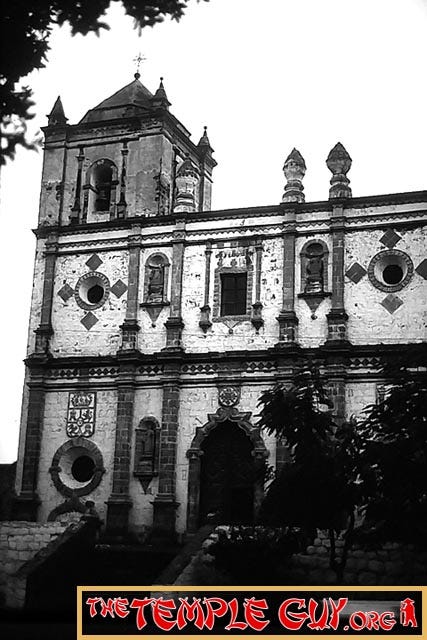 Misión San Ignacio Kadakaamán
SAN IGNACIO
The one Franciscan and nine Dominican missions weren't really occupied for long, so the padres never really had a chance to build more permanent structures. In most if not all cases, today their foundations are just... foundations. They had had no time to build more, and the buildings crumbled after their relatively brief tenures. But the Jesuit missions, founded earlier, tend to be stone.
And no stone church on the highway is more stone than Misión San Ignacio Kadakaamán. The current building, dating to 1786, is an imposing two-story edifice--with a single bell-tower--that is probably the most striking mission I've seen in either California. It was the 12th mission founded, in 1728, and the 14th in south-to-north order.
But approached from the north, it is breathtaking. The Transpeninsular is on a highland, and when one takes the cutoff toward the town, the view across the river and into the oasis is nothing short of spectacular. The church sits on the town plaza, and is everything one could hope for when missioning.
--------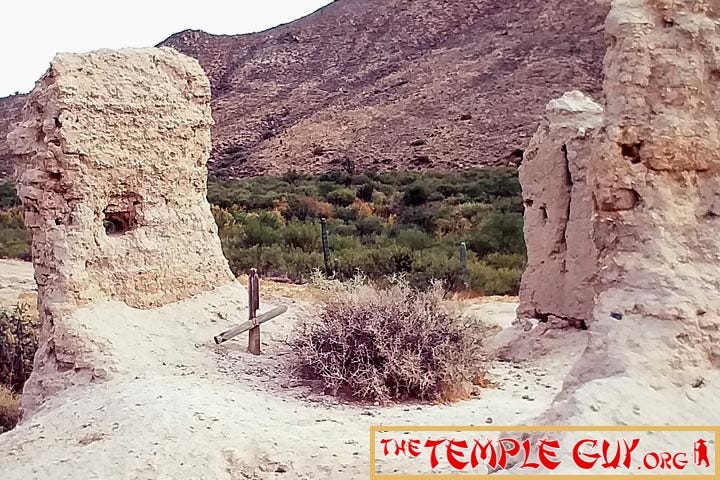 Misión San Fernando Rey de España de Velicatá
SAN FERNANDO VELICATA
San Fernando Rey de España de Velicatá is--as mentioned--the one Franciscan mission in Baja. It was founded in 1769, not coincidentally the same year as the first mission in Alta California, San Diego, since Padre Serra was on his way to the one when he passed by the other. San Fernando is both the 18th establishment from the south and the 18th in founding order.
Sadly, little remains but a handful of crumbling adobe walls. Without protection, the material doesn't last long in heavy rains.
--------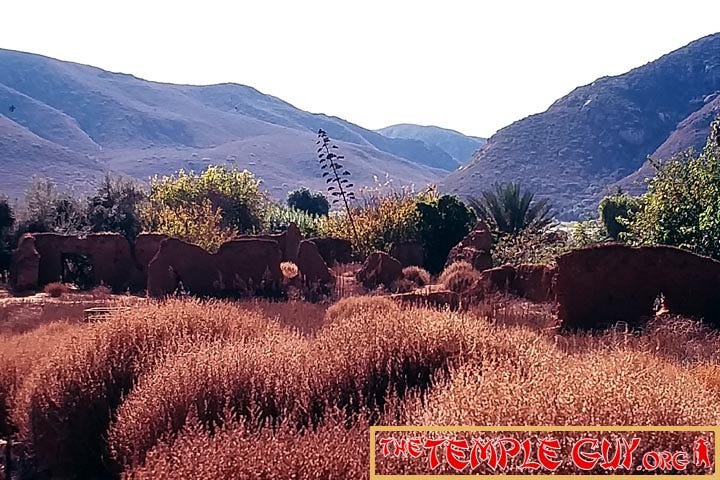 Misión Santo Domingo de la Frontera
SANTO DOMINGO
Although Santo Domingo de la Frontera, the second of the Dominican missions (El Rosario to the south was first), is in ruins, it had MORE ruins than any of the other adobe ruins I had seen. The 20th mission founded in Baja, in 1775, and the 21st from the south, its designation de la Frontera--"on the border"--may signify its perceived remoteness at the time (though there was still quite a ways to go before one reached the border with Alta California). The extensive ruins seen through the brush at Golden Hour are quite a treat to the eye.
--------
Misión San Vicente Ferrer
SAN VICENTE
I'm including San Vicente Ferrer here only because it is said to have been the largest of the Dominican missions and today... well, today the most significant walls are from what I guess was a bell tower. An Ozymandias moment. But preservation of the mission, founded in 1780, is ongoing. This is the 24th mission site, counting from the south.
--------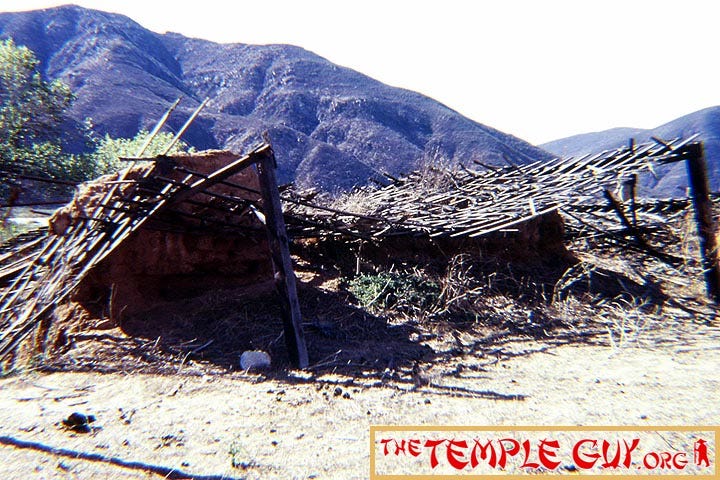 Misión San Miguel la Nueva (Misión El Descanso)
SAN MIGUEL (EL DESCANSO)
One must be very careful in discussing "Mission San Miguel" in Baja, because the northernmost and last Dominican foundation, "San Miguel la Nueva," or "the new," and nicknamed "El Descanso," is only 10 miles up the road from another mission, also called San Miguel (in this case, "de la Frontera"--and much closer to the border than Santo Domingo). El Descanso is the 27th mission in the entire chain, counting from the south. The San Miguel located at "La Mision" is Number 26. Since the 27th was founded in 1817, and the 26th in 1787, one can hardly say that one was a replacement for the other; in fact, they functioned simultaneously, albeit under one priest.
When I visited El Descanso, it was lying under a litter of palm fronds. A sort of palapa or shelter had been built to protect it, but had not been maintained. Wikipedia now shows a fine metal roof over the remains.
--------
If you'd like to know more about these missions, visit my Baja page at thetempleguy.org. There you'll find the missions names, with links to Wiki articles and map points. Or see all the locations, with sub-missions, on my Google Map of Baja.
--------
Well, that's all for this episode! Thanks for traveling that long road with me. And as always, may you and your loved ones and all sentient beings be well and happy.
Adios, Amigos!
---
Join the conversation in the Temple Tales "Secret Group" on Facebook! If you can't get in, please let me know! (You won't find the group by searching; it's SECRET!) Of course, if you don't use Facebook--sorry!
---
QUESTIONS:
Subscribers to the Newsletter will see Questions at this point, and be invited to join the conversation in a "secret group" on Facebook. (Of course, if you don't use Facebook--sorry!) Want to get in on some of that? Hit that Subscribe button and send me your email!
---
GET MORE:
Listen to the audio version of this post at Archive.org.
You may unsubscribe to Temple Tales at any time by simply replying to this Newsletter and writing "Unsubscribe." You will receive one more letter as confirmation.
If you have any problems reading the Newsletter or accessing the Podcast, please write to me at TheTempleGuy@GMail.com, and I'll help you in any way I can!
In the next episode: While walking down Japan's Old Tokaido highway, I discovered some great rel estate deals. All you had to do was deal with the ghosts...