Discover more from Temple Tales
Thrilling accounts of one man's journey to over 700 sites in Japan and China, with plenty of Buddhist teachings thrown in.
Ep. 004: Death by Parable
A dive into one of the Buddha's most profound teachings
The catalyst for the Buddha's search for enlightenment was the universal problem of Old Age, Sickness, and Death. Let's look at some stories encapsulating his solution to this problem.
---
Have you ever heard of the Pali Canon? No, it's not heavy armament for killing talking birds. [pause for laughter] It's what many consider to be the oldest and most authentic collection of the actual words of the historic Buddha (that is, Siddhartha Gautama).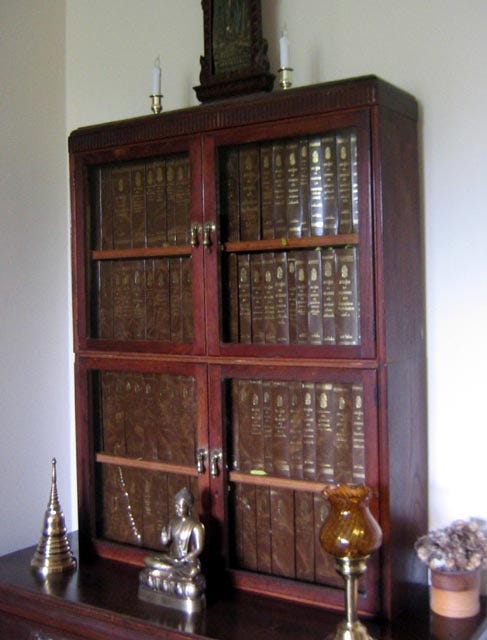 The standard edition of the Thai
Pali Canon
(
Wikipedia
)
I'll do an entire episode on the Pali Canon another time. But let me make a few quick points here.
Pali is a vernacular language of India that is likely to be close to the language in which the Buddha actually taught.

The Pali Canon was compiled at a council after the Buddha's death, reflecting the recollections of his closest followers.

The Canon wasn't written down until centuries afterward.

The entire Canon is long, y'all: one edition runs to over 2.7 million words in Pali. Depending on the method of counting--by words, by pages, etc.--and the language we're comparing, it's anywhere from four to twelve times longer than the Bible; printed editions run to around 40 volumes.
So, making one's way through the welter of words can be daunting (and we'll talk another time about the method of organizing it--by length, by numbers mentioned in the text, etc.--which doesn't make things any easier for the modern explorer).
---
A Handy Anthology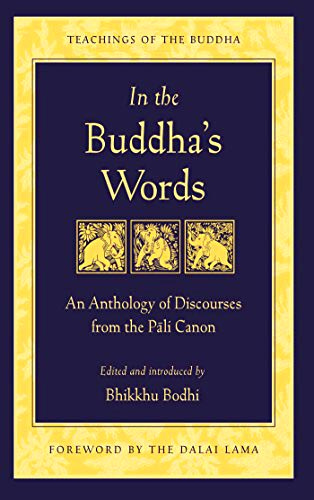 In the Buddha's Word
s, by Bhikkhu Bodhi
Enter one Bhikkhu Bodhi, who has translated much of the corpus, and knows it like the back of his hand. He has reorganized some of the more important texts topically, and published them under the title, In the Buddha's Words: An Anthology of Discourses from the Pali Canon.
It's a tour de force, a real gift to those of us who don't have time to master the whole thing. Part I is titled "The Human Condition," and starts with a section on one of the most familiar tropes of the Buddha's teaching: "Old Age, Illness, and Death."
---
Death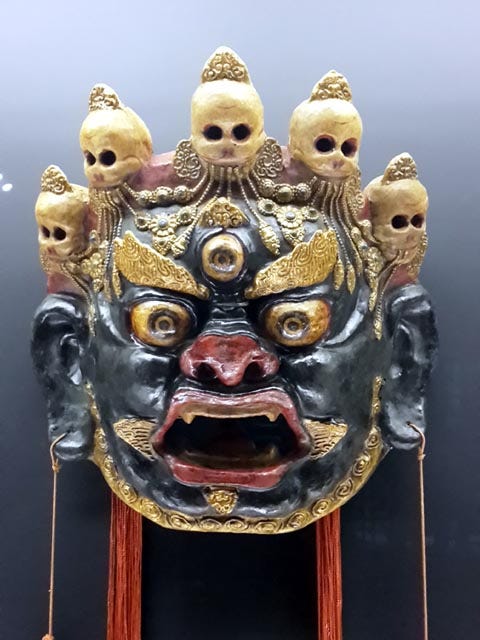 This Tibetan mask is a 
memento mori
 (
Wikipedia
)
Today, "Let's talk about death, Bay-BEE." (Apologies.)
The Buddha's original dilemma centered around the suffering inherent in being alive. Birth itself leads inevitably to death, and those who are fortunate enough to live long will suffer from old age. Rare is the person who, along the way, escapes illness completely.
So we can say that most people born will experience the first two--old age and illness--during their lives, and all will experience death.
And yet, many of us toddle along as though death will never happen, and that we will live forever.
'Taint so.
Oh, sure, we "know" (in our heads) that everyone dies. But the capacity for denial is strong in us, and we somehow avoid really knowing it, in our hearts. That's why the Buddha repeatedly called attention to the inevitability of dying. And what did he recommend as a cure--attempting to gain entrance to heaven at one's death? No. Read on for one of his "approved solutions."
---
Three Sutra Passages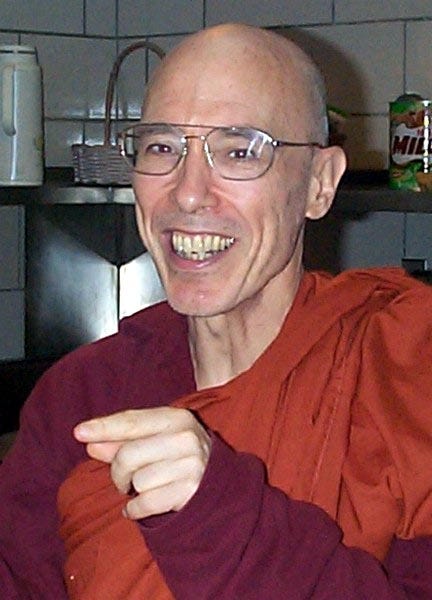 So Bhikkhu Bodhi has grouped three relatively short passages in the very first section of his book, calling attention to the foundational nature of the Buddha's teachings on death. Two of them feature wonderful parables.
Now, it would be dishonest of me (and perhaps slightly boring for you) if I simply read what he wrote, though I highly recommend that you purchase the book. (It's my reading, not his translation, that would bore you!) Anthologized though it be, it is still a lifetime's worth of reading in the closest thing we have to the Buddha's own words (IMO). (I'm obliged to tell you, "As an Amazon Associate I earn from qualifying purchases." And that's a GOOD thing!)
We'll dig much deeper into the history, structure, and status of the Pali Canon another time. But for now, let's dive into some teaching--in paraphrase. By the way, some of these passages--and many more--are available on the amazing website, Access to Insight, in some cases by other translators. I've linked the title of each available section to the appropriate web page.
---
Old Age, Sickness, and Death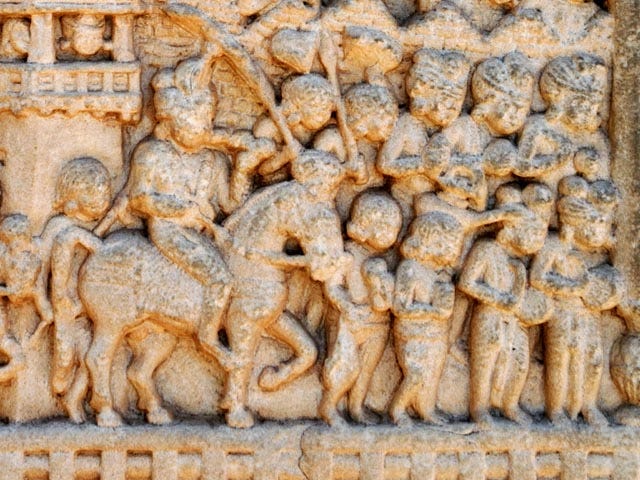 King Pasenadi on his way to visit the Buddha (
Wikipedia
)
In the first passage included by Bhikkhu Bodhi in the selection, the Buddha is questioned by Pasenadi (Sanskrit: Prasenajit), the King of Kosala, a small kingdom near the Buddha's home ground, and of which the Buddha in some sense may have been a subject. Pasenadi seems to be looking for a way out of the universal conclusion of all lives.
"Venerable sir," he asks the Buddha, "does anyone escape old age and death?"
"Well," the Buddha replies, "no. No one escapes it. Neither kings and warriors; nor priests; nor householders; not even monks who have followed my teaching and reached the goal of enlightenment--no one has ever been born who has escaped death."
And in conclusion the Buddha busts out one of his famous impromptu poems (I like to picture him singing them). Here I will quote Bhikkhu Bodhi:
"The beautiful chariots of kings wear out,

This body too undergoes decay.

But the Dhamma of the good does not decay:

So the good proclaim along with the good."
In other words, everything decays. You can't beat it, but you can embrace living the right way--following the Dhamma (Sanskrit Dharma), the Buddha's teachings--while you're still here.
---

I live between two volcanoes, which could come "rolling down" someday. This one is Mount Arayat.
In this longer passage, King Pasenadi again visits the Buddha. After he made the proper obeisance and sat down to the side of the Buddha, the Buddha asked him, "So, King, what have you been up to?"
And the king answered, "Oh, you know, king stuff: exercising power, enjoying the good life (because it's good to be the king!), and taking care of affairs of state."
"Well and good, King, well and good," the Buddha said. "But what would you do, as king, if a messenger arrived from the east and squeaked, 'Majesty! There's a huge mountain rolling toward us and crushing every living thing in its path!' And then another arrived, this time from the west, and a third from the north, and a final one from the south, all with the same message: 'The mountain is coming!' What would you do in a catastrophe like this, King?"
The king shrugged thoughtfully. "What could I do but live as righteous a life as possible, until the end came? Do wholesome deeds, worthy of merit?"
"Okay, here's the thing, King," the Buddha went on, "those mountains are aging-and-death, and they ARE rolling in on you from all sides. So, what are you going to do?"
"Like I said," the king answered, "I am going to live as righteously as I can, and act wholesomely, and earn merit.
"All I can tell you," the king went on, "is that kings can beat enemies in battle by military might--but there's no way to gain victory over aging and death. Counselors (politicians that they are) might negotiate peace with an enemy by diplomacy or trickery--but there's no dealing with aging and death. A rich ruler who can't beat an army on the battlefield might have enough treasure to buy them off--but no amount of money can turn away aging and death. No, not strength, or cleverness, or wealth can keep aging and death from rolling in. All we can do is live right as long as we are here."
"Well said, King!" the Buddha exclaimed. "When aging and death are rolling in, right living is the best we can do."
And here he broke out into another song, a much longer one than before, which I won't quote verbatim, but which essentially summarizes what we've learned already: no one escapes, by any means, so the best we can do is dwell in the Triple Gem: the Buddha, his Teachings, and the Community of his followers--aids to "doing good" in thought, word, and deed.
---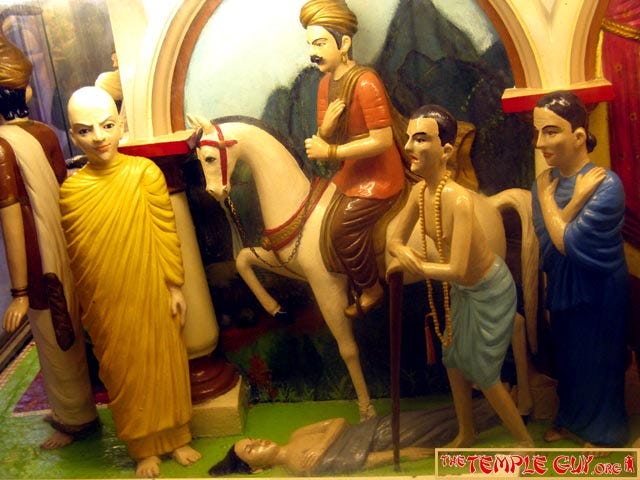 On a ride out of the palace, the Buddha-to-be encountered the so-called "Four Sights": an old man, a sick man, a dead man (the latter two depicted here as women)--and a monk, which suggested to him a solution to the problem. Sakya Muni Buddha Gaya Temple, Singapore
One day, the Buddha asked his monks rhetorically, "What are the three divine messengers? Let me tell you."
And he went on to say that a man--who had produced nothing but bad thoughts, words, and deeds--was brought before Yama, King of Hell. The guards told Yama that the man had no respect for his parents, or for monks, or for his ancestors.
So Yama asked the recreant: "Didn't you see the messenger I sent you?"
"N-n-n-no," the man replied, knees a-tremble.
"So, you never saw an ancient man or woman, crook-backed and leaning on a stick, sprightliness gone, teeth gone, hair gone or gray, skin all wrinkled up?"
"W-w-w-well, yes," the man said.
"Aha!" the king roared. "You seem like a bright boy. Didn't it occur to you that this would happen to you some day, and that you should clean up your act?"
"I couldn't. I was careless."
"Well, this carelessness was your undoing, and you will reap its rewards. No one else bears the blame but you."
--------
When he had finished spelling out the cause of the man's undoing, and its effect--hell--Yama went on.
"So, how about the second divine messenger? Didn't you see that?"
When the man said no, Yama went on, "You mean you never saw someone sick or in pain, someone incapable of caring for himself, someone who had to be lifted in and out of bed?"
"Oh, yeah, I've seen that," the man replied.
"There ya go!" said Yama. "You can't be that stupid! You must have known that this could happen to you, and that you ought to behave."
"I was careless again," the man said with some embarrassment.
"And you know what 'careless' gets you," Yama scolded him, and told him, again, that his fate was the fruit of his carelessness.
--------
Then, "What about the third divine messenger?" Yama asked.
"The third...?" the man gulped. "No, sir."
"So, you've never seen a dead person: a corpse being attended to by the family, or lying by the roadside?"
"Oh! Yes, I have."
"And grown-up that you are, you didn't say, 'Whoa! This will happen to me!'"
"No, I didn't. I was careless."
"So," Yama concluded, "Having seen all three of the divine messengers, you failed to change your ways. Let the punishment follow from your actions!"
--------
And that, I imagine, was that.
---
Well, that's all for today. Death is not the cheeriest of thoughts, but it's a crucial one in understanding the Buddha and the motives behind his teaching.
Keep "stayin' alive" until next time. May you and your loved ones and all sentient beings be well and happy.
Adios, Amigos!
---
QUESTIONS
Subscribers to the Newsletter will see Questions at this point, and be invited to join the conversation in a "secret group" on Facebook. (Of course, if you don't use Facebook--sorry!) Want to get in on some of that? Hit that Subscribe button and send me your email!
---
GET MORE:
Listen to the audio version of this post at Archive.org.
You may unsubscribe to Temple Tales at any time by simply replying to this Newsletter and writing "Unsubscribe." You will receive one more letter as confirmation.
If you have any problems reading the Newsletter or accessing the Podcast, please write to me at TheTempleGuy@GMail.com, and I'll help you any way I can!
In the next episode: Did you ever think that statues and paintings of saints, etc., might feature the faces of real people? I didn't--until I visited my friend's temple in Saitama Japan.